11 Images
Johnnie L. Cochran Jr., 1937-2005
In 1966, Johnnie L. Cochran Jr. confers with the widow of Leonard Deadwyler, a black motorist killed during a police stop in Los Angeles. From the 1960s on, Cochran took police abuse to court.
(LAT)
Johnnie L. Cochran Jr. makes a summation in court during a case in 1981 that would be a benchmark for the Los Angeles area. After a traffic stop, Ron Settles, a Cal State Long Beach football player, was booked by police in Signal Hill for resisting arrest, possession of cocaine, and assault on a police officer. The validity of the charges would never be tested in court — a few hours later, just before his bail was posted, Settles was found dead in his cell. Police said he apparently hung himself. Cochran represented the Settles family in court.
(LAT)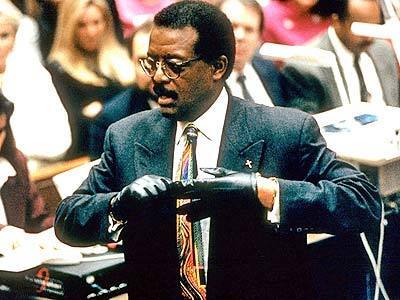 During the 1995 trial of O.J. Simpson in Los Angeles, Johnnie L. Cochran Jr. famously cast doubt on the prosecution's theory of the case saying, "If it doesn't fit, you must acquit," after Simpson tried on what were presumed to be the murderer's bloody gloves. In his 2002 memoir, Cochran said he hoped he would be remembered for more than the Simpson case.
(Corbis Sygma)
To defend O.J. Simspon, right, in 1994, Johnnie L. Cochran Jr. teamed with powerhouse attorney Robert Shapiro, center.
(Rick Meyer / Pool)
Johnnie L. Cochran Jr., left, and Carl Douglas, defense attorneys for O.J. Simpson, sing along with the Brookins AME Church choir in Los Angeles after being honored by the church as "Lawyers of the Year" in 1996.
(Kevork Djansezian / AP)
Former Black Panther Elmer "Geronimo" Pratt is joined by attorney Johnnie L. Cochran Jr. during a sidewalk news conference outside the Second District Court of Appeals in Los Angeles in December 1998. Cochran said his greatest triumph as an attorney was when an Orange County judge reversed a 25-year-old murder conviction against Pratt. An appeal by prosecutors failed.
(Nick Ut / AP)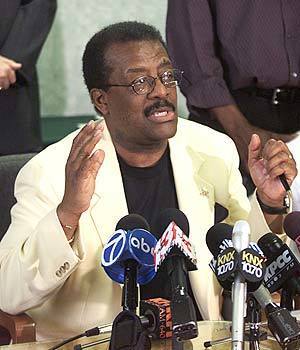 Attorney Johnnie L. Cochran Jr., in 2001, describes how a Riverside County Sheriff's deputy allegedly shot and killed Dante Ramon Meniefield in 2001 at a Moreno Valley apartment building. Cochran filed a lawsuit in the death.
(Bob Carey / LAT)
Attorney Johnnie L. Cochran Jr. speaks to the media outside the Fulton County Courthouse in Atlanta where he represented former Georgia Power employees in a discrimination lawsuit against the company in 2002.
(Gregory Smith / AP)