7 Images
Nablus Under Siege, 4/4/02
Rawda Hijazi and her daughter Tala peek out the window of their room at the Alqasr Hotel in Nablus, West Bank, as a tank passes.
(CAROLYN COLE / LAT)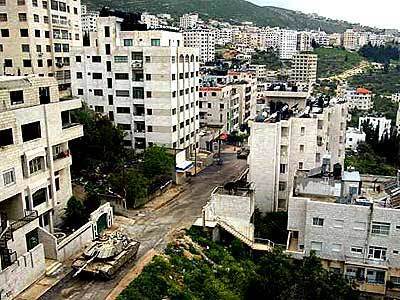 Tanks roll through the streets of Nablus where a 24-hour curfew is in effect of the first day of Israeli occupation of the city, part of the Israeli effort to find Palestinian militiamen and terrorists.
(CAROLYN COLE / LAT)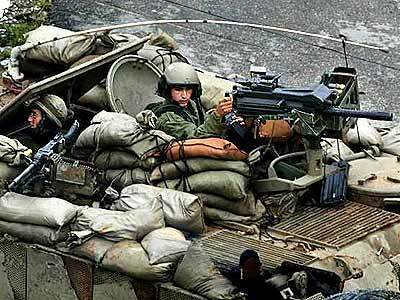 A tank rolls into Nablus. Residents say that as many as 400 armored vehicles have entered the city, the largest in the West Bank, detonating land mines that had been laid in their path.
(CAROLYN COLE / LAT)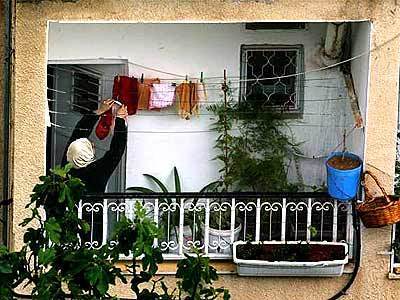 A woman reaches out of her Nablus apartment to hang laundy despite a 24-hour curfew in which no one is allowed out of their homes.
(CAROLYN COLE / LAT)
Elias Kanuun lies wounded in the Beit Jala Hospital outside Bethlehem. He said he was shot during the Israeli incursion. The Israeli army was continuing its operations against Palestinian gunmen in the birthplace of Jesus.
(BRYAN CHAN / LAT)
A woman from the Dahaisha refugee camp near Bethlehem is taken to Beit Jala hospital. Bethlehem was the scene of another day of shooting and movements of troops and armored vehicles.
(BRYAN CHAN / LAT)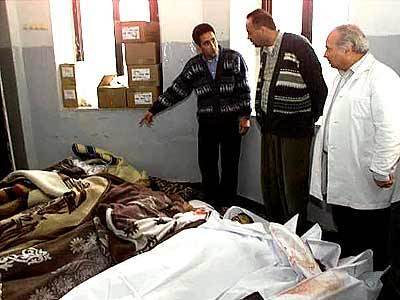 Staff members at the Beit Jala Hospital view the bodies of men they said were killed during the Israeli incursion into Bethlehem.
(BRYAN CHAN / LAT)