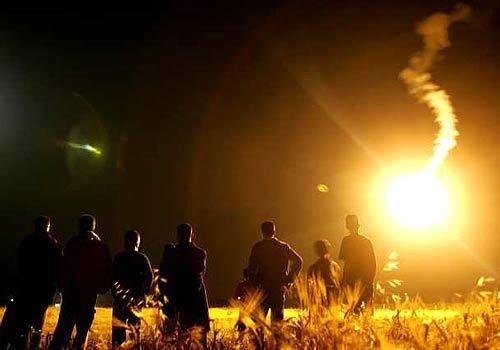 21 Images
The Week in Photos: April 9-15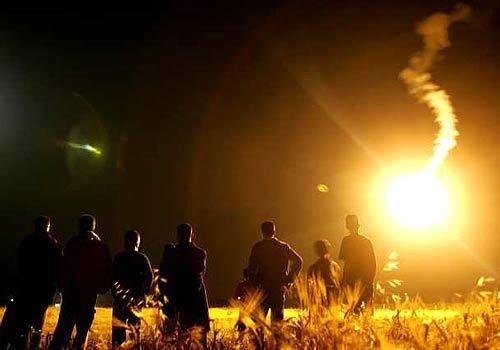 The sky is lit by an Israeli flare as Palestinians wait for the bodies of militants from Al Aqsa Martyrs' Brigades killed near the Gaza-Israel border.
(Emilio Morenatti / AP)
As ice melts after a week of warm spring temperatures in Moscow, the reflection of an apartment building can be seen in the waters of Moskva river.
(Dmitry Kostyukov AFP/Getty Images)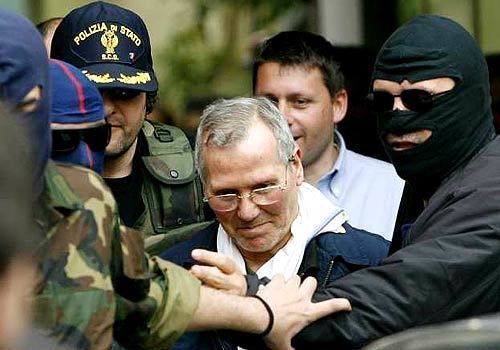 After 43 years on the run, Bernardo "The Tractor" Provenzano is escorted into a police building in Palermo, Sicily.
(Luca Bruno / AP)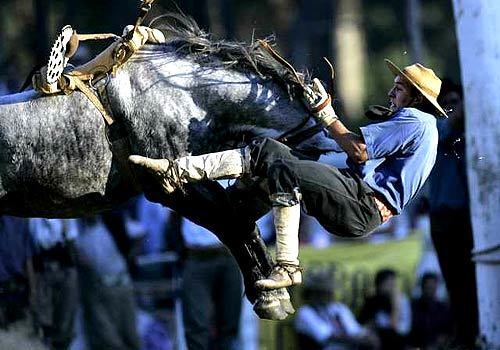 An Uruguayan cowboy falls from his horse during a rodeo at the annual "Rural Fair" in Montevideo. Every year during Holy Week, hundreds of cowboys show their skills and compete for the title of best rider.
(Marcelo Hernandez / AP)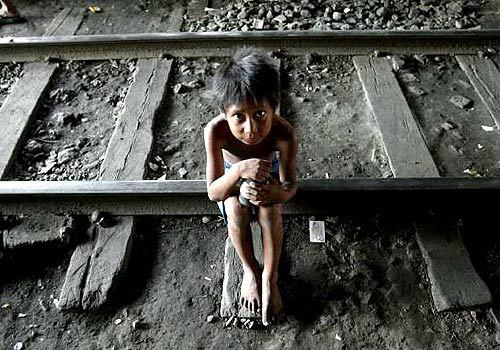 A Filipino boy sits at a railroad track inhabited by urban poor in Manila's Santa Mesa district.
The government in Manila has been planning major reconstruction of the existing rail system, but many urban poor have become accustomed to living close to the tracks, and refuse to leave.
(Rolex dela Pena / EPA)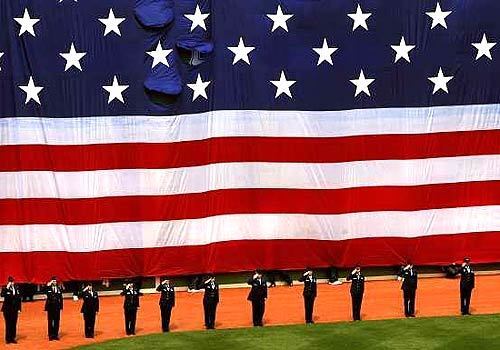 Members of the United States Air Force salute as the National Anthem plays before the Boston Red Sox home opener at Fenway Park.
(Travis Lindquist / Getty Images)
A young penitent of the "San Esteban" brotherhood is seen before he participates in a Holy Week procession in Seville, Spain. Hundreds of processions take place throughout Spain during the Easter Holy Week.
(Bernat Armangue / AP)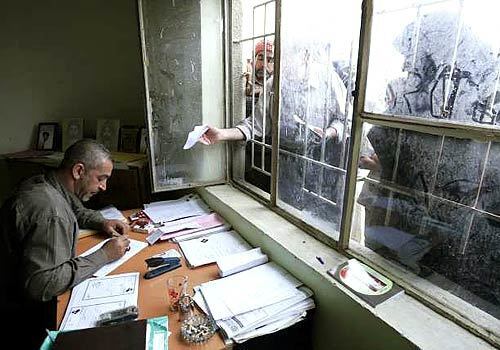 An Iraqi man working for radical Shiite cleric Muqtada Sadr fills out slips for entry into a refugee camp. The camp was set up for Shiites who have abandoned their homes in mixed Sunni-Shiite neighborhoods in Baghdad amid rising sectarian tensions.
(Ahmad Al-Rubaye AFP/Getty Images)
Noelle is a lifelike, pregnant robot used in increasing numbers of medical schools and hospital maternity wards. Medicine is moving away from centuries-old training methods using live patients, and towards high-tech simulations.
(Jeff Chiu / AP)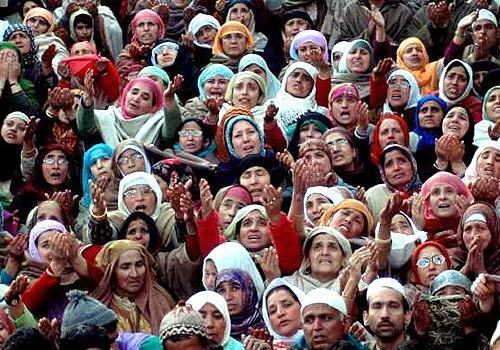 Kashmiri Muslim women offer prayers on the Prophet Muhammad's birth anniversary. In Srinagar, the summer capital of Indian-held Kashmir, thousands of Kashmiri Muslims gathered at the Hazratbal shrine, which houses a relic believed to be a hair from the beard of Muhammad.
(Farooq Khan / EPA)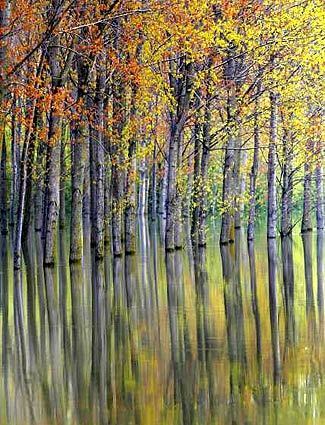 A flooded forest along the Danube River in Romania. Two weeks of heavy rains and melting snow throughout central Europe swelled the river's tributaries and fueled flooding in the country's south.
(Daniel Mihailescu AFP/Getty Images)
Tom Heinz crouches in Brisbane, south of San Francisco, to photograph a car that was upended when a road collapsed. The storm caused widespread mudslides in Northern California.
(Robert Durell / LAT)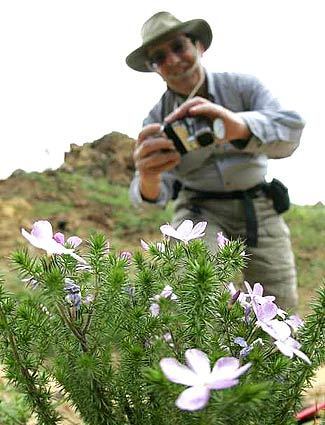 George Arias, 56, of Simi Valley, photographs prickly phlox in the China Flats portion of Cheeseboro Canyon Park.
(Stephen Osman / LAT)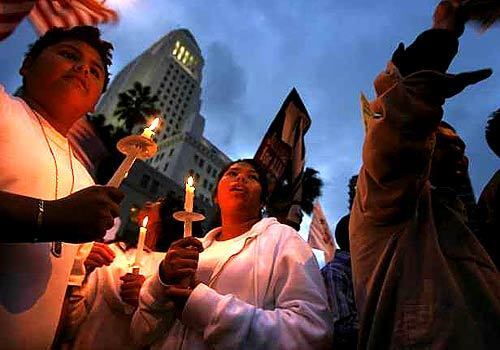 Foes of proposed federal immigration legislation take part in Monday's procession in downtown L.A. About 2,500 people participated in a demonstration that seemed like a celebration, with couples dancing and children shaking noisemakers.
(Wally Skalij / LAT)
A soldier is congratulated by Marine Sgt. Maj. William Skiles, who helped evacuate wounded in Fallouja. The young Marine has undergone repeated surgeries and months of rehab.
(Rick Loomis / LAT)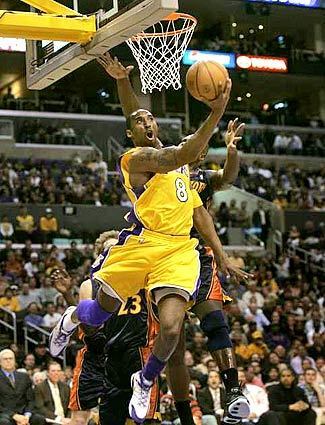 Kobe Bryant beats Golden State Warriors Jason Richardson and Mike Dunleavy for a reverse layup.
(Richard Hartog / LAT)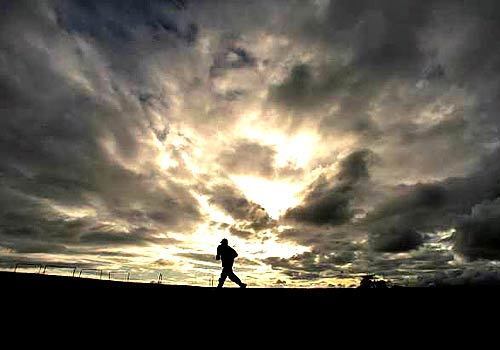 Under threatening skies, Salvador Cruz jogs to the top of the Mt. Hollywood hiking trail in Griffith Park. On Monday, Gov. Arnold Schwarzenegger declared his second state of emergency after winter rainstorms threatened to overburden the state's levees, aqueducts, reservoirs and rivers.
(Mel Melcon / LAT)
Heavyweights battle during the 6th Annual U.S. Sumo Open. The event kicked off in the Los Angeles Convention Center Sunday, bringing together hundreds of Sumo wrestlers from around the world.
(Carlos Chavez / LAT)
State Controller Steve Westly, left, and Treasurer Phil Angelides sing "The Wheels on the Bus" with youngsters at the Children's Institute in L.A. The Democrats, who are vying to challenge Gov. Arnold Schwarzenegger, announced their support this week for Proposition 82, the universal preschool initiative on the ballet in the June 6 election. The measure would raise taxes on individuals earning at least $400,000.
(Myung J. Chun / LAT)
Joshua Johns, 6, plays on a fence next to a flooded area near his home in the Stanislaus County town of Patterson. Heavy rains pushed the San Joaquin River over a levee. The Johns family had to evacuate its horses to a neighbor's ranch.
(Genaro Molina / LAT)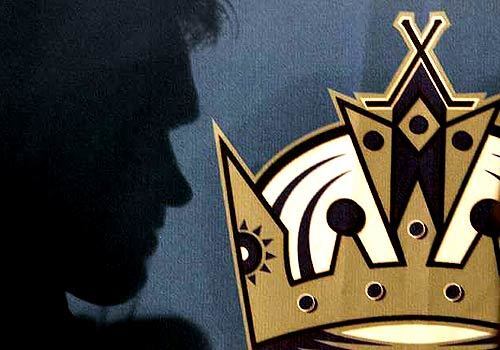 The Kings' Luc Robitaille, who officially announced his retirement, will cast a long shadow.
(Luis Sinco / LAT)