la-hm1-ipyur7kn
Pierre Koenig's Case Study House #22 above Hollywood.
(Julius Shulman / J. Paul Getty Trust)
Angels Flight
Taken in 1902, this picture shows the Angels Flight just after its start. Sight-seeing tower was demolished when nearby buildings were erected.
()
Normandie Village
Rooftops and clock "tower" of the old Normandie Village, a secret playground of Hollywood celebrities during the '20s.
()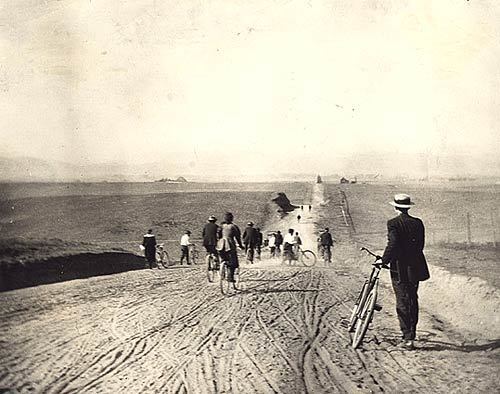 Western Avenue
1895 file photo of historic Los Angeles: Western Avenue looking north from Pico.
()
Long Beach Strand
Long Beach Strand, circa 1910.
()
Promoting California
Page excerpt from the book, "California Calls You, The Art of Promoting the Golden State 1870 to 1940," by KD Kurutz and Gary F. Kurutz.
()
Heavy surf
Marilyn Lane attempts to close her doors to prevent a large wave from crashing into the living room of her Solimar Beach home.
(Alan Hagman / LAT)
Earthquake
Aftermath of an earthquake in Long Beach, Calif. in 1933.
()
Pickfair
Lawn party at the home of Mary Pickford (1935).
()
The players
Douglas Fairbanks and Mary Pickford, the king and queen of 1920s Hollywood, created Pickfair, a mansion that befitted their fame.
()
Pacific Electric building
Pacific Electric building, looking north up Spring Street. At this time the building functioned as a train station.
()
la-hm12-ixl2rwnc
A wrought iron fence encircles a home on Hoyt Street in Pacoima.
(Myung J. Chun / LAT)
la-hm13-ibo1zzkf
Bungalow Heaven in Pasadena is a designated historic district based on the prevalence of a certain style of bungalows, usually one-story Craftsman style.
(Gary Friedman / LAT)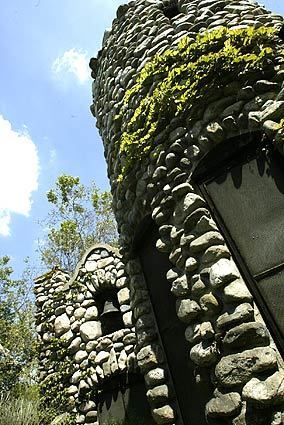 la-hm14-ixmq7nnc
The stone walls of the Lummis house (El Alisal), built over a period of 12 years by Charles Fletcher Lummis next to the Arroyo Seco in Pasadena. Lummis was the first city editor of the Los Angeles Times.
(Iris Schneider / LAT)
la-hm15-ixn0jcnc
Entrance to Hollywoodland on Beechwood Boulevard (date unknown).
()
la-hm16-ixn0hync
Spadena House located at Walden and Carmelita in Beverly Hills. The story book house was once on a movie lot in Culver City.
()
Venice
Gondoliers ply their oars on canals under the romantic bridges of Venice, Calif.
()
Home 1941
The January 12, 1941 cover of Los Angeles Times Home: A Magazine for the House and Garden
()
Sunday Magazine 1936
Cover of the Los Angeles Times Sunday Magazine and Southland Homes and Garden from August 30, 1936.
()
Farm and Orchard 1927
The July 24, 1927 cover of Farm and Orchard Magazine of the Los Angeles Sunday Times.
()
Home magazine 1960
The August 17, 1960 cover of the Los Angeles Sunday Times Home magazine.
()
la-hm22-iyaitinc
Etched glass at the Cathedral of Our Lady of the Angels.
(Francine Orr / LAT)
la-hm23-iy3fk9nc
The Bradbury Building in downtown Los Angeles.
(Richard Hartog / LAT)
la-hm24-idvq5ekf
The Chemosphere House is the mostly glass, flying saucer shaped home of publishing mogul Bernedikt Taschen in Los Angeles.
(Ken Hively / LAT)
la-hm25-iq3d58kn
The courtyard pool area of the Marmol-Radziner modular house in Desert Hot Springs.
(David Glomb)
la-hm26-ish7uqnc
Movie goers crowd at AMC theatres in Burbank on a Friday night.
(Ringo H.W. Chiu / For The Times)
la-hm27-iych9lnc
Cars full of visitors move carefully through a parade of ostriches at Lion Country Safari in 1975.
(Larry Anderson / LAT)
la-hm28-htghn7kf
People walk around the parking lot outside the Lava Lounge in Hollywood on a Friday night.
(Stefano Paltera / For The Times)
la-hm29-g04qrrke
The city of Villa Park and Orange have passed laws that make it harder to build five-, six- and seven-car garages - and garages that tower to 20 ft. high.
(Karen Tapia-Anderson / LAT)
la-hm30-i1o98ykf
Palazzo Apartments at Park La Brea were built by developer Alan Casden.
(Ken Hively / LAT)
la-hm31-dsnhhsgy
The entrance at the Brand Library, once known as El Miradero, in Glendale on Mountain Street.
(Lori Shepler / LAT)
la-hm32-i5r28dkf
Beach cottage at what is now called Malibu Colony but called Malibu La Costa in 1940. This cottage sold for between $4995-$5750 in 1940.
()
la-hm33-if5pw4kf
DreamWorks co-founder David Geffen, who sought to bar public access to his Malibu beachfront property, agreed to reimburse California and a nonprofit group $300,000 in legal fees.
(John Marshall Mantel / AP)
la-hm34-fug84zke
Frank L. Baum, author of "The Wonderful Wizard of Oz."
(AP)
la-hm35-ec1e6cgw
Cecil B. DeMille, circa 1923.
()
la-hm36-fkdx8bke
Job Harriman, founder of Llano del Rio colony, sits in the front passenger seat of a car at the colony (1914).
()
la-hm37-ezk3augw
Mae West from the movie "She Done Him Wrong" (1933).
()
la-hm38-iy905znc
Portrait of Isaac Newton VanNuys. VanNuys was a farmer who came to California with a vision of better possibilities for agricultural production.
()
Redondo Duplex
A painting by Dorothy Braudy.
(Dorothy Braudy)
The mighty oak
An oak tree in Thousand Oaks, Calif.
(Al Seib / LAT)