20 Images
The Week in Photos: May 13-19
la-0517-week01-jhy9xvnc
The fire that swept through Santa Catalina also burned out the wedding Kurt Edwards, 20, and Katie Wrighton, 19, had been planning for 18 months in Avalon. But love knows no bounds: The couple celebrates their hastily rescheduled nuptials at the Harbor Light Church in Costa Mesa.
(Glenn Koenig / LAT)
la-0517-week02-jhqkr6nc
Thirty years ago, a car accident severed Sergio Valencia's spine, forcing him into a wheelchair. Then the ocean called to him in a dream, and he found freedom, fame and a monthly stipend as a swimmer who came to be known as the Black Shark. That was then, this is now, when he supplements his meager income by spearing fish and octopuses on his swims, selling his catch on the streets of Ensenada. Here, after a workout, an exhausted Valencia is helped onto a Boogie board.
(Don Bartletti / LAT)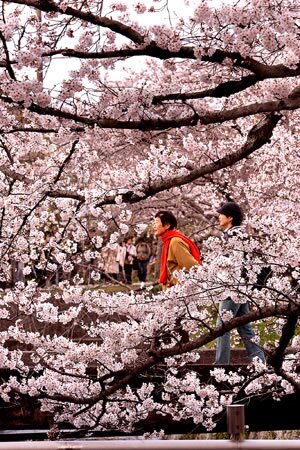 la-0517-week03-jhfo3bnc
During sakura zensen, or cherry blossom season, people indulge in the proliferation of pink along the Path of Philosophy leading to the Ginkakuji temple, or Silver pavilion, in Kyoto. It's a joyous time in Japan, a time to celebrate renewal.
(Beatrice De Gea / LAT)
la-0517-week04-jhws0dnc
Referees break up a conflagration between Shawn Thornton, right, of the Ducks and Danny Markov of the Red Wings during the second period of Game 1 of the Western Conference finals of the Stanley Cup playoffs at Detroit. Who came out on top in this scrap is a matter of opinion, but the Red Wings won the game, 2-1.
(Christine Cotter / LAT)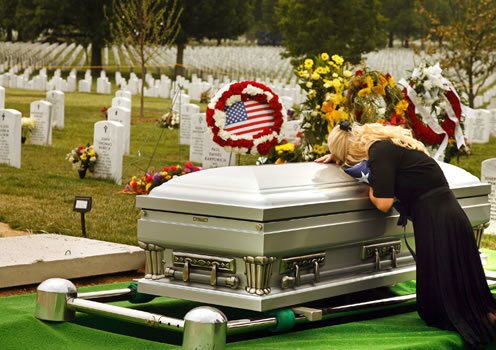 la-0517-week05-ji5k1hnc
Clutching a U.S. flag, Pamela Zembiec mourns the loss of her husband, Maj. Douglas Zembiec, at his burial at Arlington National Cemetery in Virginia. More than 700 people attended a service at the United States Naval Academy Chapel in Annapolis, Md., before a vehicle procession made its way to the cemetery for Zembiec's interment. The highly decorated Marine, who leaves behind a child in addition to his wife, was killed in combat in Iraq.
(Rick Loomis / LAT)
la-0517-week06-jhon3vnc
Designed to house the cremated remains of alumni, faculty and even their pets, the columbarium at Chapman University is of extreme interest to visitors Jacob Foyston, left, and Ashford Kekaula. There is a growing trend among colleges to offer interment space on school grounds.
(Karen Tapia-Andersen / LAT)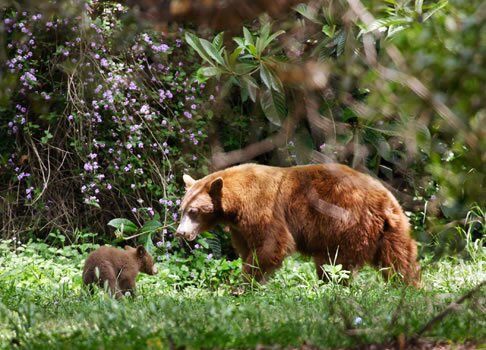 la-0517-week07-ji3o4nnc
An ursine mother and cub hunt and gather in suburban Bradbury, drawing massive media attention including helicopters that were less welcome among residents than the main attractions. "The bears aren't bothering anybody," one resident said. A bear was also sighted in Altadena.
(Bryan Chan / LAT)
la-0517-week08-jfoxkpnc
Every few years, the U.S. Navy constructs a temporary ice camp to stage submarine war games. Following a navigation exercise, crew members from the camp near this ice floe in the Beaufort Sea walk along the bow of the nuclear submarine Alexandria after cutting a path to the hatch with a chain saw through ice as thick as 3 feet.
(Myung J. Chun / LAT)
la-0517-week09-ji5qo6nc
Victor Vega, an employee of Star Ornamental Ironworks, works to dismantle the 40-foot fiberglass and steel globe in Laguna Woods. The southern Orange County landmark, which has stood for almost 45 years, will be scrapped for recycling. The dismantling was part of a settlement with the owners of the Leisure World trademark after the community changed its name to Laguna Woods Village.
(Karen Tapia-Andersen / LAT)
la-0517-week10-jhwczhnc
A Navy hovercraft carrying firefighting vehicles from Camp Pendleton arrives at Santa Catalina Island. The vessels ran throughout a night and into the next day delivering 1,500-gallon water trucks, bulldozers and inmate firefighters. Joining the fleet were Coast Guard cutters bearing additional firefighters.
(Bryan Chan / LAT)
la-0517-week11-ji6sc6nc
A Palestinian man tries to extricate himself from rubble following an airstrike by Israeli warplanes on the headquarters of the Hamas-established Executive Security Force in Gaza City, Gaza Strip. The death toll for this and several other airstrikes was nine people.
(Mohammed Saber / EPA)
la-0517-week12-ji2xm4nc
A Palestinian grieves at the morgue in the Deir el-Balah hospital in the central Gaza Strip where the bodies of killed security officers in the Fatah-dominated security services were brought following fighting near the Karni crossing with Israel. Eight Palestinians were killed in an ambush on a presidential guard camp that was blamed on Hamas, as deadly factional fighting threatened to spiral out of control in the Gaza Strip. The resurgence of fighting is the deadliest bout of violence in months.
(Mahmud Hams / AFP / Getty Images)
la-0517-week13-ji4yffnc
New French President Nicolas Sarkozy waves from the car as he is driven down the Champs Elysees following a ceremony at the tomb of the unknown soldier beneath the Arc de Triomphe in Paris. Sarkozy assumed leadership from Jacques Chirac as the 23rd French president, vowing to usher in a period of deep reform.
(Stephane De Sakutin / AFP / Getty Images)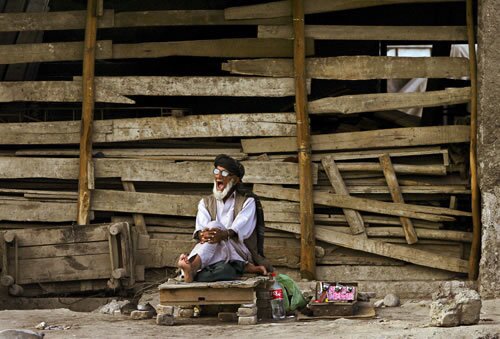 la-0517-week14-ji1gn1nc
An elderly street barber fights fatigue as he waits for customers in Kabul, Afghanistan.
(Musadeq Sadeq / AP Photo)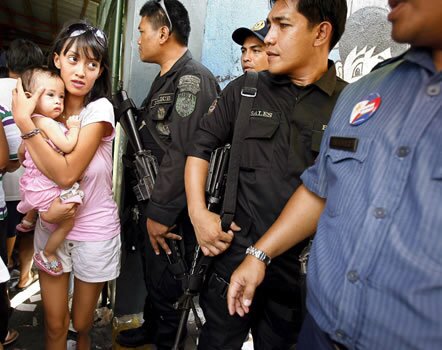 la-0517-week15-ji0yawnc
Members of the Philippine National Police stand guard at a polling place in Quezon City north of Manila during midterm elections. Voting was described as "generally peaceful" by Philippine standards. The police and the military were placed on high alert for the elections, with 115,000 policemen and 20,000 soldiers deployed countrywide. At least five people were killed in separate attacks in the island nation, bringing to 118 the number of people killed in election-related violent incidents since January.
(Mike F. Alquinto / EPA)
la-0517-week16-ji4np8nc
Disabled people in Xi'an China receive wheelchairs donated by the Disabled Persons' Federation of Beilin District and the Wheelchair Foundation. One hundred thirty-nine disabled people benefited from the gesture in advance of the National Day of Disabled Persons, which falls on May 20 this year. The number of disabled people in China is estimated to be more than 60 million.
(AP Photo / EyePress)
la-0517-week17-ji4yxznc
Indian police remove weapons from Nowgam Police Station on the outskirts of Srinagar as fire rages through the building. A series of accidental blasts at the facility sparked panic as people fled as if being attacked by Muslim rebels. Police said that an electric short-circuit sparked the blaze where ammunition is stored inside.
(Irshad Khan / AFP / Getty Images)
la-0517-week18-ji1t60nc
Employees of Guatemala's Supreme Court collect firearms in Guatemala City. Approximately 1,000 firearms seized from gangs during the last four years were destroyed by a road roller in front of the Supreme Court building.
(Rodrigo Abd / AP Photo)
la-0517-week19-ji3bbanc
Mourners offer prayers for the victims of a suicide bombing at a hotel restaurant in Peshawar. A Pakistani government spokesman said it was too early to say whether the attack was tied to last weekend's death of a Taliban commander. At least 25 people were killed, deepening the instability within the strife-torn nation.
(Tariq Mahmood / AFP / Getty Images)
la-0517-week20-ji1h7vnc
Emirates Team New Zealand, right, leads Spain's Desafio Espanol on the first day of racing in the semi-finals of the Louis Vuitton Cup in Valencia, Spain. The other semi-final saw an early surprise after the Italians of Luna Rossa shocked U.S. giants BMW Oracle racing. The champion here takes on Swiss defenders Alinghi for the America's Cup title.
(Jose Jordan / AFP / Getty Images)