19 Images
The Week in Photos: May 20 - May 26
Drama unfolds outside the Kodak Theatre Wednesday night as fans of the TV show "American Idol" amass before the climax of Season 6, wherein Jordin Sparks is voted the winner over Blake Lewis. Among the red-carpet crowd is a woman calling herself "Jewelled Cat," snapping photos at what she hopes are celebrities.
(Spencer Weiner / LAT)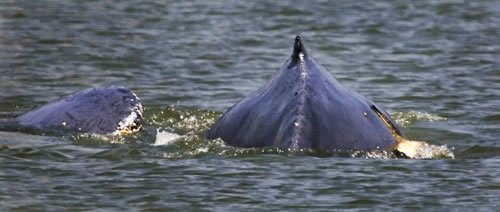 The gash visible in the side of a mother humpback whale swimming upstream in the Sacramento River is believed to have been caused by a boat propeller. Although not thought to be life-threatening, the wound is more likely to heal with the salve of salt water, but the whale and her calf appear confused, distressed and unable to navigate toward San Francisco Bay and the Pacific Ocean beyond. The extent of the calf's injuries is not known. Authorities have tried several strategies, including broadcasting whale chatter underwater and blockades to encourage the endangered mammals to head for their natural habitat, so far without success.
(Robert Durell / LAT)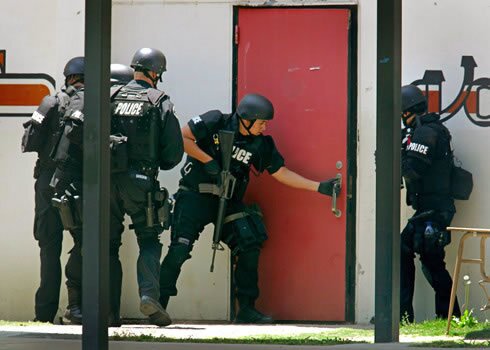 Members of the West Orange County SWAT team conduct a sweep through Westminster High School on Wednesday morning after a 14-year-old student's arrest ended a 30-minute standoff over his alleged threat to blow up a classroom of students with explosives in his backpack. No such bomb was found. The entire student body of about 2,400 students was evacuated to nearby Buckingham Park.
(Karen Tapia-Andersen / LAT)
Flat on his back, Detroit Red Wings goalie Dominik Hasek is powerless to defend the shot of the Anaheim Ducks Ryan Getzlaf (not pictured), nor can the Red Wings' Kris Draper keep the puck out of the net. Todd Marchant of the Anaheim Ducks raises his stick in celebration of the second-period score in game six of the NHL Stanley Cup Western Conference Finals Tuesday night. Observed by equally impotent Red Wings Chris Chelios and Nicklas Lidstrom, it was the third Ducks goal in a game the Ducks won 4-3 at the Honda Center in Anaheim. They move on to compete for the league championship against Ottawa, beginning Monday at Anaheim.
(Allen J. Schaben / LAT)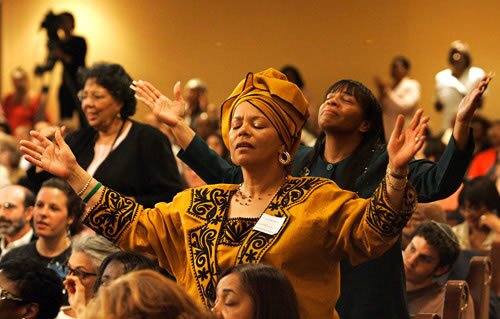 Hundreds of people squeeze into First AME Church in Los Angels Sunday for Darfur Observance Day. Highlighted by a two-hour service aimed at inspiring a grass-roots movement to help end the genocide in Sudan, the observance was billed as a first-of-its-kind effort for a major U.S. city to draw attention to the crisis that has evoked memories of the Nazi Holocaust and other massive tragedies. Sunday's event was developed after two Jewish organizations, the American Jewish Committee and Jewish World Watch, approached First AME and Mayor Antonio Villaraigosa to find ways to raise awareness and spur activism.
(Lawrence K. Ho / LAT)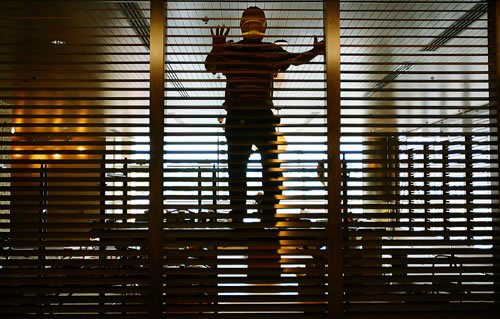 A worker puts the finishing touches on the restaurant in the main lobby of the Landmark theater in West Los Angeles, scheduled to open June 1 at a cost of $20 million. With 12 screens and high-end amenities, the complex is billed as the ultimate experience for fans of indie films. It's expected to give the cross-town ArcLight Cinemas in Hollywood serious competition for serious filmgoers. "We want a discerning moviegoer," says Ted Mundorff, chief operating officer of the Landmark's parent company, "who appreciates cinema, who wants to see it in a mature atmosphere."
(Al Seib / LAT)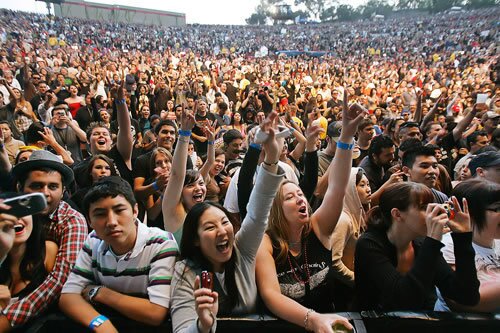 The crowd expresses its approval of local act Social Distortion at Saturday's KROQ Weenie Roast y Fiesta at the Verizon Wireless Amphitheater in Orange County. The event, say reviewers, showed its competing impulses to stay true to the values of modern rock -- authenticity, earnestness, boys with guitars and a healthy ladle of angst -- while navigating a pop market that demands freshness, experiment and instant gratification.
(Spencer Weiner / LAT)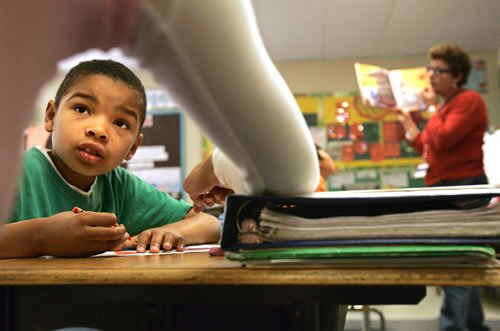 Diagnosed as autistic, Marty Martin, 8, sits quietly in the front of his class at 3rd Street Elementary School. "Pick up your yellow highlighters," says his teacher. Nineteen of the 20 second-graders simultaneously reach toward their desktop pencil cups. Marty is the lone student who does not respond. According to the state Department of Education, there are more than 34,000 children in California public or specialized schools with autism, a developmental disability that affects a person's ability to communicate and socialize. Areva Martin, Marty's mother, teaches poor local families how to get appropriate instruction for their children.
(Béatrice de Géa / LAT)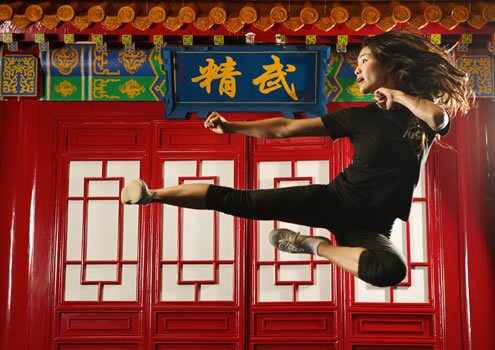 In addition to appearing in the third installment of "Pirates of the Caribbean," actress Michelle Lee has two more films coming out this year. She takes acting classes to perfect her art, but has an almost equally serious interest in martial arts. Here she performs a flying kick against a backdrop of Chinese characters at the National Wushu Training Center in Los Angeles.
(Bryan Chan / LAT)
Smoke billows from Nahr el Bared, a Palestinian refugee camp in northern Lebanon, after the army unleashes a barrage of artillery and tank fire Monday. The conflict between the Lebanese army and Fatah al-Islam militants claimed at least 80 lives this week, and thousands of the camp's residents have fled, many carrying only what they could pack into a few plastic bags. Fatah al-Islam is a shadowy group accused of links to Al-Qaeda and Syrian intelligence services.
(Ramzi Haidar / AFP / Getty Images)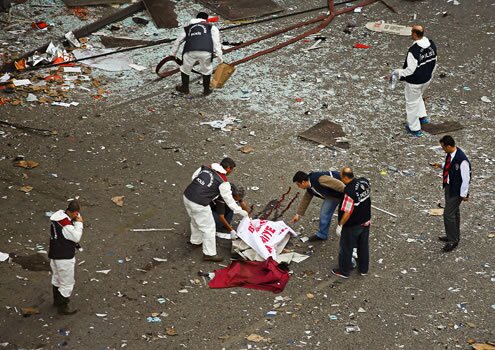 Police forensics and terrorism experts examine a body after a powerful explosion killed five people and injured 60 during a busy rush hour Tuesday in the Turkish capital of Ankara. Prime Minister Recep Tayyip Erdogan said four Turks and one Pakistani were killed in the blast, and that authorities were investigating the type of bomb used. The attack shattered windows, wrecked a bus shelter and scattered debris over a wide area.
(AP Photo)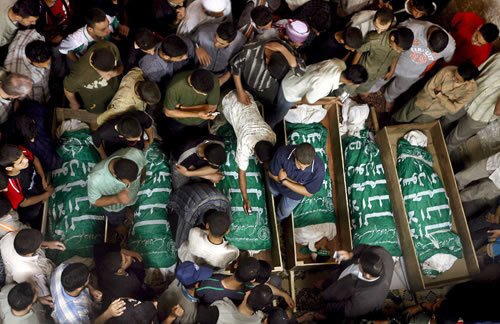 Palestinians pray over some of the bodies of nine Palestinians killed by an Israeli air strike in Gaza on Monday. For its part, after a week of rocket attacks Israel responded on Thursday, by arresting 33 senior members of Hamas in their homes, including three members of parliament and six mayors.
(Ali Ali / EPA)
A zookeeper displays a new-born Egyptian tortoise at the Bioparco di Roma (Rome Zoo) on Wednesday. Rome's main zoo has successfully bred several of the rare reptiles whose parents were rescued from a smuggler's suitcase in 2005. The first egg hatched in April, six more followed this month and several more are yet to hatch. The Egyptian tortoise, known as Testudo Kleinmanni, is covered by the Convention on International Trade in Endangered Species, or CITES, with the highest level of protection. Trade in such animals, many of which are threatened with extinction, is rarely permitted.
(Tiziana Fabi / AFP / Getty Images)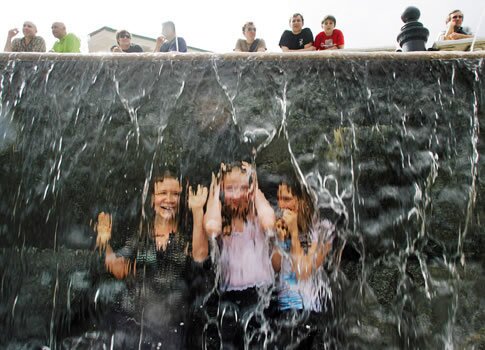 Even though it's spring, if it's Moscow, it's summer in the city, where temperatures on Wednesday of 86 degrees prompted teenagers to seek relief in a fountain in the central part of town.
(Sergey Ponomarev / AP Photo)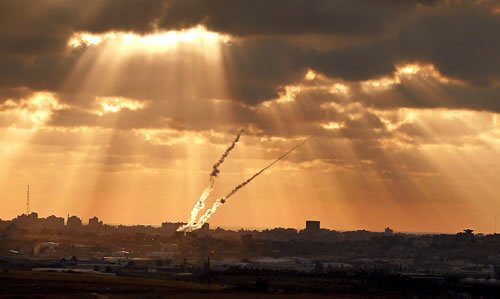 Two Kassam rockets fired by Palestinian militants in the northern Gaza Strip illuminate the sky at sunset on Tuesday. The Kibbutz Mefalsim in southern Israel near Sderot has born the brunt of the rocket attacks this week.
(Amir Meri / EPA)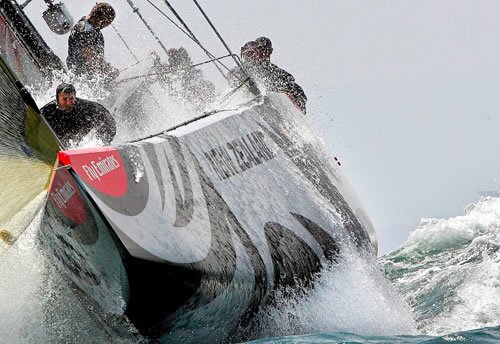 The crew of Emirates Team New Zealand navigates formidable waters off the coast of Valencia, Spain, during the semifinal of the Louis Vuitton Cup against the Desafio Espanol on Wednesday. New Zealand ruled these waves, beating the Spanish vessel to advance to the final against Luna Rossa of Italy. The Kiwis took the best-of-nine semifinals series 5-2. The winner of the finals will challenge Switzerland's Alinghi for the America's Cup.
(Bernat Armangue / AP Photo)
Candles at the Portuguese shrine of Fatima burn for Madeleine McCann, the 4-year-old who disappeared from her parents' hotel room earlier this month in Praia da Luz, a resort in southern Portugal. The McCanns visited Portugal's holiest site Wednesday to pray for the safe return of their daughter.
(Miguel Riopa / AFP / Getty Images)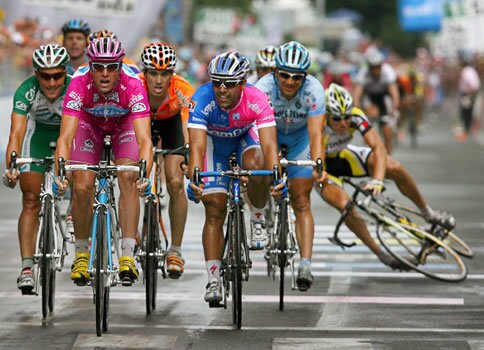 Starting an unfortunate trend, Nicoli Trussov falls from the pack during the 11th stage of the 90th Giro d'Italia cycling tour on Wednesday. Italian Alessandro Petacchi crossed this finish line first, covering the 123-mile course from Serravalle Scrivia to Pinerolo in less than six hours, but fellow Italian Andrea Noe retained the pink jersey of the overall leader.
(Maurizio Brambatti / EPA)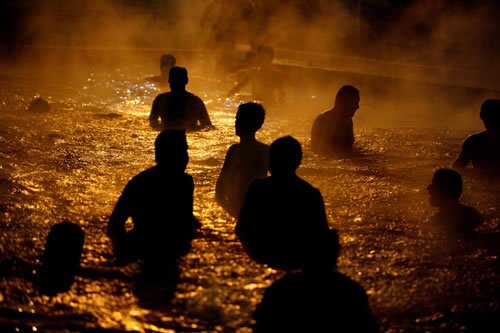 Residents savor the renowned medicinal properties of the hot mineral water baths in Garmisch Gul-Ardabil, Iran. The historically significant city is home to the Safavid family shrines and lies along a main road to the Republic of Azerbaijan.
(Majid Saeedi / Getty Images)