19 Images
The Week in Photos: May 21-27
la-week1-izujy4nc
Seniors Ashley Bennett, left, and Whitney Jones study on campus after school at Duke Ellington High School Thursday in Los Angeles. Bennett is 17 years old and Jones is 18. Jones has failed the exit exam and will not be able to graduate in June after the state Supreme Court reinstated the high school test.
(Richard Hartog / LAT)
la-week2-izs8r9nc
Activist and singer Joan Baez camps out in a tree at the South L.A. community farm where she and other celebrities gathered in an effort to save the location for urban farmers.
(Lawrence K. Ho / LAT)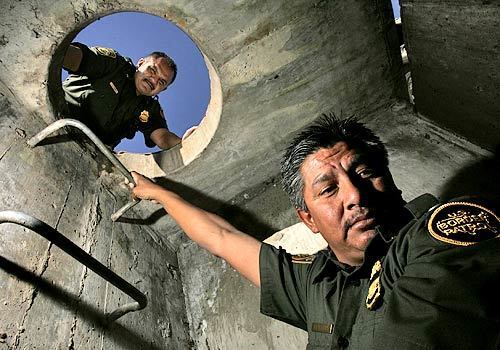 la-week4-irm5gbnc
About a mile north of the U.S.-Mexico border, Border Patrol Supervisor Matilde Torres inspects a drainage tunnel often used by smugglers to sneak into the U.S. Agent Joe Perez peers through the open manhole where migrants exit to the street of an industrial park.
(Don Bartletti / LAT)
la-week5-izud52nc
Russell Webb, 13 months, of Camarillo plays at Baby Beach in Dana Point. The beach, long known for being polluted, is now cleaner because of a variety of measures.
(Mark Boster / LAT)
la-week6-izoo93nc
A Los Angeles city firefighter and a homeless man are airlifted Monday to safety from a small island in the middle of the Los Angeles River on which the man was living near the Glendale-Los Angeles border. Steve Parrish, public information officer for the Glendale Fire Department, said a passerby heard the man screaming for help as rain that day caused the river to rise. After changing into dry clothes, the unhurt man walked away.
(Myung J. Chun / LAT)
la-week7-izr5annc
Los Angeles Dodger centerfielder Kenny Lofton grabs the ball on a bounce to prevent the ball from going to the wall on a double hit by Colorado Rockies Luis Gonzalez during the second inning at Dodger Stadium on Tuesday. The Dodgers won the game 8-1.
(Richard Hartog / LAT)
la-week8-izh9umnc
A U.S. Border Patrol agent escorts a migrant apprehended near Jacumba, Calif., which sits across from the "black hole" of Jacume, Mexico, a known center of human and drug trafficking.
(Luis SInco / LAT)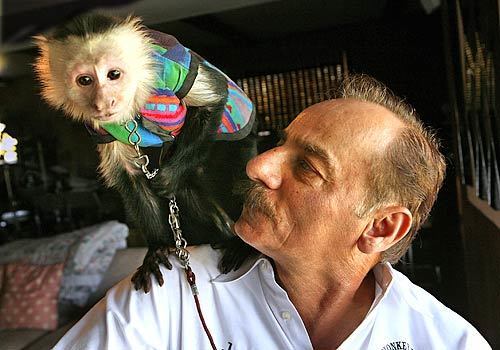 la-week9-ixivernc
Joe Bush and his monkey George II continue to perform the organ grinder, the last one left in the New York area.
(Carolyn Cole / LAT)
la-week10-izqvh4nc
Stan White teaches students about tarantulas during a science program at 112th Street Elementary School in Watts. For roughly 30-years, Stan White has run science programs at Los Angeles schools, and is able to motivate students at even the lowest performing schools.
(Ken Hively / LAT)
la-week11-izs2avnc
A firefighting plane helps douse flames Wednesday in the cargo area of Ataturk International Airport near Istanbul, Turkey's largest city. Commercial flights continued despite the blaze.
(AP)
la-week12-izs4oanc
Israeli Prime Minister Ehud Olmert, bottom left, shakes hands with a group of congressional pages after he addressed a joint session of the U.S. Congress in Washington on Wednesday.
(Matthew Cavanaugh / EPA)
la-week13-izodzync
Two immigrants take part in a citizenship ceremony Monday in Mount Vernon, Va. Immigrants from about 42 countries were sworn in as U.S. citizens during the ceremony.
(Alex Wong / Getty Images)
la-week14-izqb20nc
Migrant workers tend to the fields Tuesday south of Dowagiac, Mich.
(Jim Rider AP/South Bend Tribune)
la-week15-iztreanc
An ederly Palestinian woman walks by a group of militants with the Al Aqsa Martyrs Brigade who had gathered Thursday for a march supporting President Mahmoud Abbas and his Fatah faction in Nablus, West Bank. Abbas wants a referendum on a Palestinian state in the West Bank, Gaza Strip and East Jerusalem. --
(Nasser Ishtayeh / AP)
la-week16-izrrbdnc
Pope Benedict XVI is surprised by a wind gust as he crosses Bells Arch in Vatican City for the general audience at St. Peter's Square on Wednesday.
(Claudio Onorati / EPA)
la-week17-izo6ixnc
A woman in Podgorica waves the Montenegrin flag through Podgorica on Monday. Montenegro became independent from Serbia, which were part of the former Yugoslavia.
(Srdjan Ilic / AP)
la-week18-izpvd7nc
Palestinian men crowd together to receive coupons at a U.N. food distribution center in the Jebaliya refugee camp in the northern Gaza Strip on Tuesday. The U.S. and European Union have cut off tens of millions of dollars in annual aid, and Israel has stopped transferring $55 million in monthly taxes it collects on behalf of the Palestinian Authority, since the Hamas-run government took office.
(Emilio Morenatti / AP)
la-week19-izpwg7nc
A farmer walks as Mt. Merapi erupts in the background as seen from Cangkringan village, near Yogyakarta, Indonesia, on Tuesday. The 9,800-foot volcano has been rocked by a series of spectacular eruptions since May 13 and remained a danger to villagers living on its slopes.
(Purwowiyoto / AP)
la-week20-izsuz7nc
Taylor Hicks raises the hand of Katharine McPhee after he is announced as the winner Wednesday on "American Idol."
(Kevork Djansezian / AP)