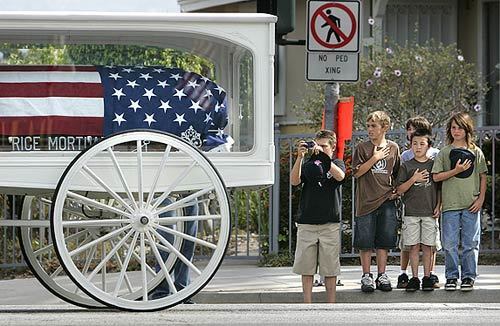 12 Images
In Focus: Staff Photos from June 3 - June 9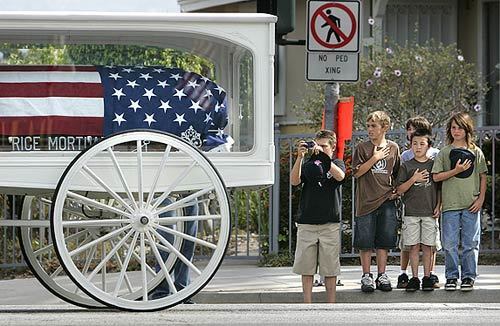 Children show their respect for a soldier who lost his life in Iraq. A horse-drawn carriage conveys the coffin of Army Pfc. Joseph J. Anzack Jr., 20, to a service Friday at South High in Torrance, where he played football. Anzack was captured in an ambush near Baghdad on May 12, but his body wasn't found for nearly two weeks.
(Wally Skalij / LAT)
Illegal dumps are spread across the Torres Martinez reservation like ugly wounds, making it the most polluted tribal land in California, Nevada and Arizona. Vast swaths of desert have been transformed into toxic trash heaps threatening the tribe and nearby communities. Federal officials struggle to shut down the dump sites, but new ones pop up all the time. Unlike other tribes nearby, the Torres Martinez are poor. But. they do have 24,000 acres of land from Riverside to Imperial counties, and as development in the Coachella Valley has exploded, some tribal members have cashed in by offering land to people looking to cut corners on waste disposal costs. Tent dweller Tonetta Torro, 50, has lived alongside the hazardous AuClair dump, and keeps four wolves tied up for protection from the bad elements who populate the area.
(Irfan Khan / LAT)
Celebrating the first NHL championship on the West Coast, Anaheim Ducks Dustin Penner, left, Ryan Getzlaf and Corey Perry hoist the Stanley Cup after taking the series in game 5 against the Ottawa Senators by an impressive score of 6-2 at home in the Honda Center.
(Wally Skalij / LAT)
Time was, handball was the sport of the barrios, and although it has become less popular with changing demographics, the game has endured in certain neighborhoods. In Santa Ana, handball courts recently were renovated, and on Saturday, the Street Light Church of Garden Grove held a tournament and Christian outreach to players predominantly affiliated with gangs. Raymond Carra of Ventura shows his form during play at El Salvador Park as David Nunez of Lake Forest, rear left, Armando Duran of Santa Ana and Anthony Lara of Anaheim anticipate the return.
(Allen J. Schaben / LAT)
Residents of a home in Highland Park consumed by fire escaped unharmed Sunday afternoon, but neighbors, including Vicky Miranda, right, and an unidentified woman, reflect the trauma and the danger. The fire, whose cause was not immediately known, started outdoors and spread to the home's attic. It took firefighters about half an hour to extinguish the blaze.
(Rick Loomis / LAT)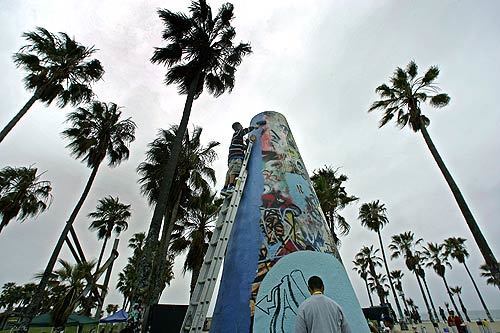 The beach structures near the former site of the Venice Pavilion have long been a magnet for graffiti. Painting there was made legal several years ago, but taggers have been drifting over from the legal area to deface homes and businesses nearby. Hoping to quell complaints from locals, a new set of regulations was launched Sunday for the Venice Graffiti Walls. Under the new system, volunteers will staff the beach site near Windward Avenue on weekends and city holidays, and issue would-be artists free permits to paint. Police will patrol the surrounding area, cracking down on graffiti vandalism outside of the permitted area, renamed the Venice Public Art Walls. Here, Tony Castellanos covers illegal graffiti at the site
(Richard Hartog / LAT)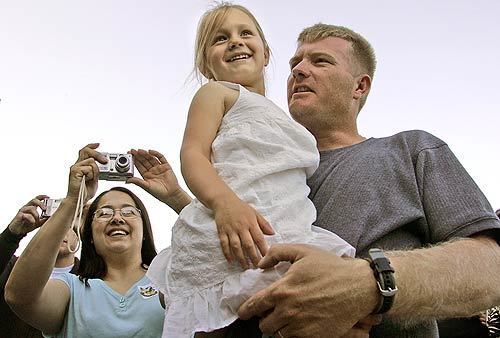 Nearly a year ago, Staff Sgt. Claudia Hernandez-Smith and her husband Staff Sgt. Gary Smith were deployed with a Black Hawk helicopter division of the Army's 131st Aviation Regiment to Iraq. For months, Stephanie Delgadillo was unsure whether her mother, Hernandez-Smith, and stepfather, Smith, would be granted leave to attend her graduation from Hesperia High School. In their absence, Stephanie's older sister, Audrey, 21, had tended to their three younger siblings. Last Thursday, as a sun-splashed afternoon gave way to dusk at the Hyundai Pavilion in Devore, the ovation at the end of the ceremony signaled the culmination of a nearly two-day, knee-aching plane trip that took the parents from Iraq to Kuwait to Scotland to Dallas and finally home. Here, Hernandez-Smith takes a photo as Smith holds sister Ashley Smith, 5, at Stephanie's graduation.
(Irfan Khan / LAT)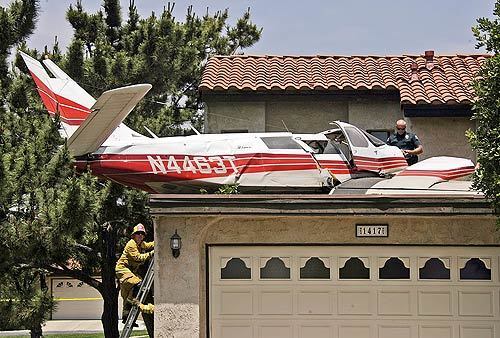 A Piper Seneca on approach to Cable Airport in Upland Monday lost power and crashed into three Blossom Circle homes, injuring the three men aboard but no one inside the homes. It clipped the red-tile roof of a house, hit the roof of another and a tree, whipped around and came to rest on the garage of this house. The plane's tail and its left side were mangled, the right side was dented and its right passenger door was smashed in. But there was no fire, only a small fuel leak, and the flying instructor and two student pilots were taken to hospitals with minor and moderate injuries. "We were real fortunate that the plane and the homes didn't catch on fire," said Michael Antonucci, chief of the Upland Fire Department. "This could've involved five or six houses if there had been flames."
(Irfan Khan / LAT)
Marines untangle an oversize flag buffeted by gusty winds at Camp Pendleton during ceremonies Monday posthumously honoring a 21-year-old Marine. Cpl. Jason Clairday, Killed in Fallouja, Iraq, in 2004, was remembered as one "who set the standard for others to follow." He was awarded the Navy Cross for leading Marines in storming an insurgent stronghold to support troops pinned inside the home. Wounded in the first assault, Clairday refused to leave the fight and insisted on leading a second assault. With grenades and M-16 fire, Clairday and his fire-team members killed the insurgents inside the home and saved several Marines. But wounds he suffered during the second assault proved fatal.
(Don Kelsen / LAT)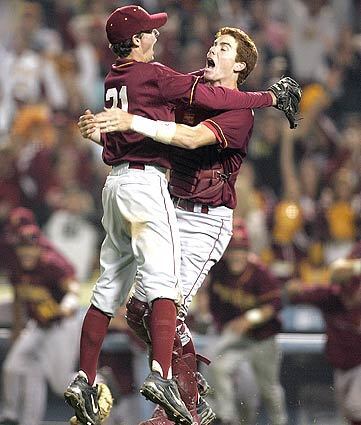 Pitcher Elliot Glynn, left, and catcher Tyler Albright embrace in glee after Long Beach Wilson beat Anaheim Canyon in the Southern Section Division I final baseball championship Friday night at Dodger Stadium. The winning score was 5-1 behind Glynn's three-hitter.Long Beach Wilson had not won a section baseball championship since 1950.
(Lori Shepler / LAT)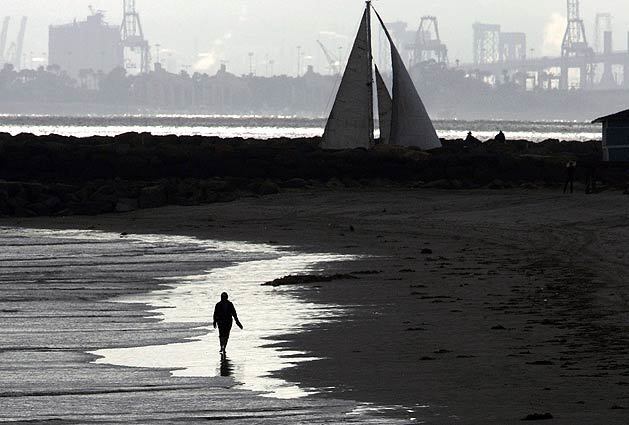 Under overcast skies and braving cool coastal temperatures, a solitary figure and the silhouette of a sailboat in Seal Beach stand in contrast to the bustle of Long Beach beyond on a monochrome Tuesday morning in June.
(Mark Boster / LAT)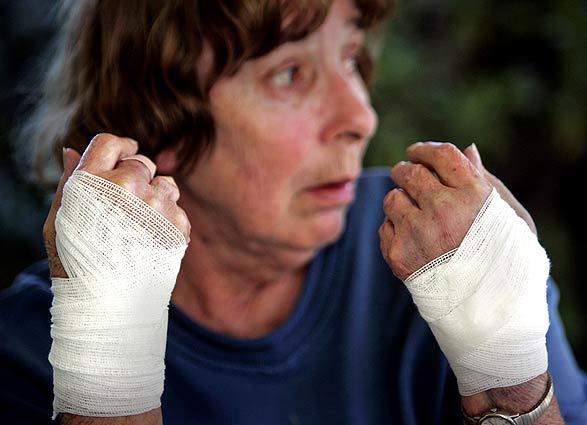 Nan Haacker and Wolfgang, her poodle, stepped out of their home in Tustin for an early morning walk Wednesday only to be confronted by two snarling pit bulls on the front porch. The larger dogs savagely attacked and killed Wolfgang, and wounded Haacker as she tried to protect him. The pit bulls later were captured, but the identity of their owner remains unknown.
(Robert Lachman / LAT)