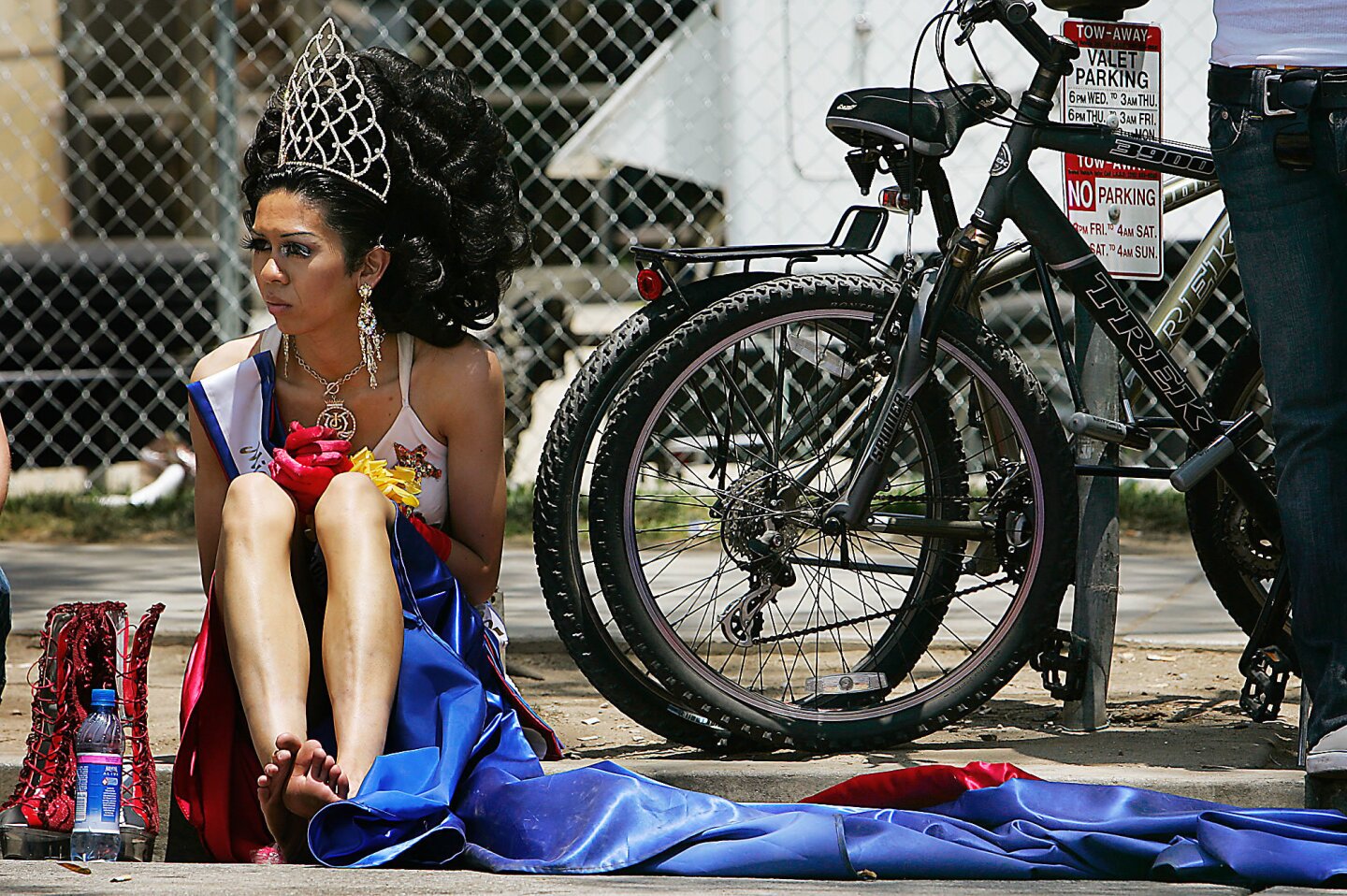 8 Images
In Focus: Staff Photos from June 10 - June 16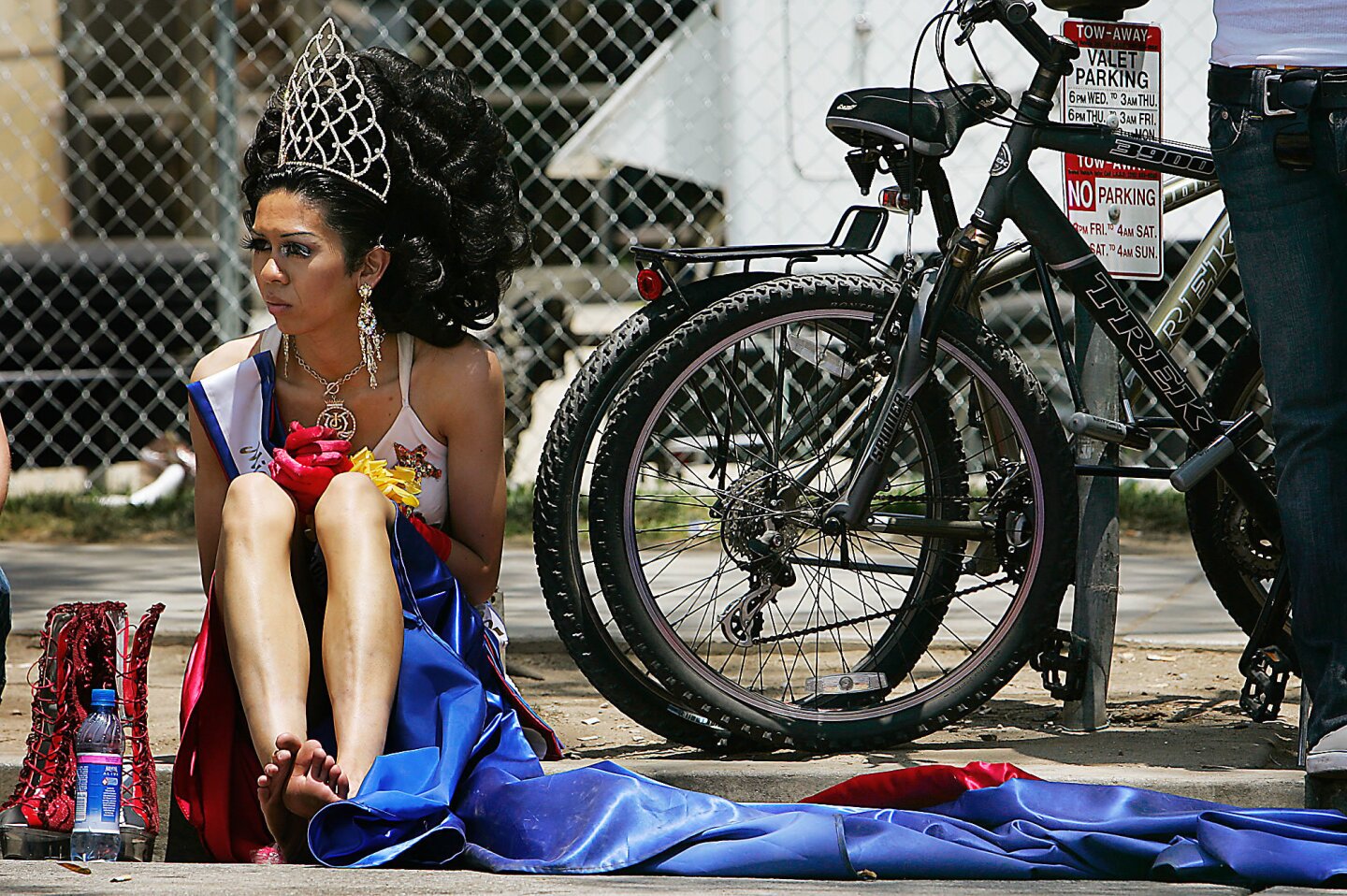 Paris Queen, Miss Gay Philippines International, rests his feet after marching with thousands of revelers in the 37th annual L.A. Pride Parade Sunday in West Hollywood. The festive street scene celebrates gay, lesbian, bisexual and transgender lifestyles.
(Robert Gauthier / LAT)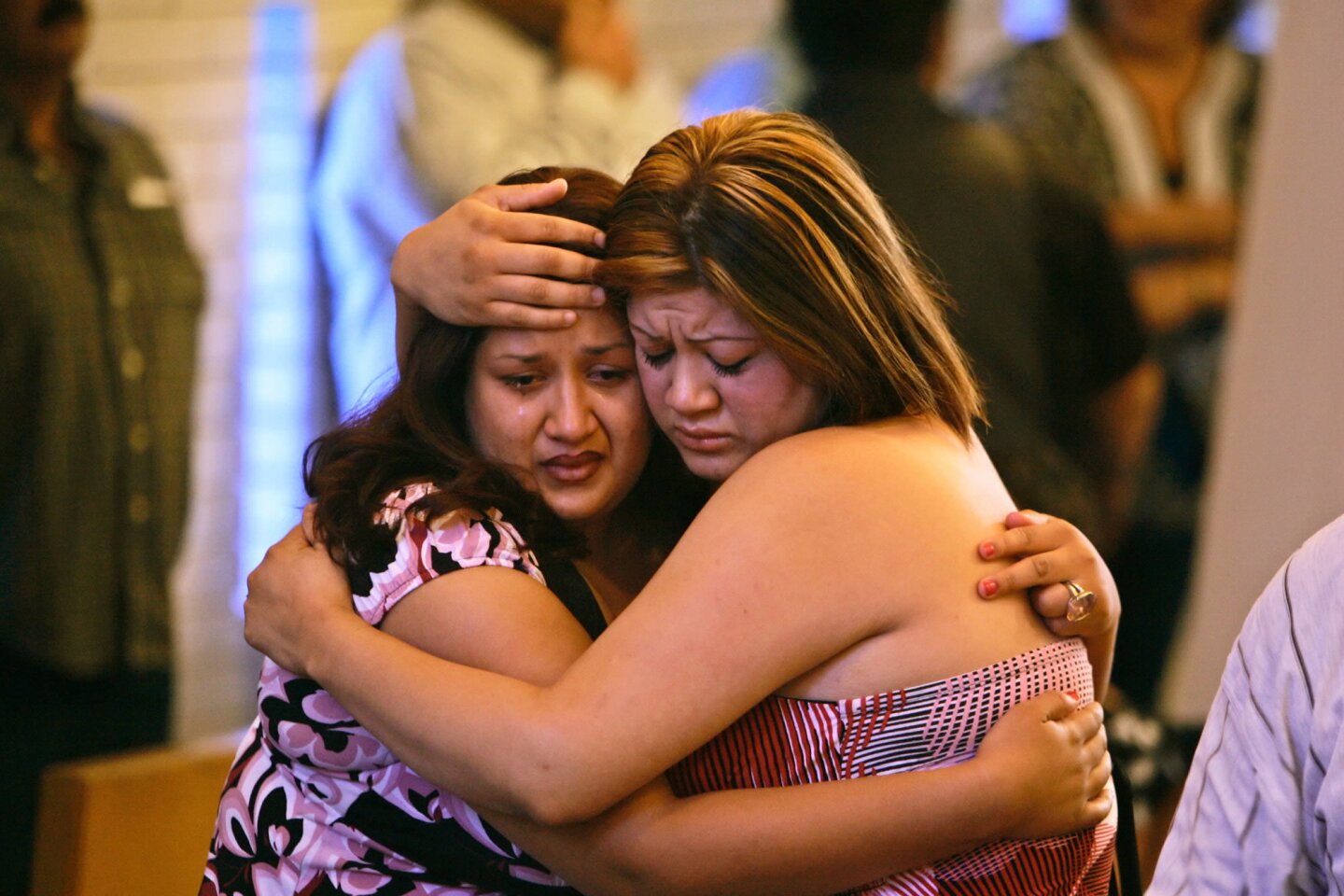 Sisters Christina, left, and Kimberly Rodriguez embrace at the funeral Tuesday of their mother, Edith Isabel Rodriguez, in Pico Rivera. She died May 9 at Martin Luther King Jr.-Harbor Hospital of a perforated bowel after writhing in pain for 45 minutes on the floor of the emergency room as hospital staff members ignored her. The incident, caught on videotape and in transcripts of 911 calls made by witnesses pleading with sheriff's dispatchers for help, has sparked renewed scrutiny of the troubled hospital.
(Mark Boster / LAT)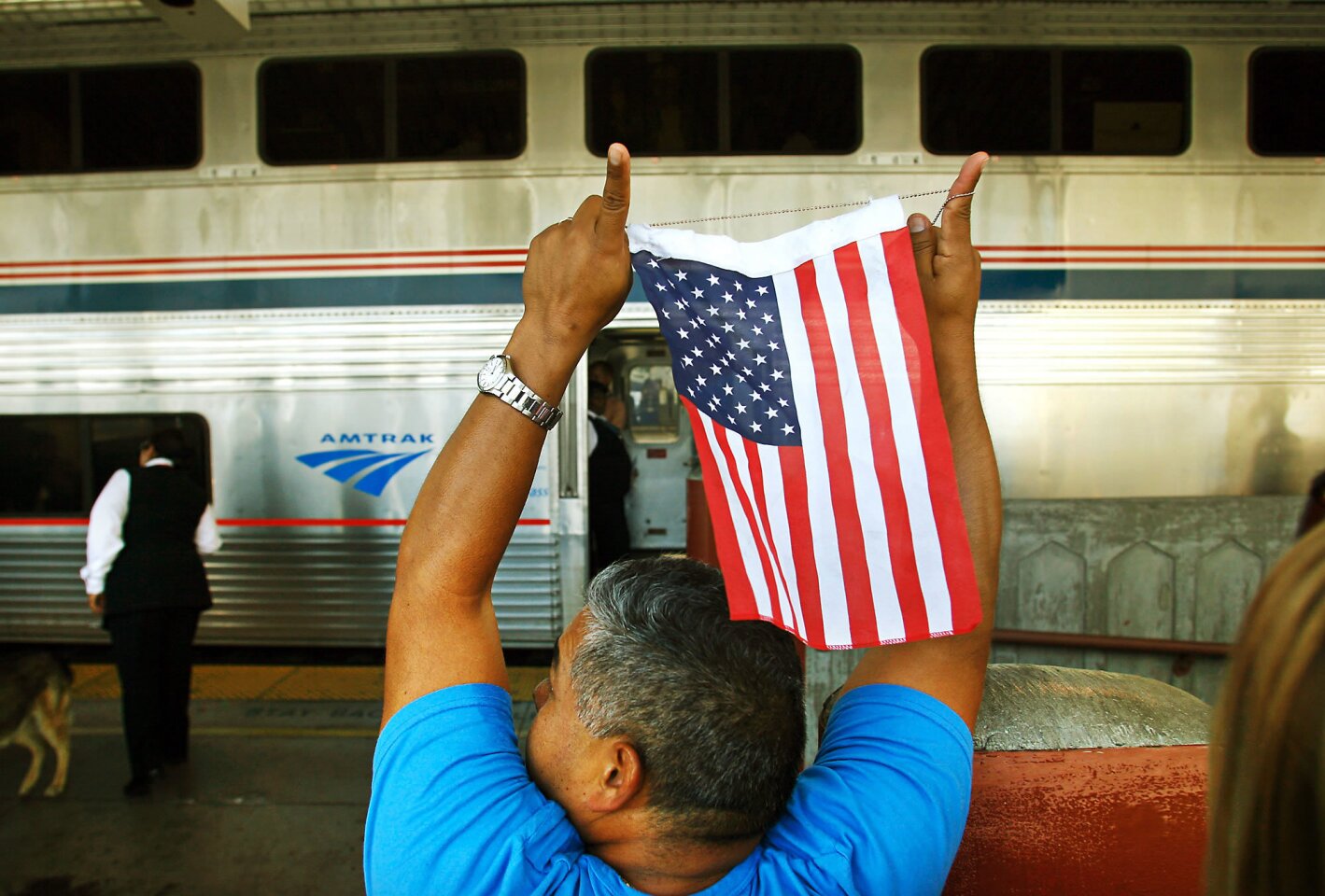 At L.A.'s Union Station Wednesday, Juan Cabrera offers a patriotic send-off to 25 people launching a 10-day train tour across America to promote comprehensive immigration reform. The group, whose numbers will reach 100 by trip's end in Washington, D.C., represent a swath of U.S. citizens originally from Africa, Asia, Europe and Latin America. They hope to humanize the immigration debate with personal stories and stage rallies as riders are collected along the way. Among the Californians are a white landscape business owner who relies on immigrant labor, an African American who believes in universal education and a Vietnamese refugee who has experienced the pain of family separation.
(Wally Skalij / LAT)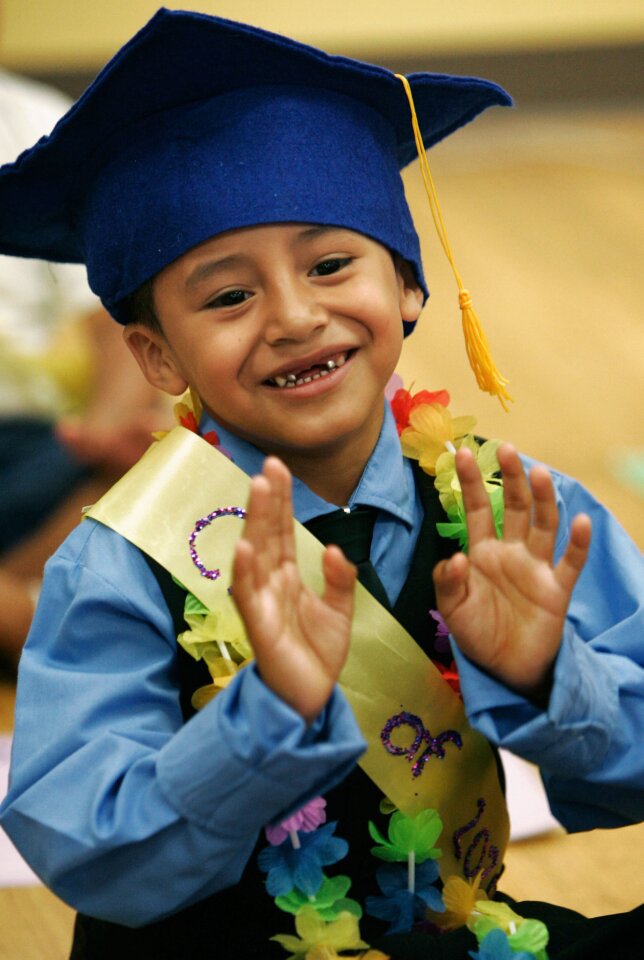 Daniel Velediaz offers the assembled a song at his graduation from KidWorks Preschool in Santa Ana. Along with the traditional mortarboard, he wears a sash that reads "Class of 2020," referring to the year he is expected to graduate from high school. KidWorks, a 14-year-old nonprofit organization, offers preschool for 4- and 5-year-old children from low-income families, helping them develop basic skills in math, reading, writing, phonics, colors and shapes.
(Karen Tapia-Anderson / LAT)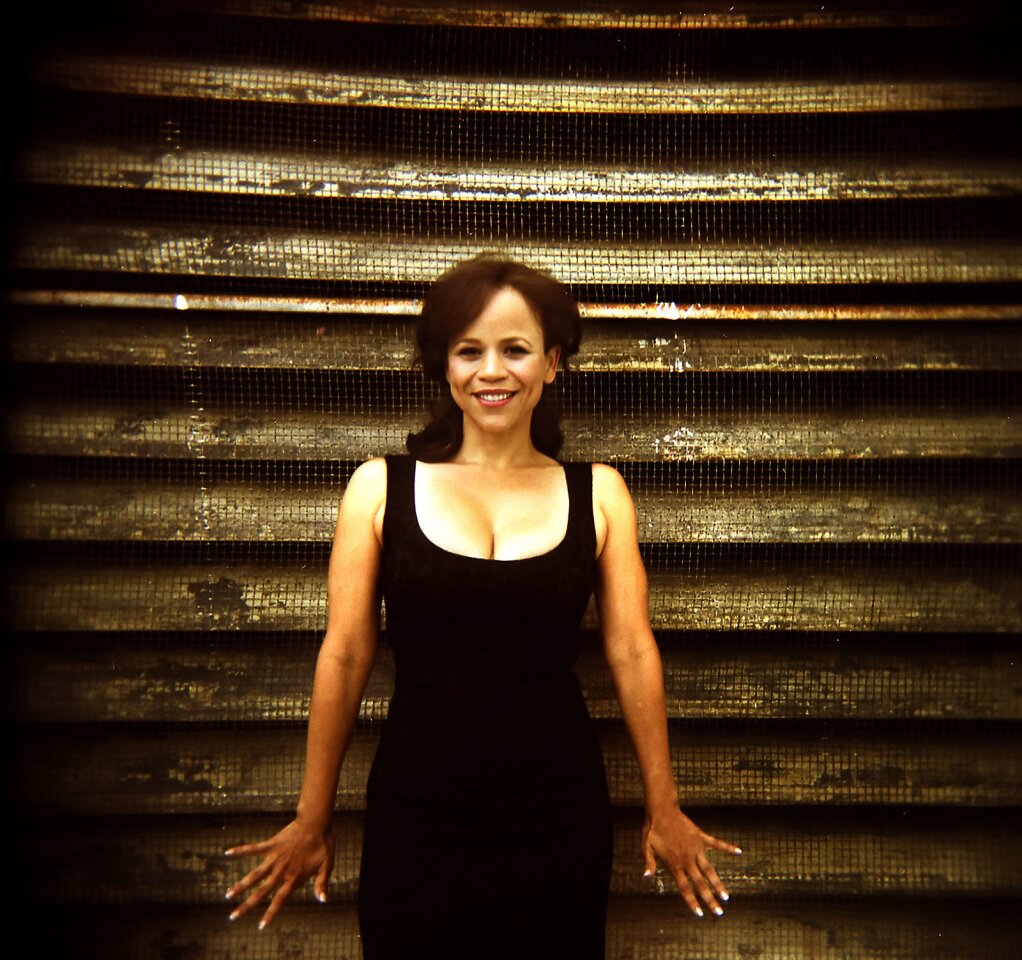 Actress Rosie Perez really wants to direct and produce, so she does. Her documentary on Puerto Ricans took 10 years and a lot of moxie. "My agent said, 'Well, the Independent Film Channel is offering financing with a hands-off policy.' I flew over there. And I lied too. I lied my butt off, and I got a green light in 15 minutes." The film, "Yo soy Boricua, pa'que tu lo sepas!" ("I am Boricua, just so you know!"), follows Perez as she explores the world of Puerto Rican-Americans in New York. Here she poses at CBS Studios.
(Genaro Molina / LAT)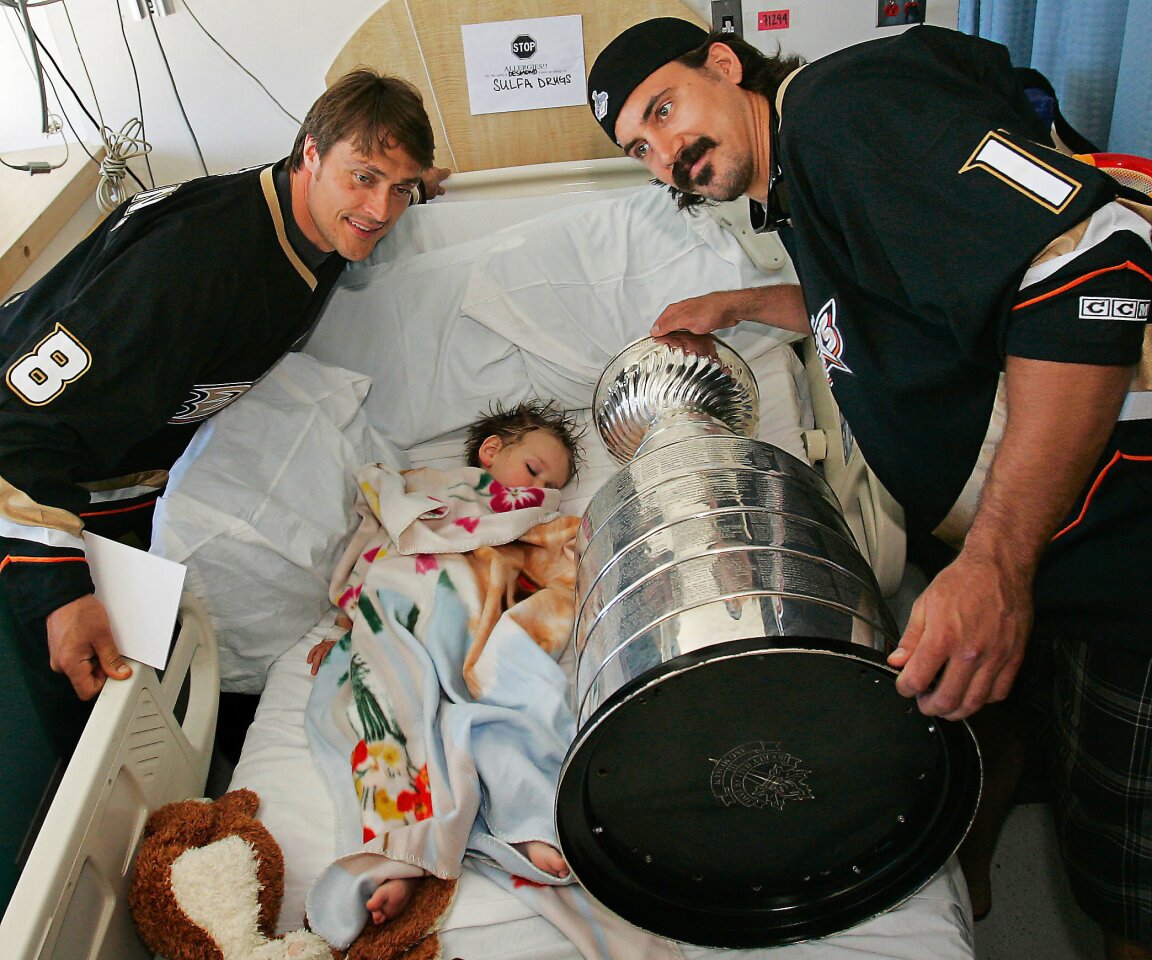 Anaheim Ducks Teemu Selanne, left, and George Parros compare their very large Stanley Cup with the very small (and sleeping) Red Desmond. The 3-year-old from Eugene, Ore., is being treated in the cancer ward of Mattel Children's Hospital at UCLA, where members of the National Hockey League Champion Ducks visited on Tuesday.
(Allen J. Schaben / LAT)
Members of the National Hockey League champion Anaheim Ducks visited with patients at Children's Hospital of Orange County on Tuesday, in the company of the Stanley Cup. Known as team sports' most coveted trophy, the cup is inscribed with the names of all members of the championship team.
(Robert Lachman / LAT)
As Mets catcher Paul Lo Duca eyes another Dodger baserunner, outfielder Luis Gonzalez slides safely across home plate with the game-winning run in the sixth inning Monday against the New York Mets. The Dodgers won, 5-3.
(Richard Hartog / LAT)