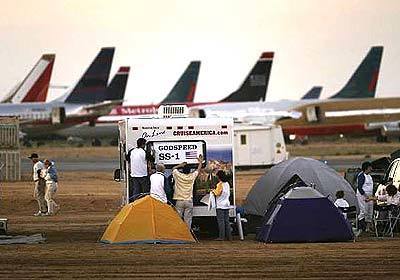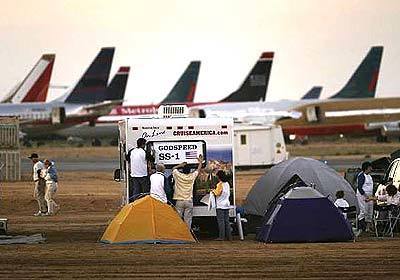 RV campers at Mojave Airport put up a sign reading "Godspeed SS1", a message of encouragement to the SpaceShipOne crew on the eve of the first non-governmental space flight.
(David McNew / Getty Images)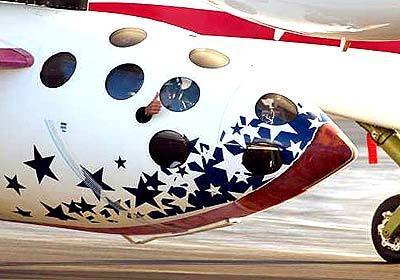 Pilot Michael W. Melvill gives a thumbs-up signal as he prepares to for his trip into suborbital space today.
(AP)
The White Knight carrier airplane with SpaceShipOne attached leaves the runway on the first leg of the historic journey into suborbital space.
(AFP)
Beverly Allgood of Scottsdale, Arizona wears her special costume in honor of today's space flight..
(AFP)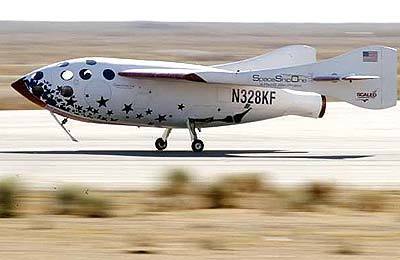 Pilot Mike Melvill pilots SpaceShipOne to a successful landing at Mojave Airport today.. The privately-funded rocket plane flew into the record books by attaining an altitude of more than 62 miles.
(AFP)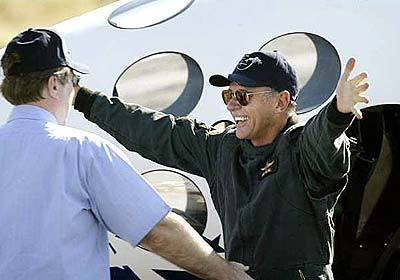 Test pilot Michael W. Melville rushes to hug Microsoft co-founder Paul Allen after emerging from the cockpit of SpaceShipOne, which took him to a height of 62 miles in the first non-governmental flight to leave the Earth's atmosphere.
(David McNew / Getty Images)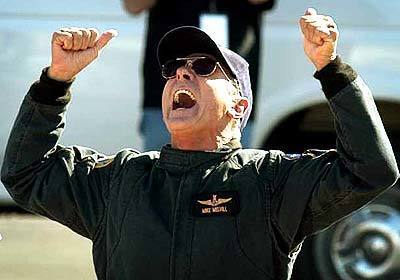 SpaceShipOne pilot Michael W. Melvill celebrates at Mojave, Calif., after the spacecraft's successful voyage to suborbital space today.
(AP)