16 Images
In Focus: Staff Photos from June 24 - June 30
la-0628-week01-jk9qvanc
Unidentified residents of a home near South Lake Tahoe flee as a wall of fire advances Tuesday. Many residents of the area had returned after Sunday's initial evacuation, only to be driven out again by the latest assault on their neighborhoods. By Wednesday, milder-than-expected winds enabled firefighters to strengthen containment lines and slow the devastation.
(Wally Skalij / LAT)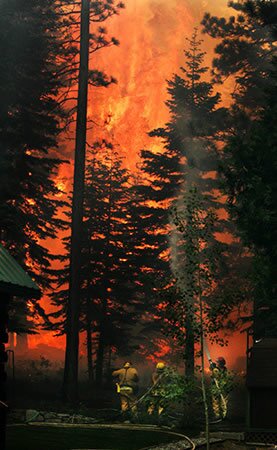 la-0628-week02-jk9quvnc
Firefighters attempt to slow flames racing through the trees toward homes near South Tahoe High School Tuesday. A controlled burn jumped a fireline when winds began gusting in the afternoon. As many as 900 homes were threatened in neighborhoods near Gardner Mountain, and approximately 1,000 people evacuated their homes in this popular resort area along the California-Nevada border.
(Robert Durell / LAT)
la-0628-week03-jk848onc
A grieving Stephanie Spees makes contact with the outside world as she stands next to what used to be her home on Mt. Diablo Monday. She, her parents and her brother had made their way around police checkpoints to learn the fate of their home after Sunday's blaze swept through South Lake Tahoe. The fire's voracious appetite was fed by "crowning," where flames leapt from treetop to treetop, creating even more difficult conditions for firefighters.
(Wally Skalij / LAT)
la-0628-week04-jk84fmnc
Delicia Spees reacts in horror to the charred sight of her home on Mt. Diablo Monday. The cause of the South Lake Tahoe blaze, which began Sunday, is being investigated.
(Wally Skalij / LAT)
la-0628-week05-jka0z4nc
The application of water to fire creates an eerie scene as a firefighter extinguishes a hot spot Tuesday in South Lake Tahoe. By Thursday, the fire had destroyed 229 homes, burned 3,100 acres and was 55% contained.
(Wally Skalij / LAT)
la-0628-week06-jk9ewhnc
Kevin Melendez, 3, is among members of the public attending a news conference Tuesday announcing a federal lawsuit against the city of Los Angeles and Police Chief William J. Bratton. Thirty people allege police brutality during a May Day rally for immigrant rights at MacArthur Park. The plaintiffs include five children and eight photojournalists and reporters. Kevin's mother, Jazmine Marroquin, and other members of the family claim they were "terrorized by the excessive force and brutality of the LAPD metro squad."
(Luis Sinco / LAT)
la-0628-week07-jk8gthnc
Upon release early Tuesday morning from the Century Regional Detentional Facility in Lynwood, an exuberant Paris Hilton runs toward her family's SUV to the accompaniment of a cheering crowd and a clutch of paparazzi. The hotel heiress served 23 days for violating probation on alcohol-related reckless driving charges.
(Ricardo DeAratanha / LAT)
la-0628-week08-jk8heqnc
It has been a while since Paris Hilton smiled in public, but her joy is evident here, inside her family's SUV upon her release from county jail early Tuesday morning. At left is her mother Kathy.
(Ricardo DeAratanha / LAT)
la-0628-week09-jk8hpjnc
Released early Tuesday morning from jail, Paris Hilton returns to her adoring public and paparazzi, courtesy of a Sheriff's Dept. escort of the family SUV.
(Ricardo DeAratanha / LAT)
la-0628-week10-jk7yzdnc
Promising independent news photographer Douglas Burrows was killed in 1993 when his car was broadsided by an 18-wheeler truck that ran a red light. The driver fled, and it was 14 years before he was apprehended. Burrows' father John offers a sampling of his son's work: At left is a photograph from Iraq taken in 1991 when Douglas Burrows told his parents he was going to Japan to spare them worry about his presence in that war-torn country. At right, a helicopter passes the iconic Hollywood sign at sunset, taken about 1990.
(Mel Melcon / LAT)
la-0628-week11-jk04onnc
Actress Lauren Graham, late of "The Gilmore Girls," currently of "Evan Almighty" and and soon to appear in a host of major motion pictures, hangs out at the Alcove Café & Bakery in her Los Feliz neighborhood. The former New Yorker finally refers to herself as an Angeleno, even if she thinks she doesn't look like one. "There's definitely a look here that you don't see anywhere else in the country," she says. "It's blond, super skinny, wearing the same jeans as your teenage daughter. ... It's like a product of the weather."
(Al Seib / LAT)
la-0628-week12-jkcyo5nc
With his signature left-handed bass guitar, Sir Paul (McCartney, of course) performs at Amoeba Music in Hollywood on Wednesday. Among other numbers the former Beatle sang for free was "Drive My Car," a tune appropriate for this L.A. stop on a promotional "mini tour" for his new album "Memory Almost Full."
(Robert Gauthier / LAT)
la-0628-week13-jkcxpfnc
An unidentified fan expresses an emotion that was common among Beatle-lovers in the 1960s as she watches Paul "the cute one" McCartney's special mini-concert in Hollywood's Amoeba Music store Wednesday to promote his new album.
(Robert Gauthier / LAT)
la-0628-week14-jjzxq5nc
To fans of the adolescent Mandy Moore who are surprised by some of the less-than-wholesome lyrics on her new CD, "Wild Hope," the singer/actress reminds them: "I am 23 years old." Here she appears formidably adult at the Casa del Mar Hotel in Santa Monica earlier this month.
(Genaro Molina / LAT)
la-0628-week15-jka3denc
Kansas City Royals outfielder Joey Gathright appears to score in the 6th inning Tuesday night as the ball gets away from Angels catcher Jose Molina, but Gathright was called out on appeal for leaving third base too early on a fly ball out at Angel Stadium. It's not as if the Royals needed the run--they thrashed the Angels 12-4, and went on to sweep the three-game series Wednesday.
(Christine Cotter / LAT)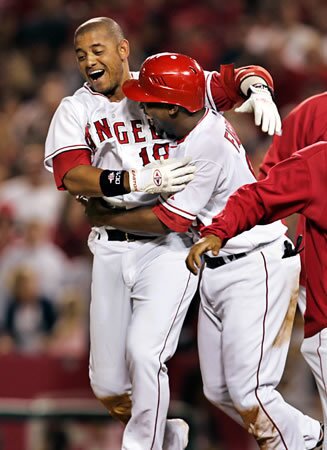 la-0628-week16-jk2qe9nc
Angels infielders Orlando Cabrera and Chone Figgins celebrate their 11th-inning win over the Pittsburgh Pirates last Friday at Angel Stadium when Figgins scored the winning run on a hit by Cabrera. Figgins had tripled with one out, and Cabrera followed with a fly ball that bounced off the warning track in left field, a walk-off blast for a 5-4 victory in a game in which the Angels racked up 18 hits.
(Christine Cotter / LAT)