10 Images
In Focus: Staff Photos from July 1 - July 7
la-0705-week01-jkh5ibnc
Los Angeles International Airport police officers Marshall McClain, left, and Mike Manahan patrol the Bradley international terminal after officials increased police presence Saturday following the car bombing attempts in Britain. "Out of an abundance of caution, we have increased our deployment of uniformed patrol and K-9 officers," according to a statement issued by Los Angeles World Airports. In addition to LAX, the affected facilites were Ontario International Airport, and Van Nuys and Palmdale regional airports.
(Spencer Weiner / LAT)
la-0705-week02-jkomnpnc
Despite warnings of rip currents, Huntington Beach teems with beach-goers on a steamy Independence Day holiday Wednesday.
(Christine Cotter / LAT)
la-0705-week03-jkowlbnc
A toasty Fourth of July ends in a colorful flourish Wednesday evening with fireworks at Dodger Stadium. The display was one of dozens of legal events throughout the Southland. Some scofflaws, however, chose to stage private displays, and police were kept busy tracking down illegal fireworks that are restricted in the fire-threatened tinderbox that is Los Angeles.
(Wally Skalij / LAT)
la-0705-week04-jkeyqbnc
Concerned that downtown is turning into an urban back lot for movie, TV and commercial producers, the area's growing population of residents and merchants is rebelling. A surge in filming, combined with incidents such as helicopters disturbing the peace at all hours of the day and night, is galvanizing residents to push for tighter rules that could crimp shoots in one of the world's busiest places for filming. Last Thursday, production assistant Mark Boucher converted Spring Street in downtown Los Angeles into 6th Avenue in New York for a film shoot.
(Robert Gauthier / LAT)
la-0705-week06-jkmkpqnc
Summertime, and the living is steamy. A double-decker tour bus finds an articulate expression of the season on Tuesday at Fairfax Avenue and 3rd Street in Los Angeles.
(Myung J. Chun / LAT)
la-0705-week07-jkmoxmnc
It's a surfer's world, we just swim in it. High waves and warmer water near Laguna Beach was a welcome tonic Tuesday to this wave rider at Crystal Cove State Beach.
(Allen J. Schaben / LAT)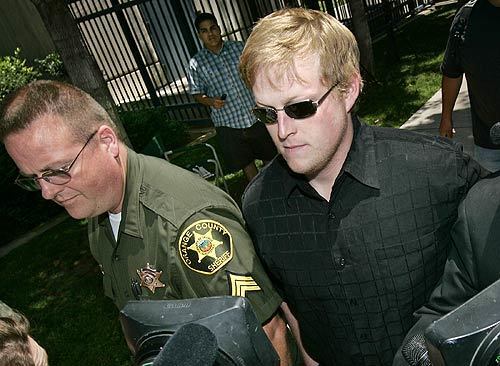 la-0705-week08-jkoc1nnc
Stopped for speeding on Interstate 5 in Laguna Niguel early Wednesday, Al Gore III, 24, was arrested on suspicion of possessing marijuana and prescription drugs. It's the latest in a series of incidents with law enforcement agencies the son of the former vice president has had in recent years. Here, he leaves Orange County Jail Wednesday afternoon.
(Christine Cotter / LAT)
la-0705-week09-jkkqlanc
One of only five tall ships left in the world, the American Pride plies the waters of Long Beach Harbor on Monday. As part of the city's Charter Communications Long Beach Sea Festival, about 1,000 local youths sail aboard the three-masted schooner to study the ship's history and learn sailing techniques. The American Pride was built in 1941 with two masts, and was used for fishing for almost 40 years in the North Atlantic. It was rebuilt in 1986. Here, crew member Ann Wasser climbs up to look for a tear in the schooner's sail.
(Mark Boster / LAT)
la-0705-week10-jkk93qnc
In their songs, the Maasai tribesmen of East Africa have long celebrated the killing of lions as a test of their manhood. But now the Maasai that live in the Mbirikani Group Ranch in southeastern Kenya are trying to change their traditional antipathy toward the majestic-looking beasts. To spread the message that the lion deserves to be saved, a troupe of Maasai are spending the summer at the San Diego Zoo's Wild Animal Park -- dancing, singing and mingling with patrons near the area that is home to seven lions.
(Don Bartletti / LAT)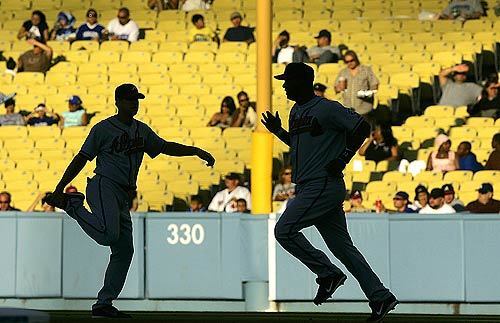 la-0705-week11-jkl23tnc
Silhouetted at Dodger Stadium, a couple of Atlanta Braves warmed up in the late afternoon before their game with the Dodgers Monday. They were warm, apparently, but not hot, as the Dodgers won 8-2 after All-Star catcher Russell Martin delivered a career-high four hits and outfielder Matt Kemp crushed a two-run home run.
(Robert Gauthier / LAT)