16 Images
Ted Williams Dead at 83
Boston Red Sox outfielder Ted Williams at Yankee Stadium, May 23, 1941.
(AP)
Ted Williams with his son, John Henry Williams, during the opening ceremony for the Ted Williams Tunnel in Boston, Dec. 15, 1995.
(AP)
Ted Williams with the baseball he hit June 18, 1960, for the 500th home run of his major league career.
(Los Angeles Times)
Former Dodgers manager Tommy Lasorda drives Ted Williams to the field at Dodgertown in Vero Beach, Fla. March 3, 2000, for the Dodgers' first Grapefruit League game.
(AP)
Ted Williams at bat on June 15, 1939, at Fenway Park in Boston.
(AP)
Ted Williams and Johnny Pesky in the early '60s, when Williams was the Red Sox's executive assistant and Pesky was the manager.
(AP)
Ted Williams during his induction ceremony at the National Baseball Hall of Fame.
(AFP)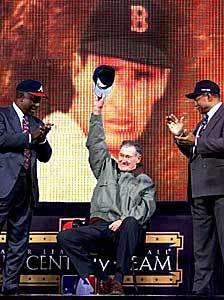 Ted Williams is applauded by Hank Aaron, left, and Willie Mays as he is introduced as a member of the Major League Baseball All-Century, Oct. 24, 1999.
(AP)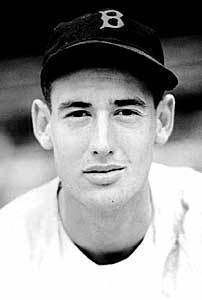 A young Ted Williams in a photo from the Baseball Hall of Fame Library in Cooperstown, N.Y.
(AFP)
Ted Williams talks about his career during an interview Nov. 8, 1998.
(AP)
Ted Williams, with his son John Henry Williams, throws out the first pitch during pre-game ceremonies at "Ted Williams Night" on June 11, 1999, at Shea Stadium.
(AFP)
Ted Williams, left, and Carl Yastrzemski at the Boston Red Sox spring training camp in Scottsdale, Ariz., March 1, 1963.
(AP)
Ted Williams, right, and former U.S. Sen. John H. Glenn, Jr. after a parade Dec. 11, 1998.
(NASA / Getty Images)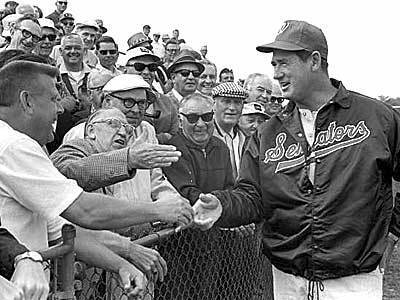 Ted Williams greets fans in Pompano Beach, Fla., in 1969, when he was manager of the Washington Senators.
(AP)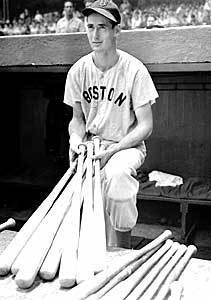 Ted Williams selects bats in the dugout before a game at Yankee Stadium July 1, 1941.
(AP)