15 Images
In Focus: Staff Photos from July 15 - June 21
At the Cathedral of Our Lady of the Angels in downtown Los Angeles Sunday, Donald L. Kohles articulates his feelings about Cardinal Roger M. Mahony and the $660-million settlement with the Archdiocese of Los Angeles. Kohles said that his family has been affected by the scandal of priests accused of committing sexual abuse, but refused to elaborate.
(Genaro Molina / LAT)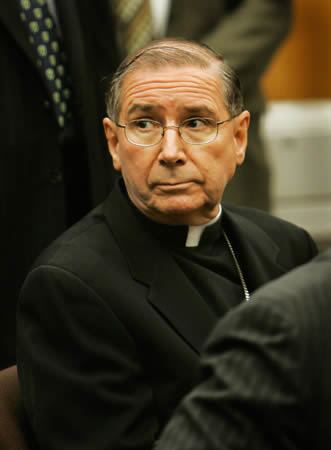 On the brink of trial, a settlement resolved the last of about 570 total claims of abuse against 221 priests, brothers, lay teachers and other church employees spanning 70 years. Cardinal Roger M. Mahony was present in court Monday as victims were asked to stand. The Archdiocese of Los Angeles agreed on Saturday to a $660-million settlement with 508 people who have accused priests of sexual abuse, by far the biggest payout in the child molestation scandal that has rocked the Roman Catholic Church nationwide.
(Al Seib / LAT)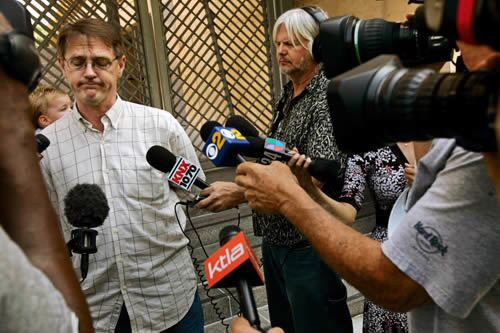 David Clohessy's voice was one among several expressing skepticism over the timing of the Archdiocese of Los Angeles' $660-million settlement with 508 people who have accused priests of sexual abuse. The national director of the Survivors Network of Those Abused by Priests spoke to the media at Our Lady of the Angels cathedral Sunday. When he was a boy in Missouri, Clohessy says, a priest abused him for four years.
(Genaro Molina / LAT)
Esther Miller was overcome by emotion as she addressed the media outside Los Angeles County Superior Court Monday. She was among 508 accusers whose cases against the Los Angeles Archdiocese were officially settled; the average individual claim was $1.3 million. The total number of claims of abuse was about 570 against 221 priests, brothers, lay teachers and other church employees over a 70-year period. The settlement offer was presented for final approval Monday to an L.A. County Superior Court judge who had been scheduled to try the first case.
(Ricardo DeAratanha / LAT)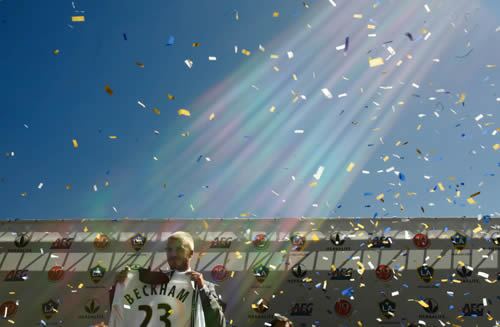 As a swooning media breathlessly covered the arrival of a major Soccer God--David Beckham--to the Los Angeles Galaxy, it was as if the display of his new jersey was touched by the angels last Friday amid a swirl of confetti at the Home Depot Center in Carson. Alas, Beckham's scheduled debut on the field of play July 21 against Chelsea might be delayed; his injured left ankle could use a little divine intervention.
(Luis Sinco / LAT)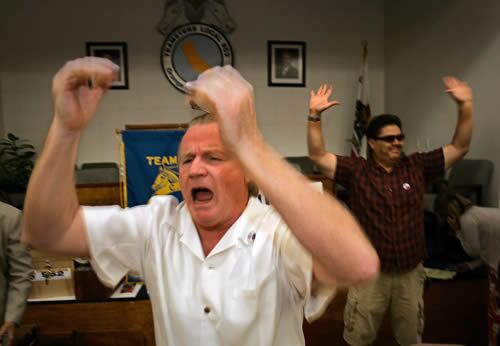 By an overwhelming vote of 696 to 35, the Teamsters approved a contract offer with the Orange County Transporation Authority Monday. Patrick D. Kelly, secretary-treasurer of Teamsters Local 952, celebrated the end of the nine-day strike by the county's bus drivers. "It is a victory for us," he said, "but it's bittersweet because so many of our members had to suffer and so many riders had to suffer. It was bad for the public and bad for business."
(Mark Boster / LAT)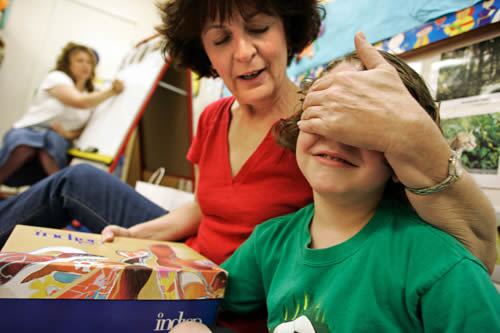 Convinced that no one is too young to learn about compassion, Esther Posin teaches Bradley Raveh what it's like to be blind in a lesson at the Temple Israel Day School in Hollywood. While deprived of his sight, Bradley and his 5-year-old classmates tried to identify fruit and vegetables by poking their hands into a box containing several kinds. An anti-bias program sponsored by the Anti-Defamation League targets preschool-age children for training in how to avoid prejudice and appreciate the differences among people.
(Annie Wells / LAT)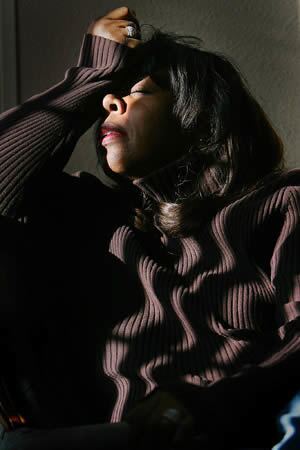 Days after Shevawn Avila's son was born prematurely at Cedars-Sinai Medical Center in 1981, he received a blood transfusion tainted with HIV. In 1987, she heard on the news that Cedars-Sinai was checking for the virus in babies who had received blood transfusions. She called the hospital but didn't hear back, she said. Months later, her son tested positive for HIV. "Cedars eventually called me back," she said, but hospital officials didn't apologize or offer much, she recalled, except to include him in a follow-up study of infected children. He died in 1989, and today Avila struggles to contain her emotions as she talks about her son, Troy Anthony Blecher.
(Robert Gauthier / LAT)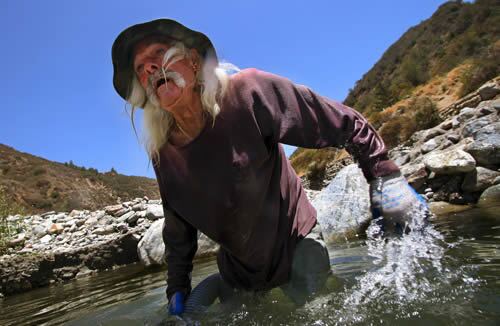 Nearly 160 years after the gold rush that helped populate the West, a hardy band of dreamers still seek treasure from the Southern Californian earth. A mix of permanent residents who live in nearby camps and part-timers who drive up every chance they get, the prospectors have formed their own self-policing, gold-obsessed community. Longtime prospector Bernie McGrath, 73, dredges for the precious metal in the San Gabriel River in the Angeles National Forest. "I have yet to see anybody get rich out here," said the Boston native, who has been working the river since 1989.
(Gina Ferazzi / LAT)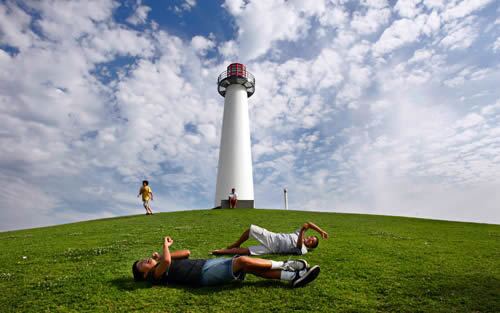 Blue sky, summer day, Shoreline Park in Long Beach. Could two kids, Sean Vasquez, front, and Ryan Reza, have had it any better earlier this month?
(Lori Shepler / LAT)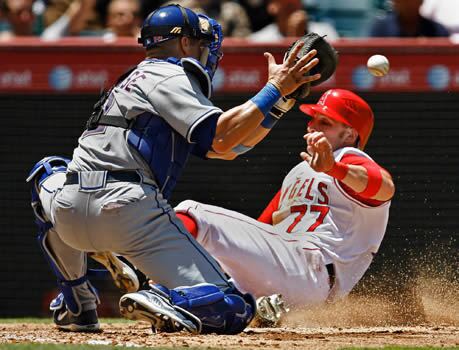 Gillian Murphy as Desdemona and Blaine Hoven as Cassio helped bring the American Ballet Theatre's "Othello" to life at the Dorothy Chandler Pavilion Saturday.
(Lori Shepler / LAT)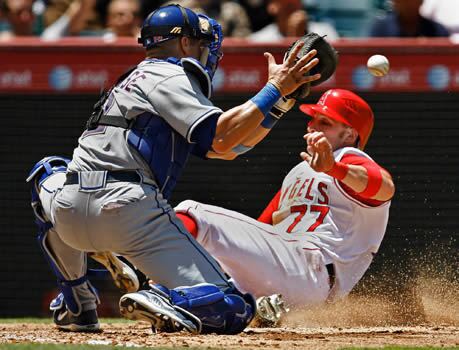 Outfielder Reggie Willits of the Angels avoided the tag of Texas Rangers catcher Adam Melhuse to score in the third inning at Angel Stadium Sunday, but it was too little, too early. The Rangers ended Scot Shields' 24 2/3 -inning scoreless streak with two runs in the eighth inning Sunday and forged a 5-4, come-from-behind victory on Mark Teixeira's solo home run against Justin Speier to lead off the 11th.
(Lori Shepler / LAT)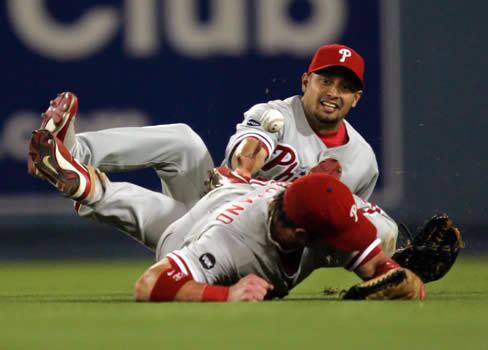 Philadelphia Phillies right fielder Shane Victorino reaches out for the ball that popped out of his glove as center fielder Aaron Rowand dives over Victorino on a single hit by Dodgers outfielder Matt Kemp to score a run in the fourth inning Tuesday. Behind the strong pitching of Brad Penny, the Dodgers won, 10-3.
(Alex Gallardo / LAT)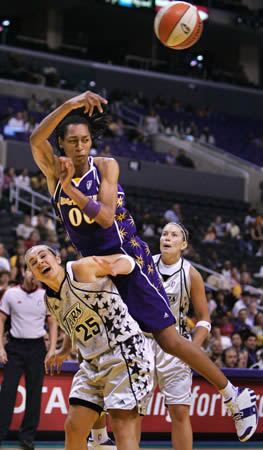 Forward Murriel Page of the Los Angeles Sparks gets additional lift-off for a pass Tuesday at Staples Center, courtesy guard Becky Hammon of the San Antonio Silver Stars. If this play wasn't pretty neither was the outcome of the game for the Sparks: The team suffered a 63-61 loss, its seventh in a row and 11th in their last 13 games.
(Myung J. Chun / LAT)
The stucco building in the heart of the San Gabriel Valley's Chinese business district was the story of three decades of Chinese immigration into the region. But that story changed dramatically for the business owners Monday, when flames originating from an attic above a bakery engulfed the rest of the building, collapsing the ceiling and reducing a mainstay in the community to rubble. It took firefighters almost the entire day to extinguish the Valley Boulevard blaze, which destroyed 10 businesses in what many residents consider a crossroads of China and L.A.'s Chinese American community.
(Courtney Hergesheimer / LAT)