10 Images
Global Picture from July15 - July 21
A magnitude 6.8 earthquake rocked Japan's northwest coast Monday, killing five people and injuring more than 600. Structural damage included the country's largest nuclear power plant, prompting a check on all of the country's nuclear facilities, and hundreds of residences such as this.
(Franck Robichon / EPA)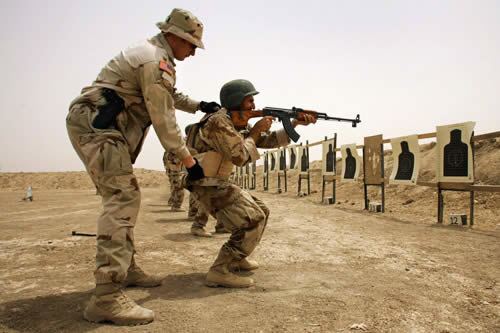 A U.S. Special Forces supervisor trains Iraqi soldiers in an advanced combat class near Baqubah on Monday. A group of about 60 Iraqi army soldiers began their first day of training with Iraqi instructors and American supervisors, as part of three intense weeks of weapons training, urban anti-insurgency tactics and physical endurance tests. Some people have suggested that the U.S. scale back its forces and concentrate on training Iraqis and on other core missions, an idea an Iraqi senior official called "fuzzy thinking."
(John Moore / Getty Images)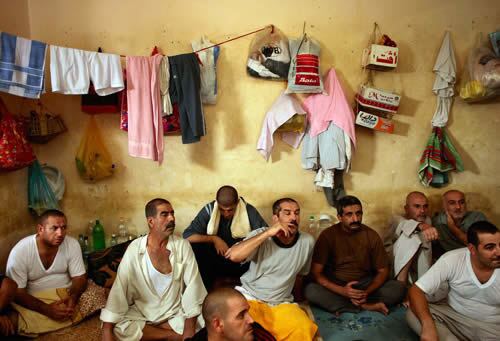 Under a canopy of personal items, Iraqi men share a crowded room in a holding pen Thursday at Forward Operating Base Justice. The joint U.S.-Iraqi base in the Iraqi capital, Baghdad, holds nearly 1,000 such "detainees although the detention center was intended temporarily to hold 300. Many prisoners have been held for months without trials or hearings. A human-rights observer employed by the U.S. government has complained about the conditions, including not only overcrowding, but intermittent meals and backed up sewage.
(Chris Hondros / Getty Images)
An underground steam pipe explosion ripped through a street in Midtown Manhattan during rush hour Wednesday, killing one person from an apparent heart attack and injuring about 30 others. The powerful blast spewed rubble into crowded streets, splashed mud on commuters, and sent a giant plume of murky hot steam billowing into the air. Fears of a terrorist attack rippled across the city as the explosion shook buildings and sent terrified people fleeing down stairways and into the streets. The blast, at 41st Street and Lexington Avenue near Grand Central Terminal, came from a broken 24-inch steam pipe that was installed in 1924.
(Mario Tama / Getty Images)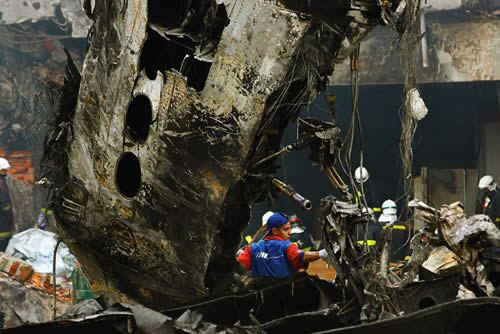 Firefighters lift part of the fuselage of a TAM airlines commercial jet that crashed in Sao Paulo, Brazil, Tuesday. The Airbus-320 with 186 people aboard skidded off a rain-slicked runway, leaped over a major highway and slammed into a cargo terminal. Several people on the ground were killed as well as all of the airline's passengers. It was the deadliest crash the nation's history.
(Andre Penner / AP Photo)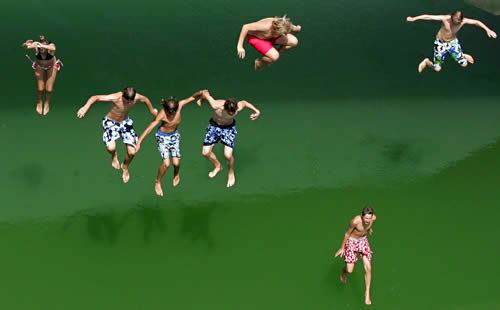 As Germany swelters in extreme summer heat, youngsters in Munich seek relief in the cool waters of the Isar River canal with a bridge as their launching pad.
(Diether Endlicher / AP Photo)
Several cars of a freight train traveling from Kazakhstan to Poland derailed Monday, prompting a stubborn fire near Lviv on the Polish border. By Thursday, the chemical-rich blaze had sickened 152 people, and Ukraine's transport minister had suggested the accident was caused by safety violations. The giant cloud was rendered toxic by the train's cargo, yellow phosphorus. The area around 14 villages was contaminated, and hundreds of the area's 11,000 residents were evacuated.
(Yriy Kalinak / AP Photo)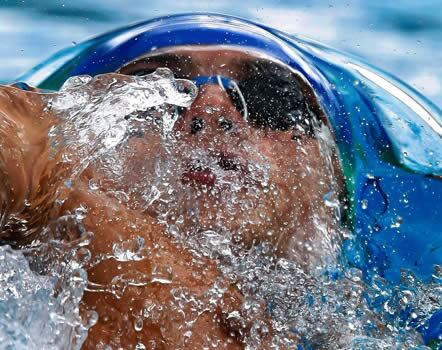 Lucas Salatta of Brazil rises to the surface after the first turn of the 200 meter backstroke swimming finals at the Pan American Games in Rio de Janeiro Thursday. Salatta won the bronze medal in a race his countryman,Thiago Pereira, won to take his third gold medal at the Games, setting a Pan Am record of 1 minute, 45.42 seconds. U.S. swimmer Scott Clary finished second.
(Julie Jacobson / AP Photo)
Members of a martial arts group practice on a hillside Tuesday near Dili, the capital of East Timor. Although many such groups are simply youth athletics organizations, some have been at the center of the civil unrest that has plagued East Timor over the past year, participating in gang fighting and the burning of homes.
(Binsar Bakkara / AP Photo)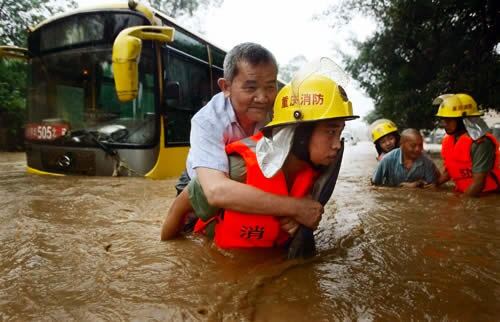 An elderly resident finds salvation from the floodwaters in Chongqing, China, via piggyback from a rescue worker Tuesday. Mudslides left 32 people dead, five missing and 128 injured on the outskirts of the city, where 10.5 inches of rain fell between Monday night and Tuesday afternoon. It was the largest volume since records began in 1892. Torrential rains, mud flows and lightning strikes have killed at least 59 people in China this week, according to state media reports.
(EyePress / AP Photo)