BAGHDAD NEWS:
Being caught by TV cameras could reveal an Iraqi aide's ties to the American press. "That would not be a good thing," an interpreter says.
(Ali Haider / Pool Photo)
BLAST SITE:
Residents of Baghdad's Sadr City examine the wreckage after a suicide car bomber struck, killing more than 70.
(Karim Kadim / AP)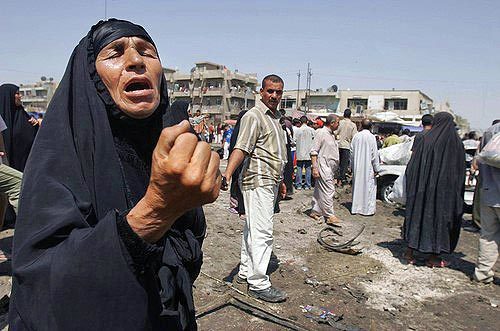 DESPAIR:
A woman weeps in Baghdad, where a car bomber killed more than 70 people.
(Mohammed Hato / AP)
GROUP MEETING:
President Bush and members of the Iraqi government, U.S. military and U.S. Embassy hold a teleconference with officials in Washington
(Jacob Silberberg / Pool Photo)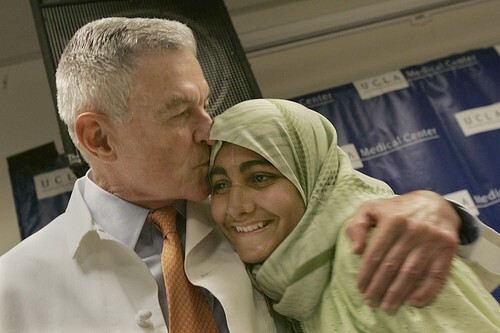 SURGEON:
Marwa Naim is embraced by Dr. Timothy Miller, chief of plastic surgery at UCLA Medical Center. While pleased with Marwa's physical recovery, Miller is particularly enthused about the psychological and emotional improvements he's seen in her.
(Anne Cusack / LAT)
RECOVERING:
Marwa Naim, 12, attends a news conference with Theresa Moussa. Plastic surgeons at UCLA donated the four reconstructive surgeries performed over four months.
(Anne Cusack / LAT)
BEFORE
: A photograph shows Marwa before she was injured in a U.S. airstrike on Baghdad in April 2003.
(Anne Cusack / LAT)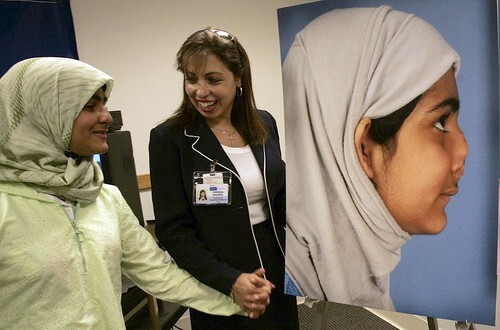 MAIMED:
Marwa, left, with Theresa Moussa, a UCLA staffer who has been her translator, companion and surrogate mother, looks at a photograph of herself before the surgeries.
(Anne Cusack / LAT)
SORROW:
Geri Brolan, widow of James Brolan, is comforted by his father, Patrick, at London's Heathrow Airport, where the bodies of the CBS soundman and his colleague Paul Douglas arrived.
(Tim Ockenden / AP)
IN CHARGE:
Prime Minister Nouri Maliki is flanked by his deputies, Salam Zikam Ali Zubaie, left, and Barham Salih, at the government inauguration ceremony in Baghdad. The three are also temporarily heading Iraq's security ministries.
(Khalid Mohammed / AP)
Premier Jawad Maliki
(Mohammed Hato / AP)
Iraqi Prime Minister Ibrahim al-Jaafari addresses a press conference in Baghdad.
(Ali Abbas / AP)
CONTENDER:
Baron Hill, with his wife in 2004, lost his House seat that year and seeks to reclaim it. In Congress, the Indiana Democrat voted to invade Iraq, but he says the administration misled him.
(Tom Strattman / AP)
FIRST DAYS IN IRAQ:
U.S. light armored vehicles patrol in the south about a week after invading the country. Russian diplomats apparently informed the Iraqis of U.S. troop movements.
(Rick Loomis / LAT)
AT THE WHITE HOUSE:
President Bush said he was "encouraged by the progress" in Iraq. Vice President Dick Cheney said on a morning TV show that "terrorists" had failed to spark a civil war.
(Gerald Herbert / Associated Press)
PRESIDENT:
Jalal Talabani
(Karim Sahib / AP)
PRIME MINISTER:
Ibrahim Jafari.
(Tarik Tinazay / AFP/Getty Images)
ACADEMY:
Iraqi recruits train with guns in Baghdad. The U.S. is adding a focus on human rights and accountability issues.
(Saad Khalaf / LAT)
BARREL OF A GUN:
Recruits go through their paces at the police academy in Baghdad. U.S. officials say that more than 120,000 recruits have been trained and 80,000 more need to take courses.
(Saad Khalaf / LAT)
ON TRIAL:
Former Iraqi President Saddam Hussein listens to the one of the prosecutors as his trial resumes in Baghdad. Prosecutors are reading documents which will allegedly link Saddam and his seven co-accused to the deaths of 148 Shi'ites from the town of Dujail in reprisal for a 1982 attempt on his life there.
(Bob Strong Pool/Getty Images)
AMID THE WRECKAGE:
A member of the Iraqi security forces surveys the scene of a suicide car bomb attack in Baghdad. Several civilians were killed. Across the country, at least 76 Iraqis were killed and 179 wounded in the day's sectarian violence.
(Mohammed Jalil / EPA)
IN BASRA:
"Iraq is experiencing a big crisis between two brothers," radical Shiite cleric Muqtada Sadr told his supporters.
(Nabil al-Jurani / Associated Press)
PASSIONATE:
A Shiite Muslim man shouts after prayers in Najaf. The Iraqi government boosted security at religious sites.
(Alaa Al-Marjani / AP)
SUICIDE BOBMER:
Iraqi security forces at the scene the wreckage of a suicide car bomb in north eastern Baghdad Friday. An Iraqi police patrol was targeted. Four police men were wounded in the attack.
(Mohammed Jalil / EPA)
A relative of a victim of a suicide bomber grieves near body bags outside a Karbala hospital in Karbala, Iraq. The bomber detonated his explosives near the holy Shiite Imam Hussein shrine in central Karbala, 50 miles south of Baghdad, killing 49 people and injuring scores more.
(Hadi Mizban / AP)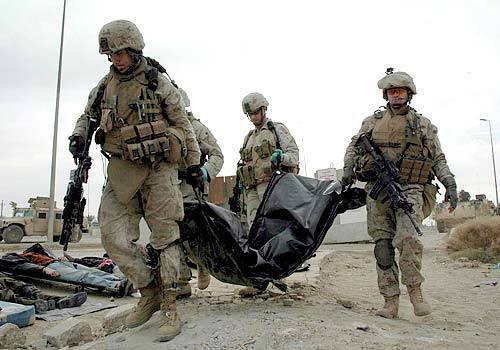 U.S. soldiers remove the body of a victim after an suicide bomber attack in Ramadi on Thursday.
(Asmaa Waguih / EPA)
UNDER SCRUTINY:
An Iraqi security officer stands guard at a Baghdad jail overseen by the Interior Ministry. U.S. officials have grown concerned about reports of prisoner abuse at such sites, which they say may be a result of militia infiltration of the police forces.
(Ali Abbas / EPA)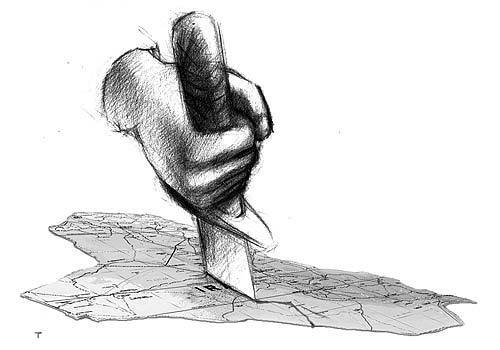 This artwork by Paul Tong relates to the new government of Iraq and its ruthless determination to defeat the insurgents [Photo via NewsCom].
(Paul Tong)
UPWARD TREND:
A customer pumps gas in Baghdad last week. Over the summer, gas was selling for about 5 cents a gallon. Now it's about 65 cents, and at the end of the price increases, gasoline will cost about the same as it does in other gulf countries, about $1.
(Karim Sahib / AFP/Getty Images)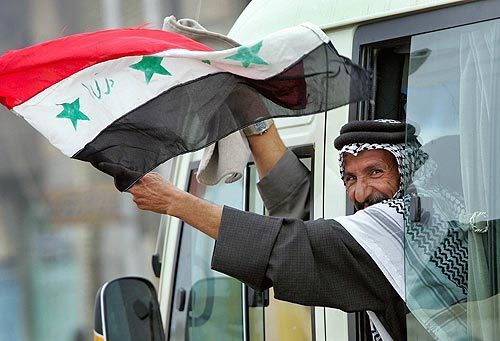 ELECTION DAY:
A follower of the main Shiite Muslim coalition waves the Iraqi flag after voting. Officials estimated that as many as 11 million of the nation's 15.5 million registered voters cast ballots to choose a four-year parliament, which will select a new government.
(John Moore / Getty Images)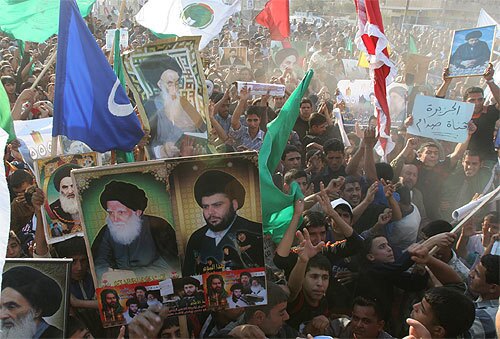 'SACRED SYMBOLS':
Iraqi Shiites in Baghdad's Sadr City slum carry posters Wednesday of spiritual leaders. They were protesting remarks by a Sunni Arab exile who criticized chief Shiite cleric Grand Ayatollah Ali Sistani, whose image is visible in the lower left.
(Karim Kadim / AP)
CONTINUED TRAINING:
In a photo released by the Army, Staff Sgt. Jason Lyday teaches AK-47 handling in northern Iraq. Bush praised Iraqi forces for taking on more responsibility.
(Air Force Tech. Sgt. Andy Dunaway)
'OUR WORDS HAVE EFFECTS':
Defense Secretary Donald Rumsfeld warned against pulling troops out too soon, but he said of Murtha: "He's not a coward. I'll tell you that."
(Karin Cooper / Face the Nation)
REPUBLICAN RALLY:
Reps. Eric Cantor (R-Va.), left, Thomas M. Reynolds (R-N.Y.), House Speaker J. Dennis Hastert (R-Ill.) and Majority Leader Roy Blunt (R-Mo.) and other House Republicans declared their support for the war at a rally earlier in the day.
(Chip Somodevilla / Getty Images)
GOP Sen. Susan Collins, left, says skeptism grows on Iraq war. Democratic Sen. Russell Feingold has called for a troop withdrawal.
(Matthew Cavanaugh / EPA)
Pallbearers carry Wallace's coffin at his funeral in Hoopeston, Ill. Wallace's wife gave birth to a daughter almost four months later.
(Robert K. O'Daniell / AP)
At left, Grella's mother, Donna, and brother Dustin.
(Matthew Hovis / Medina Gazette)
An Iraqi woman raises her inked finger after voting in a constitutional referendum.
(Wathiq Khuzaie / Getty Images)
Iraqi referendum workers empty a ballot box to count the votes.
(Akram Saleh / Getty Images)
FIRST IN LINE:
A hospital patient in Basra casts her ballot in the referendum on Iraq's draft constitution. Prison inmates, patients and doctors voted before the rest of the nation, which goes to the polls today. Western officials expect the charter to be approved.
(Wathiq Khuzaie / Getty Images)
USING HER VOICE:
An Iraqi woman in Baghdad casts her vote on the draft constitution.
(Karim Kadim / AP)
An Iraqi man paints over the billboard picture of Abu Musab Zarqawi, who has called for war against Shiites.
(Ali Al-Saadi AFP/Getty Images)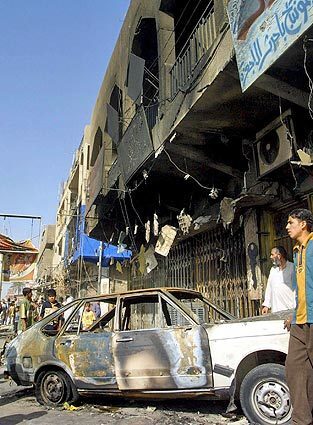 IN BAGHDAD:
Iraqis stand at the scene of a car bombing in June. A car bombing in June left a neighborhood in ruins. Such attacks have become less frequent since U.S. military analysts figured out the pattern insurgents were following.
(Ali Abbas / EPA)
SEEKING ASSISTANCE:
Iraqis crowd a Baghdad hospital lobby where victims of a suicide car bombing in a Shiite district were taken. The death toll in the attack aimed at day laborers seeking construction work rose to 112, according to the Interior Ministry.
(Ali Al-Saadi / AFP/Getty Images)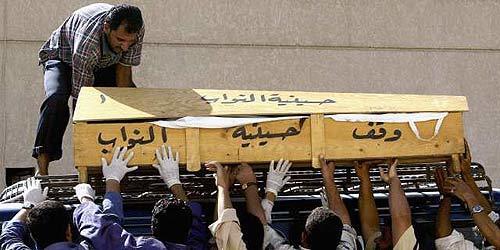 WITH HEAVY HEARTS:
Iraqis load the coffin of a relative onto a vehicle after a suicide car bombing in a Shiite district of the capital that targeted day laborers, the day's deadliest incident.
(Muhannad Fala'ah / Getty Images)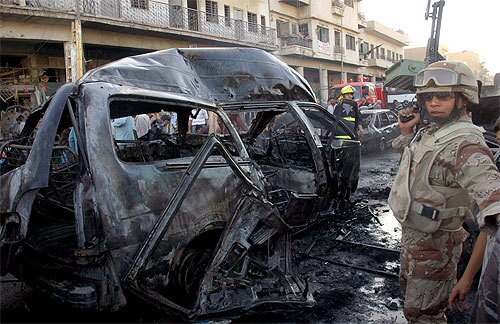 ON GUARD:
Iraqi soldiers secure the scene of a Baghdad car bombing today, one of the deadliest vehicle attacks in the capital.
(Asaad Muhsin / AP)
AFTER THE CHAOS:
Pedestrians make their way along the bridge in Baghdad where a stampede, apparently set off by fears of an insurgent attack, claimed hundreds of lives. The victims were Shiite Muslim pilgrims.
(Saad Khalaf / LAT)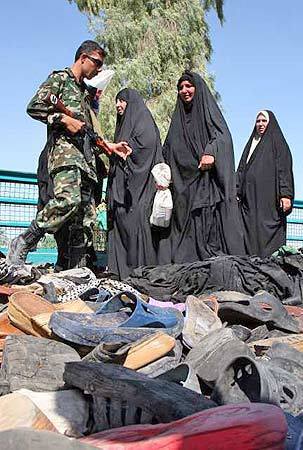 Shiite pilgrims and an Iraqi soldier walk past the piles of shoes and debris at the bridge leading to the shrine in the Baghdad's Kazimiyah district.
(Samir Mizban / AP)
IT'S SHOWTIME:
Mohammed Ahmad Younis prepares stands to sing before the panel of "Iraq Star" judges, who criticized his informal attire. "Maybe I dress weird," he said. "But I hold my country dear and its traditions are in my heart, and no one can change this."
(Saad Khalaf / LAT)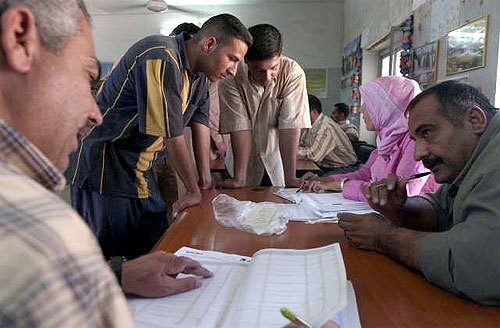 ELECTORAL PREPARATIONS:
Residents register to vote in the referendum on Iraq's draft constitution in Baqubah, northeast of Baghdad. Up to 6 million copies of the draft are being printed for distribution to Iraqi citizens before the Oct. 15 election.
(Mohammed Adnan / AP)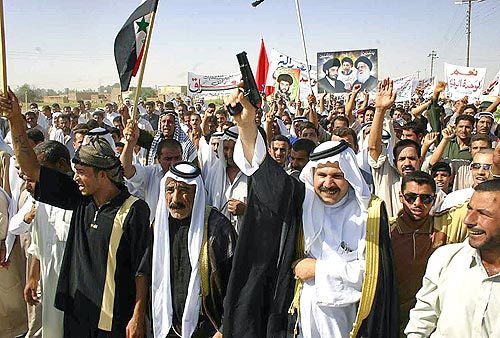 OPPOSITION:
Iraqis in Kirkuk protest the draft constitution. Indications are growing that the electorate will be asked to approve a document that has not been endorsed by Sunni Arab leaders.
(Marwan Ibrahim / AFP / Getty Images)
DEMONSTRATING ANGER:
Supporters of Shiite Muslim cleric Muqtada Sadr rally in the southern Iraqi city of Basra. Many focused on the lack of reliable water and electricity service.
(Nabil Al-Jurani / AP)
Pallbearers carry the coffin of a vendor killed in a suicide car bombing in Baghdad. The U.S. military announced the death of another soldier in fighting on Tuesday, bringing to seven the number of American troops killed that day.
(Ahmad Al-Rubaye / AFP/Getty Images)
U.S. Marine Lance Cpl. Shawn M. Gallagher , a dog handler attached to the 1st Battalion, 5th Marine Regiment, and Youry, a Belgian Malinois, stand guard in Ramadi.
(Cpl. Tom Sloan / U.S. Marine Corps)
ACTIVISTS:
In Baghdad, Hanna Edward, left, and Shirok Abbayachi voice their concerns about women's rights and the place of religious and tribal law in the nation's new charter.
(Saad Khalaf / LAT)