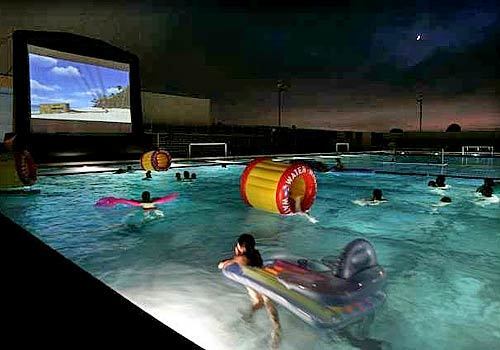 20 Images
The Week in Photos: Jul. 30 - Aug. 5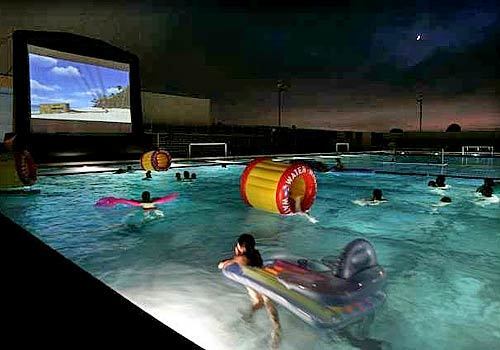 Moviegoers enjoy a showing of "Madagascar" in the Corona del Mar High School pool, put on by Newport Beach's recreation department and billed as "dive-in movie night." The movie's tropical setting is coincidentally being reflected in Southland ocean temperatures, which have risen into the mid-70s and higher because of abnormal wind conditions.
(Christine Cotter / LAT)
Karen Dawn fell in love with her two pit bulls, Paula, in goggles, and Buster, a mix. The dogs are increasingly being adopted by people willing to try to raise a civilized pit bull.
(Carlos Chavez / LAT)
Abdel Jabbar Hamdan of Buena Park, Calif., addresses his friends and the news media on Terminal Island in San Pedro after his release. Hamdan, an Islamic charity worker, was in federal custody for two years for suspected ties to terrorism. The U.S. government says it will still seek to have him deported to Jordan.
(Karen Tapia-Andersen / LAT)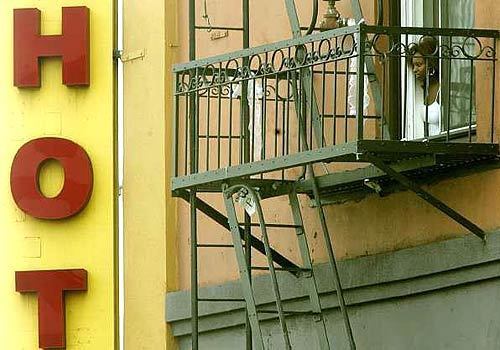 A woman stands at a window overlooking the fire escape of a downtown hotel, where a section of the sign sums up the recent heat wave.
(Luis Sinco / LAT)
A poster of R&B singer and pianist Floyd Dixon flanks his casket as a mourner pays his respects. About 200 people attended the memorial service for the performer, 77, who died Wednesday, at Inglewood Park Cemetery's Grace Chapel. Dixon, who specialized in jump blues, was a key figure in the Southern California R&B scene in the 1950s, particularly influencing Ray Charles.
(Brian Vander Brug / LAT)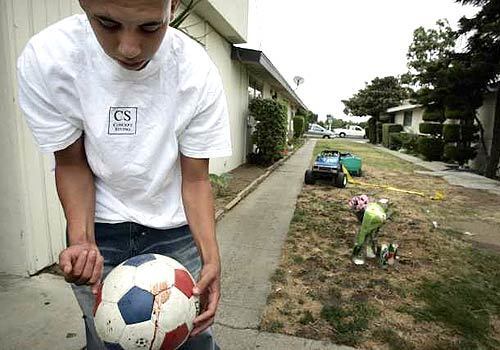 Jose Bracamontes displays a blood-stained soccer ball near where four youths were shot in a Costa Mesa neighborhood that left one dead and three wounded.
(Don Bartletti / LAT)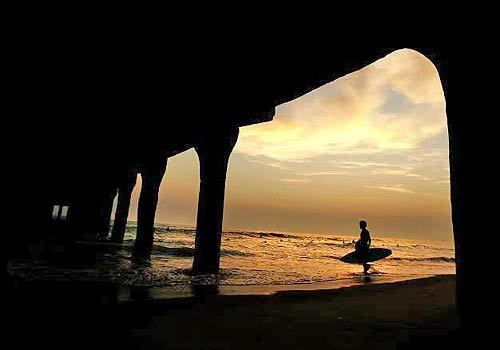 A surfer heads out for a twilight session near the Manhattan Beach Pier. The town long known for its surf spots will be a host to the International Surf Festival this weekend.
(Wally Skalij / LAT)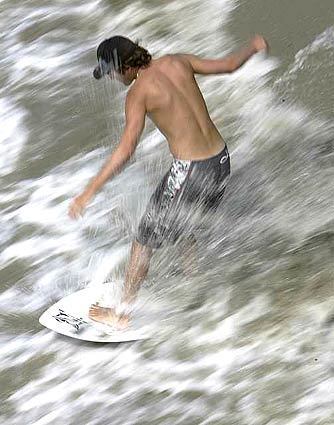 Mike Waltz shows how to stay cool over the weekend in Huntington Beach.
(Ricardo DeAratanha / LAT)
Claude, an albino alligator who went on display Thursday at the Los Angeles Zoo, is on loan from the St. Augustine Alligator Farm in Florida.
(Carlos Chavez / LAT)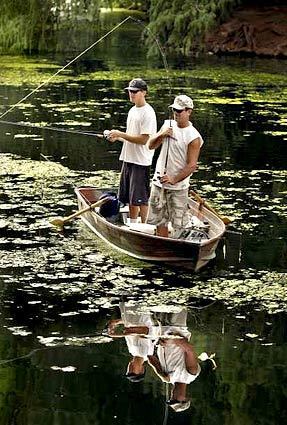 Frankie Carpenter, 21, left, and his father, Frank, try their luck in calm waters at Riverside's Fairmount Park.
(Irfan Khan / LAT)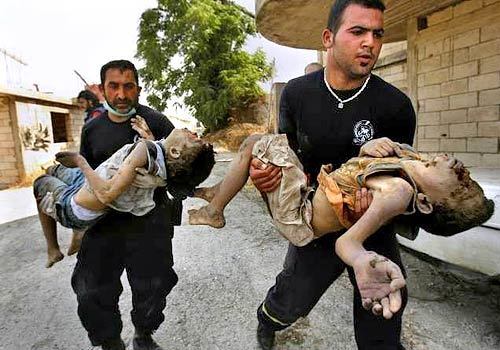 The bodies of two boys are pulled from the rubble in Qana. A lieutenant colonel in the Lebanese army said of the Israeli airstrike: "As a soldier, I know there are laws for war. This is a mass execution."
(Carolyn Cole / LAT)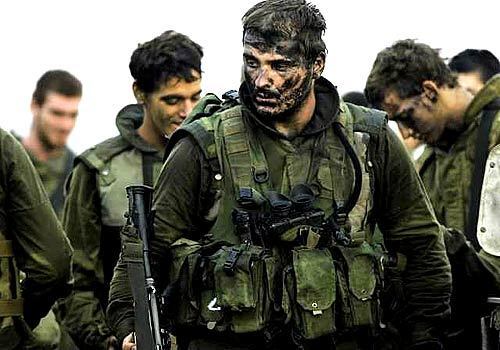 Israeli soldiers return to a staging area in the northern border town of Metulla.
(Damon Winter / LAT)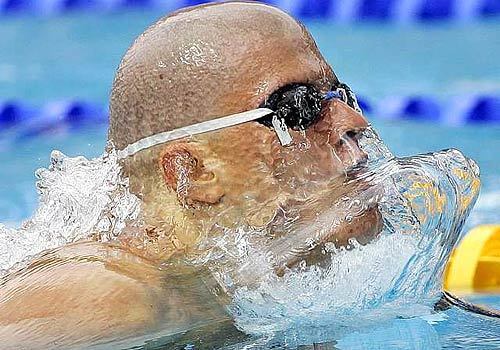 Hungary's Daniel Gyurta competes in the men's 200 Meter Individual Breaststroke at the European Swimming Championships in Budapest.
(Petr David Josek / AP)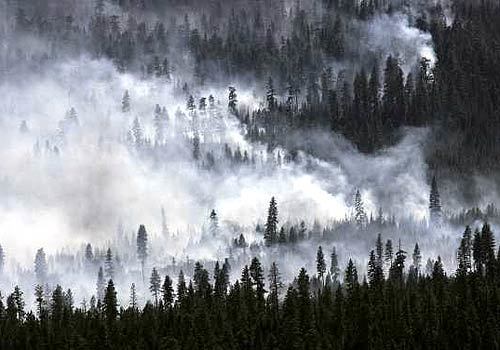 The Black Crater fire burns near Sisters, Ore.
(Don Ryan / AP)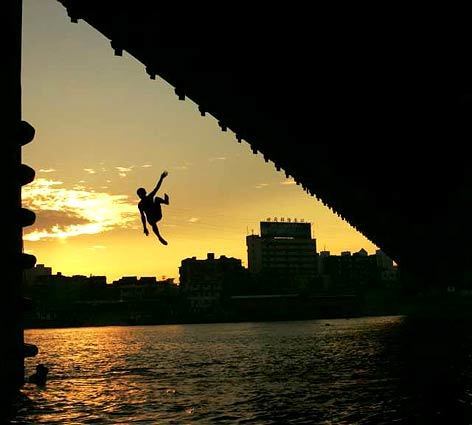 A boy jumps into the Hanjiang River of Hubei Province, China. The area is known as one of the "Three Furnaces" for its hot summer weather.
(China Photos / Getty Images)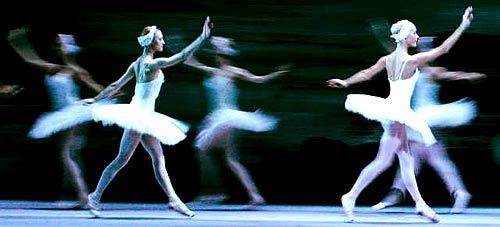 Russian dancers from the Russian Bolshoi Ballet Company perform during a rehearsal of the Swan Lake at the Royal Opera House in London.
(Carl de Souza AFP/Getty Images)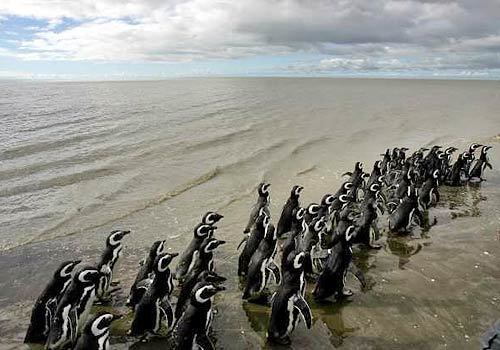 Around 224 penguins were found in Santa Cruz province of Argentina in May, victims of an oil spill. The 190 that survived were later taken to an animal recovery center to be rehabilitated. The first 50 recovered were released into their natural habitat on Monday.
(Natacha Pisarenko / AP)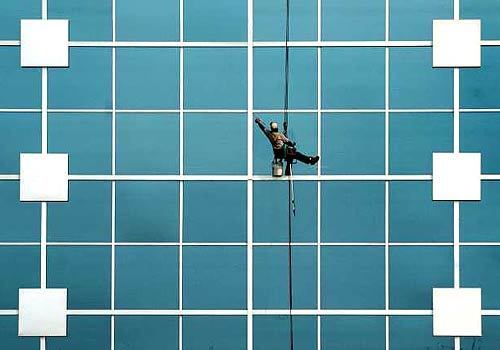 A window washer works on the facade of Bank of America Stadium in uptown Charlotte, N.C. Thursday, Aug. 3, 2006. Workers are spending the week preparing for Saturday's Fan Fest event where Carolina Panthers fans can watch the NFL football team at practice.
(Todd Sumlin / The Charlotte Observer)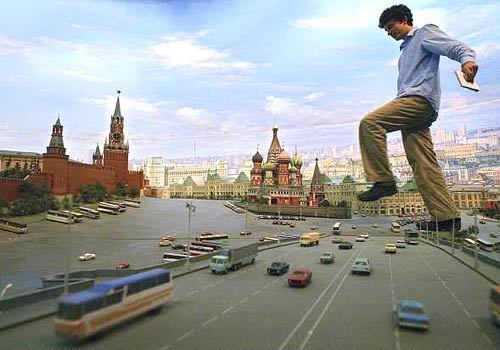 A Moscow man steps over a part of the Moscow Panorama, constructed by over 300 workers in 1977. The panorama draws swarms of sightseers from around the world. But the company that owns the 50-foot-wide model says it doesn't have the money to maintain it, and has put it up for auction at $380,000.
(Sergey Ponomarev / AP)
Nimrod, a class 9 yacht, is dwafed by a container ship entering Southampton Docks on the third day of Skandia Cowes Week. Cowes Week is the world's longest running regatta with 1,000 yachts and 8,000 competitors taking part.
(Gerry Penny / EPA)