12 Images
The world in photos
TV journalists Euna Lee, left, and Laura Ling arrive at Bob Hope Airport in Burbank upon returning from custody in North Korea. Lee is greeted by husband Michael Seldate and 4-year-old daughter Hana, and Ling by husband Iain Clayton.
(Irfan Khan / Los Angeles Times)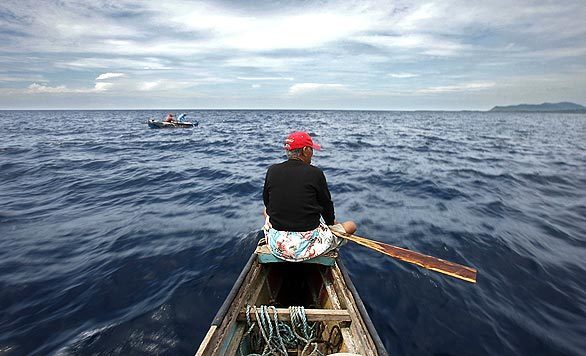 Johnny Aralaji of the Badjao community in the Philippines looks for fish. The Badjao, shunned on land and increasingly unable to survive off the water alone, are struggling to adapt to modern life.
(Luis Sinco / Los Angeles Times)
Russian Orthodox priests and former paratroopers participate in a religious service honoring the country's paratroopers in Moscow's Red Square.
(Alexander Zemlianichenko / Associated Press)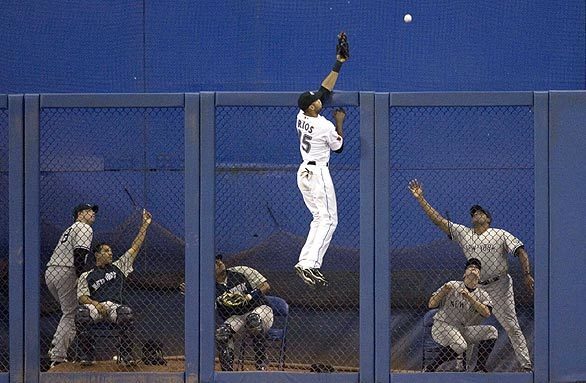 Toronto Blue Jays right fielder Alex Rios leaps in vain as a home run hit by Johnny Damon of the New York Yankees sails over the fence.
(Chris Young / Canadian Press)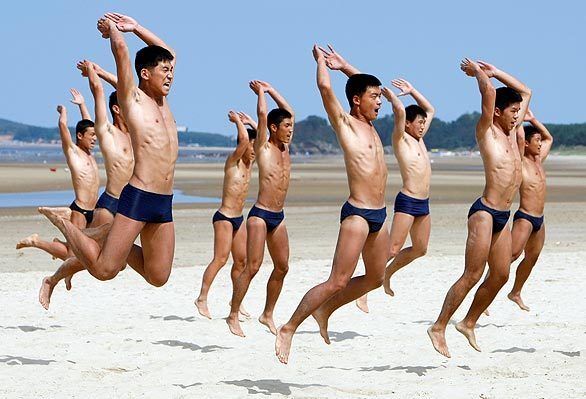 South Korean soldiers perform a drill in Taean, south of Seoul.
(Lee Jin-man / Associated Press)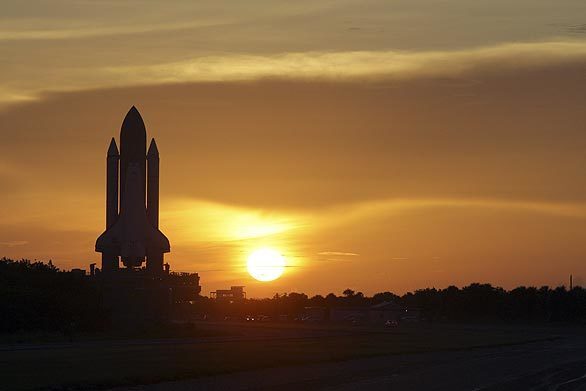 The sun rises behind the space shuttle Discovery at Kennedy Space Center in Florida, where it is being prepared for a mission to the International Space Station.
(John Raoux / Associated Press)
Russia's then-Prime Minister Vladimir Putin swims while vacationing in Siberia in August 2009.
(Alexsey Druginyn / RIA-Novosti)
A boy cools himself in a fountain in Cordoba, Spain.
(Manu Fernandez / Associated Press)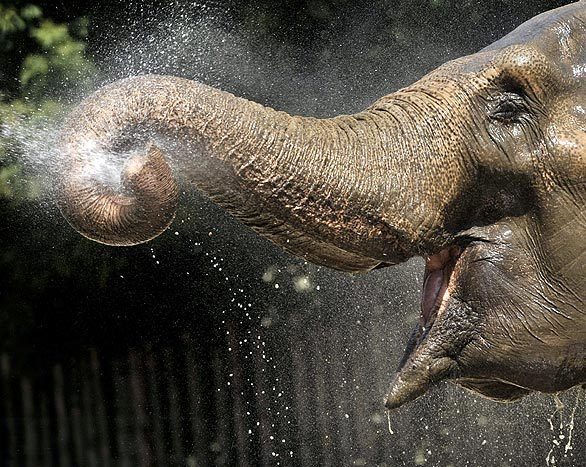 An elephant cools itself on a warm day at the zoo in Budapest, Hungary.
(Bela Szandelszky / Associated Press)
Former President Clinton sits beside North Korean leader Kim Jong Il for an official photo during his visit to Pyongyang, the North Korean capital, where he secured the release of two jailed American TV journalists. Standing, third from the left, is John Podesta, Clinton's former White House chief of staff. None of the other people pictured were identified.
(Korean Central News Agency)
Beachgoers watch a traditional seaside horse race in Sanlucar de Barrameda, Spain.
(Andy Ragel / Associated Press)
Lake visitors watch the Terrace Mountain fire from Carr's Landing, north of Kelowna, in British Columbia, Canada.
(Daniel Hayduk / Canadian Press)