20 Images
The Week in Photos: August 6-12
la-week1-j3otqrnc
Lucy Hart, 22, of Montebello applies makeup to Sacha White, 22, of Bakersfield as friends Jennifer Moreno, 25, second from left, of Montebello and Summer Lincoln, 28, of Bakersfield look on. A throng of hopefuls showed up before dawn to audition for "American Idol" at the Rose Bowl in Pasadena on Tuesday.
(Annie Wells / LAT)
la-week2-j3sxylnc
Crowds wait to pass through the TSA inspection point at John Wayne Airport in Santa Ana on Thursday. A heightened alert was triggered by an announcement that British offiicals had foiled a plot to blow up commercial airliners with liquid bombs. Long lines were the norm and all passengers were prohibited from carrying any fluids or gels onboard aircraft.
(Mark Boster / LAT)
la-week3-j3t0tync
Kate Dillon of Virginia Beach, Va., transfers items back to her carry-on bag after being told that her checked luggage exceeded the weight limit at Bob Hope Airport in Burbank.
(Mel Melcon / LAT)
la-week4-j2h2b1nc
Electroland's "EnterActive" at Met Lofts in downtown Los Angeles connects those strolling the lobby — or hopscotching across it — with a large LED display outside.
(Allen J. Schaben / LAT)
la-week5-j3k4fenc
Travis Pastrana, whose flips and tricks electrified fans at the Home Depot Center in Carson last Friday, won X Games gold in Moto X freestyle and the inaugural rally car race.
(Myung J. Chun / LAT)
la-week6-j3td5pnc
Church members help consecrate St. Justin Martyr Parish Church in Anaheim. More than a year ago, arsonists burned part of the building, causing roughly $1 million in damage. Thursday's mass was the first service since the fire.
(Christine Cotter / LAT)
la-week7-j3jv5knc
Angels center fielder Juan Rivera dives for a ball hit by the Rangers' Carlos Lee. Nevertheless, the Angels won 10-3 win over Texas on Saturday at Angel Stadium in Anaheim.
(Allen J. Schaben / LAT)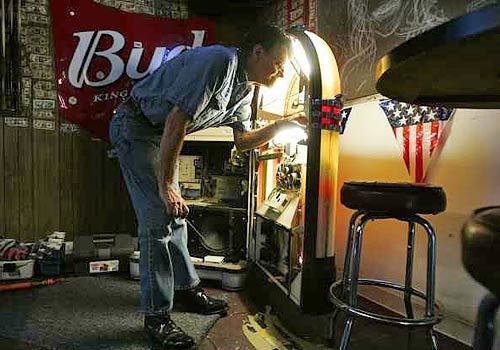 la-week8-j2d53vnc
Don Muller tinkers with one of the 15,000 jukeboxes he's sold in his 30-year career, this one at Country Girl Saloon in Castaic.
(Damon Winter / LAT)
la-week9-j2z6yznc
Running, or walking, up the mini-mountain at Sand Dune Park in Manhattan Beach is a real grind. It's about 100 yards long and steeped at roughly a 45-degree angle.
(Ken Hively / LAT)
la-week10-j23zxanc
Nathan Scarano, right, a San Bernardino County probation officer, and another member of an interdepartmental gang abatement team arrest suspects in Apple Valley, Calif.
(Glenn Koenig / LAT)
la-week11-j3ng2onc
A relative cries out at a funeral in Netanya, Israel, for Shaul Milkovich, 21, one of 12 Israeli reservists killed in a rocket attack.
(Damon Winter / LAT)
la-week12-j3lar1nc
A Lebanese soldier screams as he is rolled into the operating room at Najem Hospital after an air strike on an army post just south of Tyre, Lebanon. One soldier was killed, one wounded, and several were unaccounted for. Israelis killed at least three people in Tyre on Sunday, in several direct attacks.
(Carolyn Cole / LAT)
la-week13-j3p3jenc
Hady Aschar lights a candle at one of more than 400 headstones created by artists in Beirut in memory of victims of the Israel-Hezbollah fighting.
(Robert Gauthier / LAT)
la-week14-j3mntgnc
A bolt of lightning crackles over parked motorcycles at the annual Sturgis Motorcycle Rally in South Dakota on Sunday.
(Morry Gash / AP)
la-week15-j3ovdqnc
Greece's Louis Tsatoumas competes during the men's long jump Tuesday at the 19th European Athletics Championships in Gothenburg, Sweden.
(Adrian Dennis AFP/Getty Images)
la-week16-j3shhjnc
Firefighters attempt to extinguish a fire in Xustans, Spain, near Pontecaldelas yesterday. More than 100 forest fires have burned the country's northwest this year. Police investigated claims that arsonists are responsible.
(Miguel Riopa / AFP / Getty Images)
la-week17-j3n1fsnc
A jellyfish floats in the water near Torrenueva, southern Spain. Jellyfish numbers are on the increase due in part to the high temperature of the sea.
(Jose Luis Roca / AFP / Getty Images)
la-week18-j3p2zanc
People admire the moon as it rises over Cape Sounio, some 37 miles south of Athens.
(Aris Messinis / AFP / Getty Images)
la-week19-j3p0jnnc
A boat sits in the drought-ridden Entrepenas reservoir in Sacedon, near Guadalajara, Mexico.
(Pedro Armestre / AFP / Getty Images)
la-week20-j3ndsync
Lava cascades down the slopes of the Phillipines' Mayon volcano Monday. The Philippine Institute of Volcanology and Seismology has been monitoring for signs of explosive activity. So far, tens of thousands of people have been evacuated from the area around Legazpi, about 211 miles southeast of Manila.
(Bullit Marquez / AP)