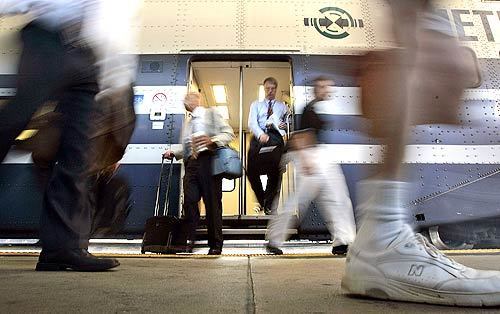 12 Images
In Focus: Staff Photos from September 2 - September 8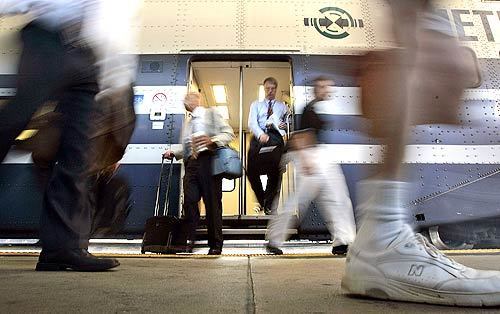 Transportation planners are hopeful of building on the 8% jump in Metrolink ridership in Orange County over last year, and are putting the pieces together for expanded Metrolink service. By 2009, the goal is to have commuter trains running every 30 minutes from 5 a.m. to midnight on weekdays, between Fullerton and Laguna Niguel -- the bookends of Orange County. For a county that habitually has invested its transportation dollars in freeways and road improvements, the Metrolink expansion marks a new course. The terminus for these passengers last Thursday was Union Station in downtown L.A.
(Mark Boster / LAT)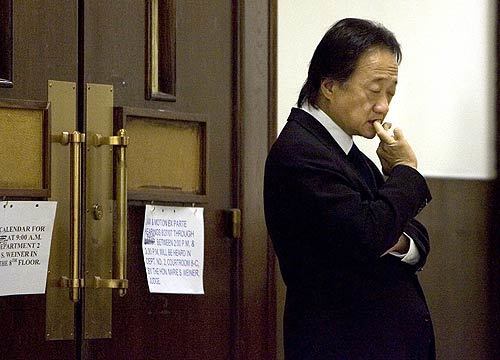 If this story weren't true somebody would make it up. In the early 1990s, businessman Norman Hsu, who once had been kidnapped in San Francisco by a Chinatown gang in a debt dispute, pleaded no contest to grand theft in a scheme that cost investors $1 million. Then he disappeared. During his at-large interlude, Hsu became one of the Democratic Party's most successful bundlers of campaign cash. Seen here last Friday, Hsu turned himself in at the San Mateo County Courthouse on the old charges, and was granted bail of $2 million as the FBI opened an investigation into his campaign donations. He was to reappear Wednesday to face the old fraud charges. Except he didn't, and nobody--not his lawyer, not law enforcement authorities--knew where he was. On Thursday he was arrested again--after he had fallen ill on a train in Colorado.
(Robert Durell / LAT)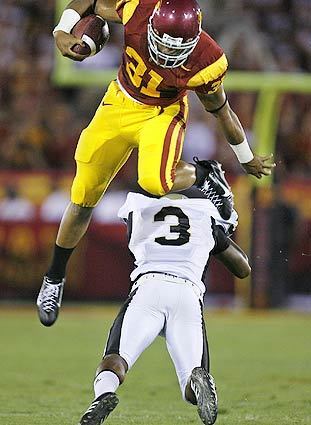 USC welcomed the advent of the college football season Saturday with a 38-10 victory over Idaho that some fans considered ... anemic. After all, the top-ranked Trojans were six-touchdown favorites in a game that most people regarded as a formality to start its drive to the Bowl Championship Series title game. Still, SC extended its home winning streak to 34 games, and provided plenty of highlights, such as fullback Stanley Havili channeling a hurdler as he vaults over Idaho's Breyon Williams after a catch in the first quarter. Havili also caught a touchdown pass from quarterback John David Booty.
(Wally Skalij / LAT)
Stanford is a fine school with a righteous band that plays in a lovely setting, but really, what's up with its football fans? Of the 38,860 people who attended the season opener at Stanford against UCLA Saturday, at least one-third were Bruin partisans. Maybe what's up is that the Cardinal aren't very good, evidenced by UCLA's dismantling by a score of 45-17. Nine UCLA receivers caught passes, with Joe Cowan catching two--both for touchdowns. Here in the third quarter he celebrates the second with teammate William Snead. That play accounted for 77 of the Bruins' 624 yards.
(Gina Ferazzi / LAT)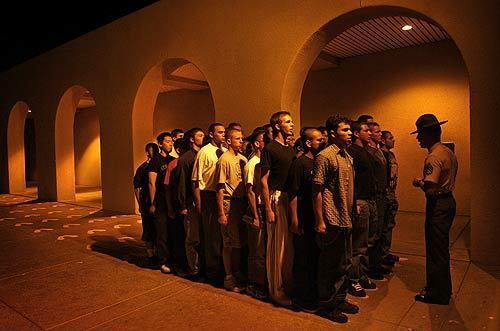 On the first day of Marine boot camp, a drill instructor shouted instructions from the moment recruits got off the bus from a processing center in Los Angeles. Recruits Steven Dellinger, center, and his school buddies Daryl Crookston and Daniel Motamedi (both obscured from view) will spend the next three months working to transition from high school graduates to Marines. Here they are forced to stand so closely together that they appeared to form a single mass of flesh, not a collection of frightened teenagers. Even now, seconds into boot camp, the Corps was instilling its primal message: Marines are not individuals, but a brotherhood.
(Rick Loomis / LAT)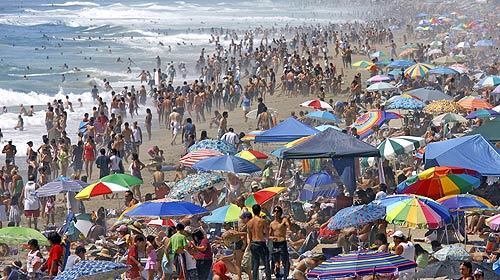 Huntington Beach has long considered itself the coolest of the cool among Southern California's coastal communities, but, hey dudes and dudettes, until last weekend they didn't mean it literally. On Sunday, locals were joined by thousands of their fellow Southlanders seeking coastal relief from the sizzling inland temperatures that refused to loosen their grip for what seemed like years.
(Rick Loomis / LAT)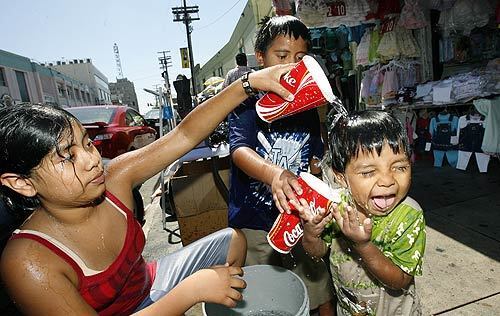 Good thing it was Labor Day on Monday because nobody felt like working in the unrelenting Southland heat. For these three Esperanza siblings in downtown Los Angeles--Narda, 11, Paul, 6, and Jose, 2--two words described their strategy to stay cool: water fight!
(Wally Skalij / LAT)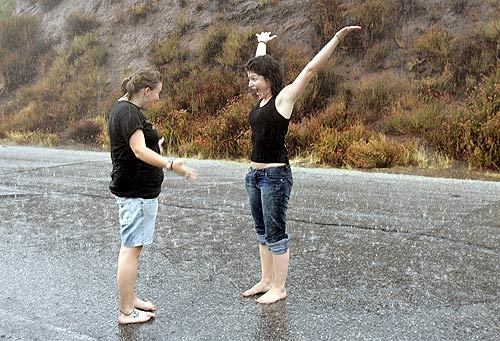 Scorching heat fried Southern California for a seventh straight day Monday, knocking out electricity to more than 24,000 customers and fanning three fires in northern Los Angeles County and the mountains near Big Bear Lake. As Labor Day vacationers swarmed local beaches to escape the late-summer heat spell that drove the mercury to 99 degrees in downtown Los Angeles and 111 in Woodland Hills, others headed for the hills, including Kate Walsh, left, and Maria Brusati, both 19 and from Redlands. In appreciation for a cool thundershower at a roadside turnout off Highway 38 in the San Bernardino National Forest, they performed their signature rain dance.
(Gina Ferazzi / LAT)
Illegal immigrants who make it five miles into California's San Ysidro Mountains east of San Diego have beaten the front line of border defenses. The only things between them and the freeways are these mountains--and the mobile unit's Team Gold. Its members are responsible for flushing out smugglers and migrants from some of the border's most rugged terrain. Some mountain paths are so narrow and choked with vegetation that agents call them Hobbit trails. Since the agency launched the unit four years ago, its 50 border agents have apprehended more than 20,000 migrants and 347 suspected smugglers. The unit is the only one of its kind in the agency. Here, on Tecate Peak, agents John Griffin, Steve McPartland and Wes Stephens, left to right, stand motionless to listen for the sounds of migrants and smugglers.
(Don Bartletti / LAT)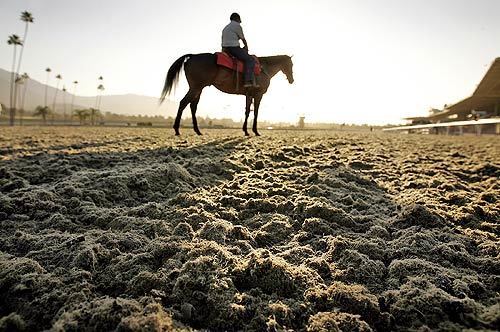 Daybreak Tuesday. The track at Santa Anita. The first workouts on Cushion Track, the new $10-million synthetic surface that replaces traditional dirt with a compound of silica sand and synthetic fibers, elastic fiber and shredded rubber coated with a blend of wax. The venerable Santa Anita, which opened in December 1934, was mandated along with the tracks at Hollywood Park and Del Mar to convert to the new surface by the California Horse Racing Board in an effort to diminish the rising number of injuries among the Thoroughbred elite.
(Al Seib / LAT)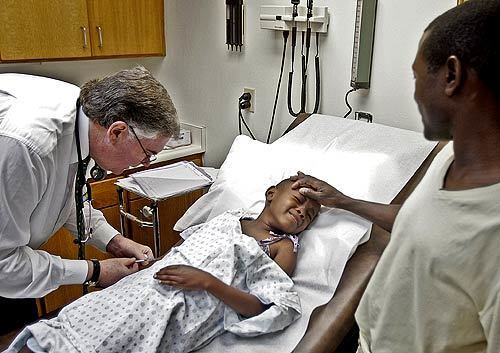 Joseph Mwanisawa comforts his daughter Mary, 8, as she receives a tuberculosis test shot from Dr. Kevin Barnett on Tuesday in Newport Beach. It was the first medical exam of her life. The Mwanisawas came to California from Tanzania to attend a benefit Saturday for the Kids of Kilimanjaro school lunch program, which raises money in the U.S. to help needy children who live in the region around Mt. Kilimanjaro. where malaria and tuberculosis are common. Mary is one of the student beneficiaries of the lunch program. Before its inception, children often would eat only one meal a day.
(Allen J. Schaben / LAT)
Hoping to lower the number of animals that are euthanized, Huntington Beach is considering whether to make residents spay or neuter their cats and dogs and implant microchips to assist in reuniting lost pets with their owners. The City Council voted 4 to 3 Monday to have staff draft an ordinance that would mirror one that Los Angeles County adopted last year to regulate most dogs in unincorporated areas. About 40,000 dogs have had microchips inserted. In e-mails to the city, some residents argued that pet regulations were unnecessary and cumbersome. Councilman Don Hansen, who voted against the plan, said, "I don't think it's the city's business or the state's business how we care for and maintain our pets. Most pet owners are responsible people, and we don't need to intrude." On Tuesday, Kathy Adams romped on the Huntington Beach sand with Duke.
(Lori Shepler / LAT)