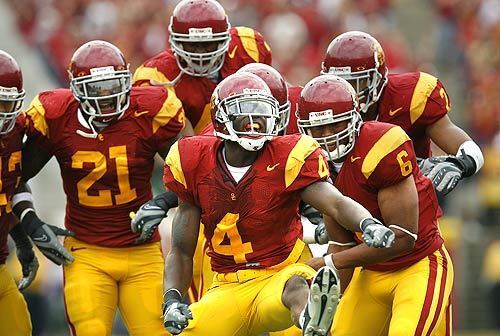 11 Images
In Focus: Staff photos from Oct. 13-19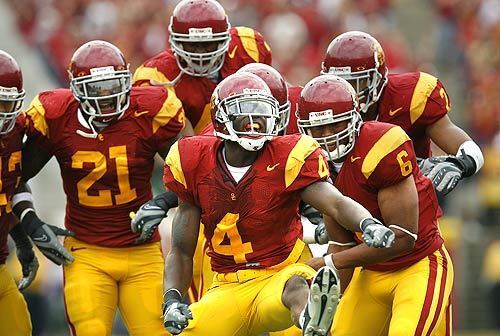 USC's Joe McKnight (4) celebrates his 45-yard punt return Saturday, which set up the Trojans' go-ahead touchdown in their 20-13 victory over the Arizona. In addition to his big fourth-quarter return, McKnight had a 59-yard run from scrimmage that set up a field goal late in the game.
(Wally Skalij / Los Angeles Times)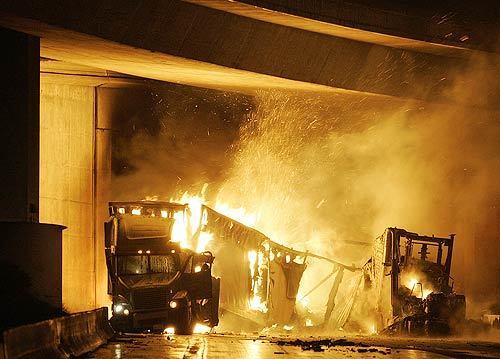 What caused the deadly pileup on Interstate 5 near Santa Clarita on Friday? Truckers have previously complained that the tunnel shown ablaze here is difficult to navigate. Caltrans officials are looking at whether the speed limit in the area is too high. And rain might have been a factor, too. This much is clear: 31 vehicles were involved, and three people died in the inferno.
(Stephen Osman / Los Angeles Times)
By Sunday, the fire was out, exposing the remains of charred big rigs.
(Genaro Molina / Los Angeles Times)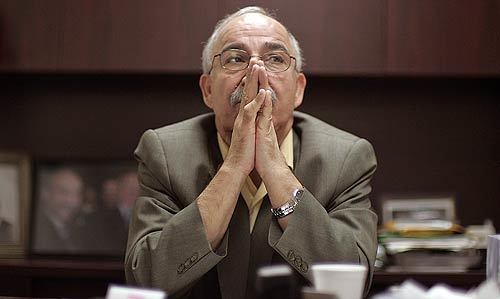 Ali Shakeri went to Iran earlier this year to visit his ailing mother. But as he prepared to leave, he was taken into custody by Iranian authorities. He spent four months in a prison cell, and says he frequently was interrogated for hour at a time. Shakeri, a Lake Forest mortgage broker and peace activist, finally was allowed to return home earlier this month, and on Oct. 14 he said he believes he was imprisoned for political reasons. "I was a victim of the international problem of confrontation between Iran and the U.S.," he said. "You talk about love, you talk about peace, you talk about human rights, but it wasn't until I was a prisoner that I saw how important that was."
(Robert Gauthier / Los Angeles Times)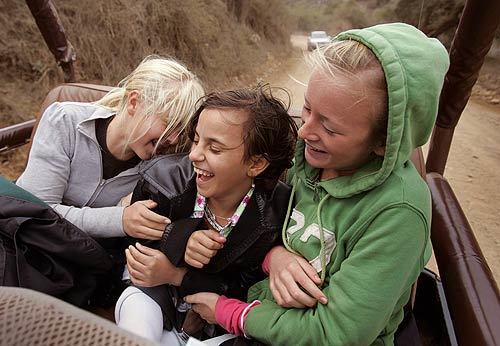 Salee Allawe, center, an Iraqi girl who was brought to the U.S. to receive prosthetic legs, enjoys the company of Sammi Arnold, left, and Montana Troeger on a tour of Santa Catalina Island . Salee, 10, lost her legs in what her family said was a U.S. air strike on the outskirts of Baghdad last November; her 13-year-old brother and her best friend were killed in the incident. A group called No More Victims, dedicated to assisting Iraqi children injured in the war, helped bring her to South Carolina to be fitted with mechanical knees and prosthetic limbs at the Shriners Hospital for Children. Her sponsors also wanted to give her a happy memory before she returns to Iraq, so they brought her and her father to Catalina Island. "People keep giving me things. ... I don't even know their names," Salee said through an interpreter.
(Allen J. Schaben / Los Angeles Times)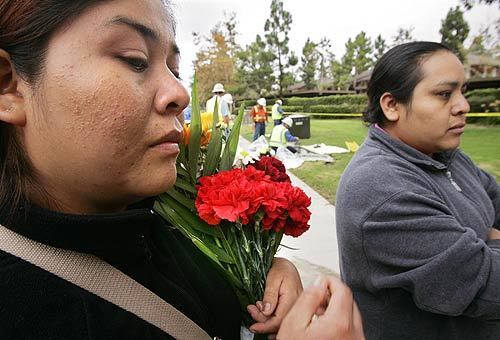 Patricia Barranco Patino clutches flowers to leave at the scene where her brother was hit and killed by a suspected drunk driver in Dana Point. Jose Umberto Barranco, 32, of Dana Point was riding his bicycle on the sidewalk; he made the commute nightly from Denny's, where he had worked as a busboy for seven years, to his home three miles away. After hitting Barranco, the car careened into a power pole and knocked out electricity to nearby businesses and homes. In the background, workers repair utility boxes.
(Don Bartletti / Los Angeles Time)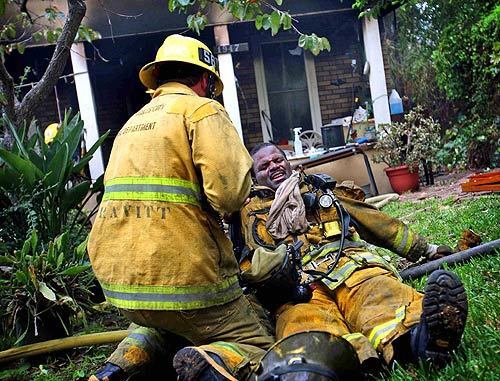 Firefighter Dre Brown, left, gets some assistance after an object struck him on the back of the neck while he was fighting a blaze in Echo Park. No one was inside the two-story home at the time of the greater-alarm fire.
(Barbara Davidson / Los Angeles Times)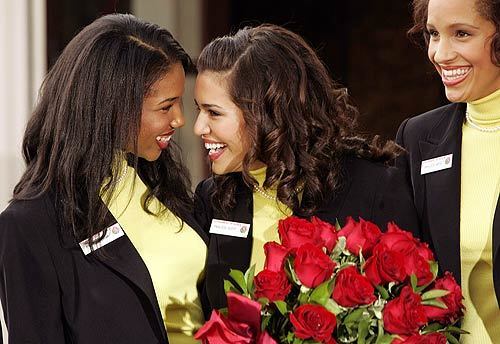 The typical signs of October in L.A.: Santa Ana winds blowing through the skies, the Dodgers sitting at home while baseball's playoffs reach high gear, and a new Tournament of Roses queen accepting her crown. Dusty Gibbs, center, was selected from seven Rose princesses, including Zena Brown, left, and Katie Merrill, right. Gibbs, a 17-year-old Arcadia High School student, will take the prized seat as the princesses' float rolls through Pasadena on Jan. 1.
(Annie Wells / Los Angeles Times)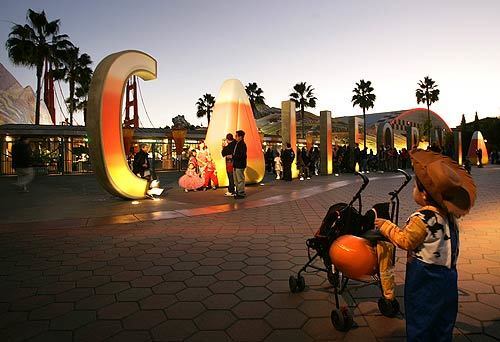 Disney's California Adventure is taking on a bit of a Halloween motif these days, and soon it'll undergo a more radical transformation. The park hasn't lived up to expectations since it opened in 2001, and the company has announced a major retooling, with new rides and amenities to be added over the next five years.
(Lori Shepler / Los Angeles Times)
It was a light moment on a somber day: Gov. Arnold Schwarzenegger giving Bridget Ambriz and her daughter, Kaitlyn, a look at his boots during a ceremony at CHP offices in Santa Ana. The ceremony marked the governor's earlier signing of a law that toughens penalties for drivers who kill someone while intoxicated. The law was dubbed the Ambriz Act, in honor of Steve Ambriz -- Bridget's husband, Kaitlyn's father -- who was an Orange city councilman. Steve Ambriz was killed in 2006 when his car was struck head-on by a pickup driven by a woman with methamphetamine and marijuana in her system.
(Allen J. Schaben / Los Angeles Times)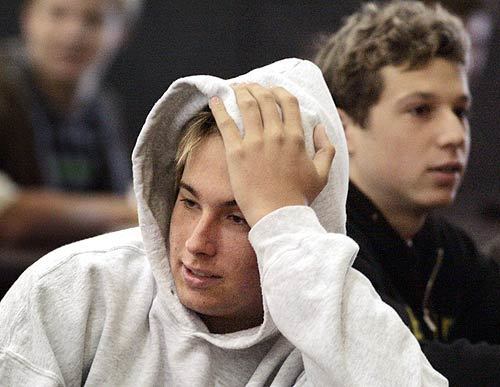 Tucker Pettis, 16, finishes the PSAT standardized test at Sage Hill School in Newport Coast. Though the test is not seen by college admissions officials, it is a dry run for the SAT, and it can help students obtain big scholarships from schools like USC. Some families are placing so much value on the exam that they're increasingly sending their children to pricey test-preparation courses, despite schools' admonishments against it.
(Karen Tapia-Andersen / Los Angeles Times)