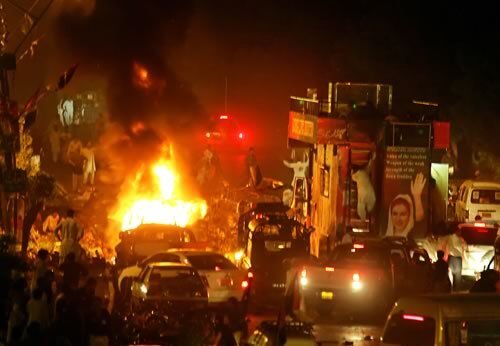 10 Images
Global pictures from Oct. 14-20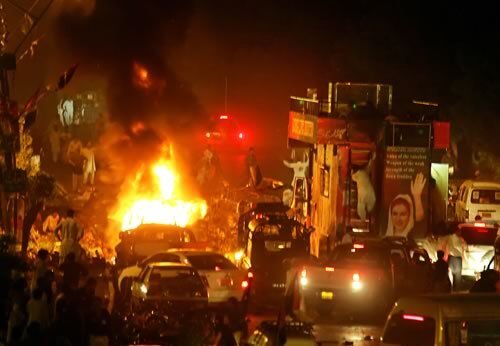 In Karachi, Pakistan, flames erupt from a car in front of a vehicle carrying former Prime Minister Benazir Bhutto. More than 100 people were killed when two bombs rocked her convoy upon her return from self-imposed exile. Bhutto, who was unhurt, has reached a power-sharing alliance with President Pervez Musharraf, and her return marks a turbulent new phase in Pakistani politics.
(Aamir Qureshi / AFP / Getty Images)
President Bush and the Dalai Lama gaze at the Capitol Rotunda during a ceremony to present the Congressional Gold Medal to the Tibetan spiritual leader. It was the first time since the Dalai Lama fled into exile in 1959 that a sitting U.S. president met with him in public. The Chinese government sent multiple warnings that it would consider any recognition of the Dalai Lama a provocation. The monk fled his homeland when China sent troops there to quell a rebellion.
(Saul Loeb / AFP / Getty Images)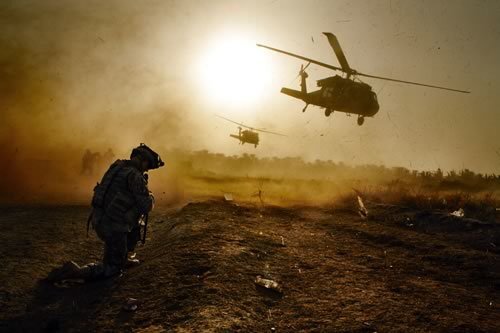 A U.S. soldier braces himself as a helicopter carries Army Gen. David H. Petraeus, the top U.S. commander in Iraq, away from a meeting with tribal leaders in Quarghuli, south of Baghdad. Petraeus paid a visit to the village to praise Iraqis who have acted to secure the restive area.
(Maya Alleruzzo / AP Photo)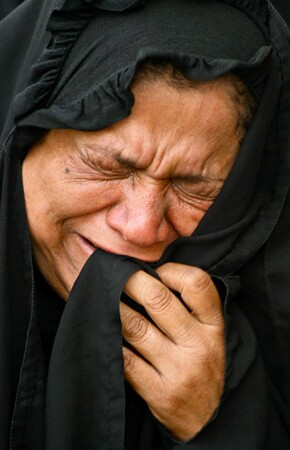 An Iraqi woman cries near the bodies of policemen killed by a roadside bomb in Diwaniya. An Interior Ministry spokesman said the assailants, who killed seven officers, were members of a criminal gang and suggested that they once had claimed ties to Shiite Muslim cleric Muqtada Sadr's Mahdi Army.
(Qassen Zein / AFP / Getty Images)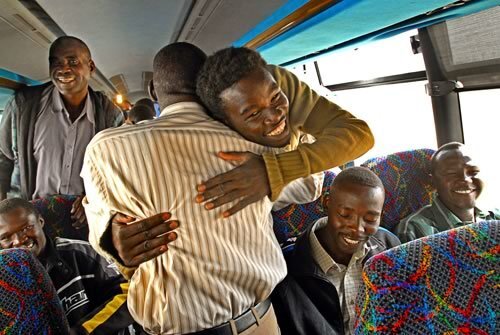 Men from Darfur, Sudan, embrace as they prepare to leave a compound in southern Israel after Israel released 51 of the asylum seekers to work on collective farms in the Jewish state. Many in Israel argue that their country, founded in part as a refuge for the victims of the Holocaust, has a moral obligation to offer sanctuary to those fleeing the killing in Darfur.
(Ahikam Seri / AFP / Getty Images)
Yang Yang, a 4-year-old Chinese boy, swims with a 5-year-old beluga whale named Xiao Qiang at an aquarium in Qingdao, in China's eastern province of Shandong. They will perform together next year to welcome visitors who come to watch sailing events at the Olympic Games. Yang Yang has been swimming since he was 1, Xiao Qiang even longer.
(AP Photo / EyePress)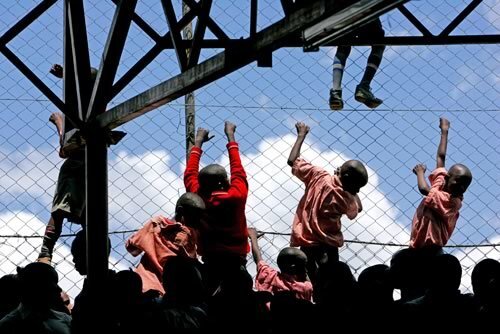 Kenyan schoolchildren climb a fence to get a better view during World Poverty Day in a Nairobi slum. The event was part of a United Nations campaign that seeks to promote the Millennium Development Goals, which include eradicating extreme poverty and hunger, achieving universal primary education and ensuring a sustainable environment by 2015.
(Karel Prinsloo / AP Photo)
The South Korean air force's special flight team, the Black Eagles, flies in formation during the Seoul Air Show in Seongnam, near the capital.
(Lee Jin-man / AP Photo)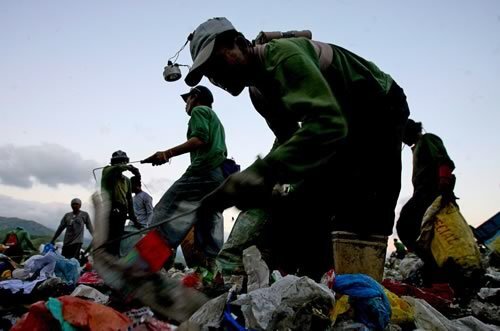 Filipino scavengers sift through mounds of trash at a landfill in Rodriguez, northeast of Manila. While provincial and government officials argue over whether to keep the landfill open, scavengers who rely on collecting recyclable material risk their health for income that barely meets the country's minimum wage standards of $8 a day.
(Rolex Dela Pena / EPA)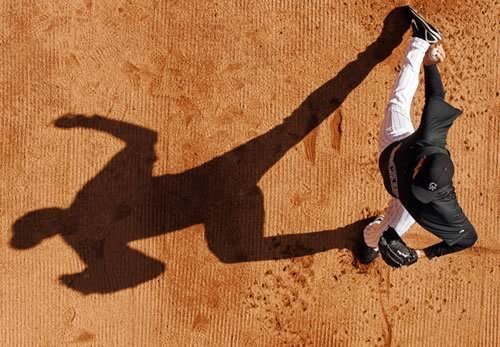 Colorado Rockies pitcher Jason Hirsh throws in the bullpen during baseball practice in Denver. After sweeping aside the Arizona Diamondbacks in the National League Championship Series, the once-hapless Rockies found themselves headed to the World Series.
(Jack Dempsey / AP Photo)