10 Images
In Focus: Staff photos from Oct. 20-26
LAID TO WASTE:
At dusk Monday, scattered embers burn in a Lake Arrowhead neighborhood that was reduced to ashes.
(Don Kelsen / Los Angeles Times)
UCLA
UCLA's Alterraun Verner races toward the end zone with an interception Saturday as the Bruins defeat Cal, 30-21.
(Lori Shepler / Los Angeles Times)
MEET AT THE QUARTERBACK
USC nose tackle Sedrick Ellis (49) and defensive end Kyle Moore take down Notre Dame quarterback Evan Sharpley in the third quarter of the Trojans' 38-0 victory in South Bend, Ind.
(Wally Skalij / Los Angeles Times)
FIRE AND WATER
Surfer Luke Schroder,14, catches a look at the smoke-filled sky over Malibu on Sunday.
(Richard Hartog / Los Angeles Times)
Off Shore Wind
The same winds that helped create havoc in the hills above Malibu led to dramatic surf conditions along the coast.
(Stephen Osman / Los Angeles Times)
Evacuated
Patients at Pomerado Hospital in Poway wear face masks Monday to protect them from smoke as they wait to be evacuated because of wildfires.
(Wally Skalij / Los Angeles Times)
ON THE SET
Robert Wheeler is retired from the LAPD, although he still puts on the uniform when he works security at filming sites. That's not unusual for a former motorcyle cop, but his other two post-retirement avocations are a little offbeat: He writes romance novels, and he paints abstract artworks. Eighty-seven of his paintings have sold, at prices ranging from $500 to $2,000.
(Mark Boster / Los Angeles Times)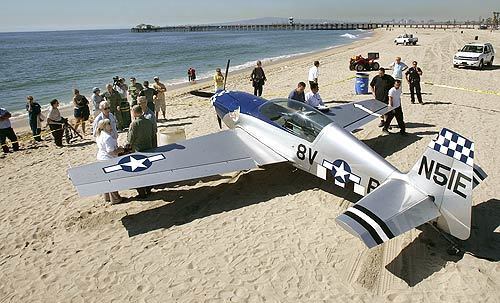 Beached Plane
Planes aren't supposed to land on the beach, but when one does execute a safe touchdown, it makes a handsome image. This aircraft had to make an emergency landing near the Seal Beach pier on Oct. 19 when it lost power. Neither the student pilot nor the instructor aboard were injured.
(Lori Shepler / Los Angeles Times)
DISPLEASED
The shooting death of a Rialto police officer shook not only his fellow officers but also members of the city's black community, who worried that it would lead to a backlash. Jay Scott, with son Jermele, says he frequently has been harassed by Rialto police. City leaders, though, say the department has improved dramatically in the last few years under new leadership.
(Irfan Khan / Los Angeles Times)
Deadly Syndrome
Deadly Syndrome is an indie rock band that's making a name for itself on the L.A. scene. From left, Will Etling, Jesse Hoy, Mike Hughes, and Christopher Richard make up the band, which is going on tour. Would it be fair to say they're getting ready to take the wraps off their act?
(Rick Loomis / Los Angeles Times)