20 Images
The Week in Photos: Oct. 22-28
U.S. Army Spc. Thomas Dailey of Little Rock, Ark., fires a mortar round from Camp Tillman at a rebel position in response to rocket fire in Paktika province in eastern Afghanistan.
(John Moore / Getty Images)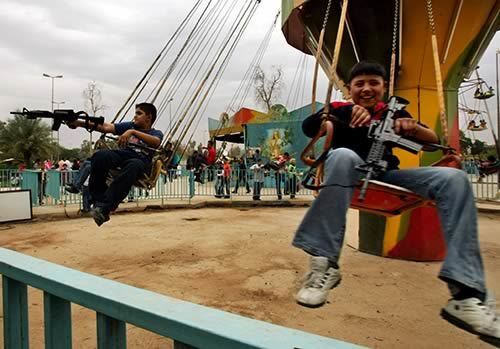 Boys with toy guns ride an amusement park attraction in Baghdad during Eid al-Fitr, the Islamic feast at the end of Ramadan, a season marked this year in Iraq by particularly deadly conflict.
(Ali Haider / EPA)
Brig. Gen. Joe Dibartolomeo, left, presents Jodi Dyer and her children with a U.S. flag during a full-honors funeral service for her husband, Army Special Forces officer Scott Dyer, at Arlington National Cemetery in Arlington, Va. on Wednesday. Dyer was killed in Iraq.
(Shawn Thew / EPA)
Palestinian mourners gather Monday around the body of a militant killed during an Israeli army operation at the morgue of the hospital in Beit Lahiay in the Gaza Strip.
(Emilio Morenatti / AP)
Sailors prepare their ships as they set to take part in the solo sailing race known as Route du Rhum - Banque Postale. The race, which follows a course from northern France to Guadeloupe in the French West Indies, begins this weekend.
(Martin Bureau / AFP / Getty Images)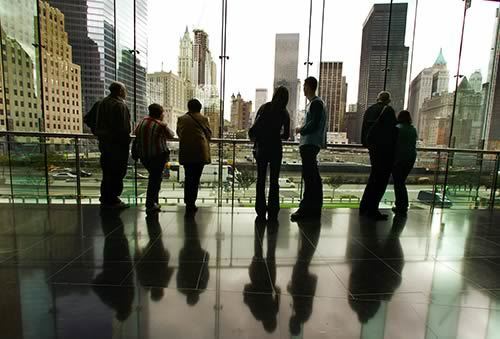 Visitors view the World Trade Center site in New York, where utility workers came across foot-long segments of bone in a manhole last week. A former ground zero official said the initial cleanup was done too quickly.
(Adam Rountree / AP)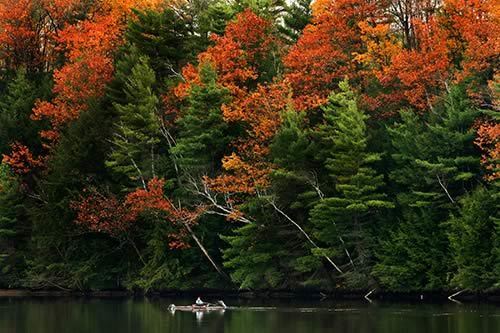 Bright orange leaves frame the Connecticut River along the New Hampshire-Vermont state border.
(Carolyn Cole / LAT)
Supporters of Congo's outgoing President Joseph Kabila dance during a meeting Wednesday at the stadium in Bukavu, Democratic Republic of Congo. Residents in the Democratic Republic of Congo will vote Oct. 29 in the second round of landmark presidential polls after years of conflict.
(Jose Cendon / AFP / Getty Images)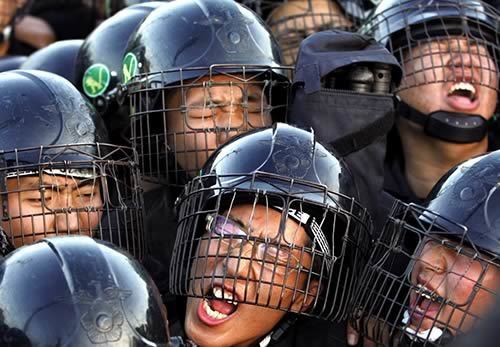 South Korean riot policemen shout as they scuffle with protesters Wednesday during an anti-free trade agreement rally in Seogwipo, a city at the southern tip of Jeju, South Korea.
(Ahn Young-joon / AP Photo)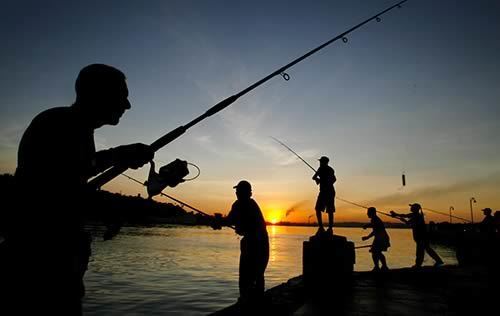 Fishermen cast their lines into the waters of Havana Bay in the early morning hours in Havana, Cuba on Thursday.
(Javier Galeano / AP Photo)
Amid pallets of frozen pizzas, chocolates and fillet mignon steaks, Michael Pierce works up a head of steam Tuesday on a stationary bicycle. The temperature is minus 2 degrees in the commercial freezer in Encinitas as Pierce prepares for the Antarctic Ultra-Marathon in December.
(Don Bartletti / LAT)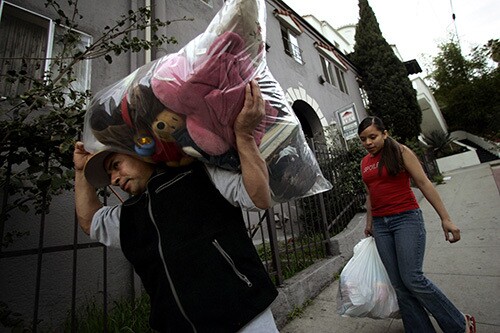 Santiago Sanchez and Karen Ibarra carry some of the family's belongings while moving from their one-bedroom apartment in Echo Park. The family of eight, who were evicted, join a wave of long-term tenants being pushed out of gentrifying neighborhoods in the central city.
(Genaro Molina / LAT)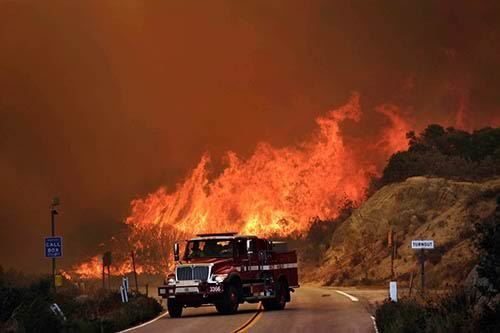 Flames from the Esperanza fire along Highway 243 near Banning on Thursday force a fire crew to turn back. Some residents of outlying areas fled so quickly that animals had to be left behind.
(Irfan Khan / LAT)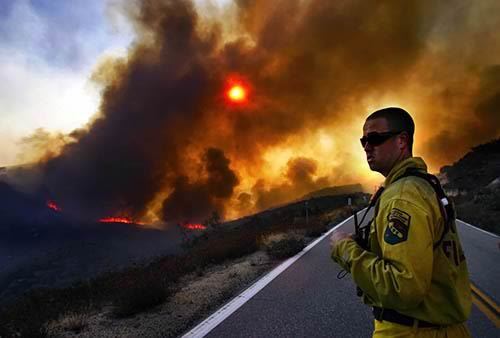 The sun is shrouded in heavy smoke from the fast-moving Esperanza fire Thursday.
(Irfan Khan / LAT)
Dorsey High running back John Roberson keeps a Locke High defender at bay with a well-placed stiff-arm during the first quarter of their game Oct. 20.
(Christine Cotter / LAT)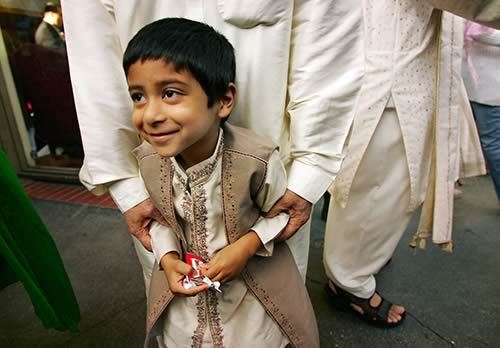 Ali Desai, 4, enjoys candy on the first day after the end of Ramadan following services in Granada Hills organized by the Islamic Center of Reseda. The monthlong period of fasting and prayer is followed by three days of feasting.
(Al Seib / LAT)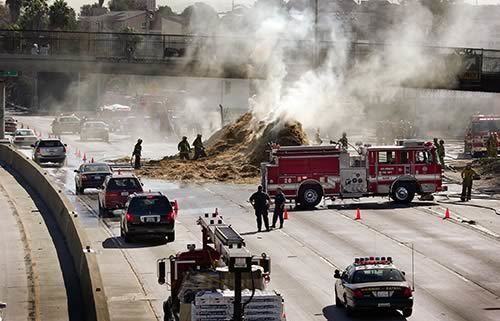 Los Angeles Firefighter Charles Wessler works to extinguish smoldering straw strewn over the 101 Freeway on Monday near Alvarado Street in Los Angeles. A truck with trailers filled with more than 500 bales of wheat straw, used for bedding for horses, was headed to the Hollywood Park racetrack in Inglewood when the load caught fire.
(Al Seib / LAT)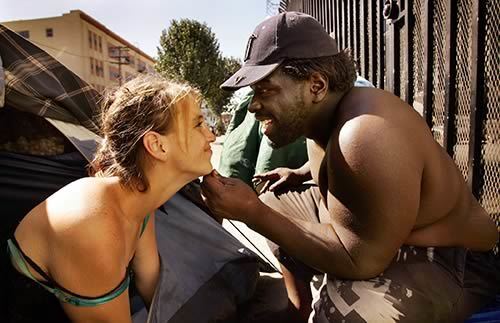 Griff and his wife, Summer, share a moment at their skid row campsite. A police crackdown appears to have reduced the skid row homeless population during the day, but more homeless are camping there at night.
(Al Seib / LAT)
One-hundred-five-year-old Sona Babai gets a kiss from her son Antoine Babai after she was sworn in as a U.S. citizen during a naturalization ceremony at the Los Angeles County Fairgrounds in Pomona on Wednesday. A native of Iran, she is one of the oldest immigrants ever to become a U.S. citizen.
(Richard Hartog / LAT)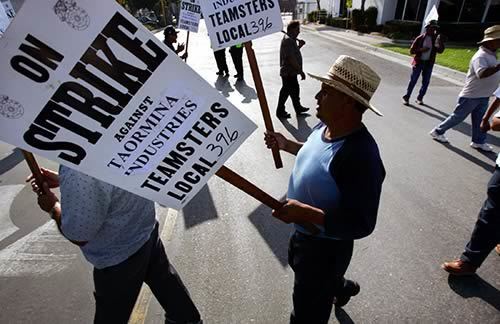 Employees of Taormina Industries picket outside corporate headquarters in Anaheim. Some 300 drivers and trash haulers walked off the job Monday in a bid for better wages and benefits.
(Christine Cotter / LAT)