12 Images
In focus: Staff photos from Nov. 4-10
Writer Asher Levin loudly walks the picket line outside the Warner Bros. studios in Burbank as the Writers Guild of America strike began in earnest this week.
(Robert Gauthier / Los Angeles Times)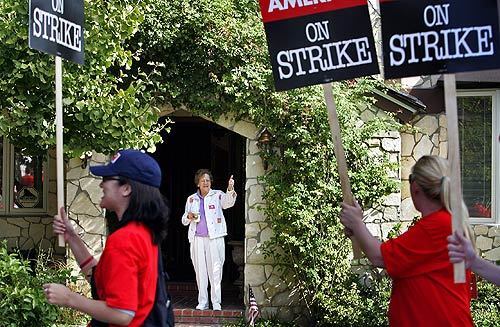 Marian Brown cheers on protesters who were at the scene of a "Desperate Housewives" shoot in Toluca Lake. The Fort Wayne, Ind., resident was at the home of her nephew across the street from the set. "I gave them a thumbs-up because I feel like the stars make so much, but the people that do their work deserve their fair shake," she said.
(Allen J. Schaben / Los Angeles Times)
Daryl Crookston struggles to pull himself under a maze of barbed wire as he completes one of the many obstacles in the Crucible, a three-day mental and physical endurance test that all Marine recruits must undergo. He and his best friends, Daniel Motamedi and Steven Dellinger, signed up for the buddy program to ensure that they'd be in the same boot camp platoon. "We have a different son. What a drill instructor has done in three months -- I can say we're grateful for the DI," said his mother Kim Crookston on graduation day.
(Rick Loomis / Los Angeles Times)
USC's Everson Griffen tries to recover the ball after one of nine sacks of Oregon State's Sean Canfield, right. The Trojans won 24-3 in front of a homecoming crowd of 85,713 at the Coliseum.
(Wally Skalij / Los Angeles Times)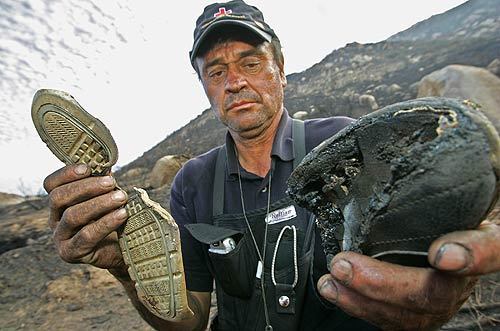 Rafael Hernandez holds the melted shoes of Juan Carlos Bautista, a migrant who was found dead on Tecate Peak in the backcountry east of San Diego. Hernandez's group, Desert Angels, had spearheaded the search for the man who, along with six other migrants, became caught up in the Harris fire that swept through the rugged area. His companions escaped with severe burns.
(Don Bartletti / Los Angeles Times)
Miley Cyrus, a.k.a. Hannah Montana, performs to a sell-out crowd at the Honda Center in Anaheim. At one point, Cyrus sang a duet with her TV persona who appeared on a giant screen.
(Lori Shepler / Los Angeles Times)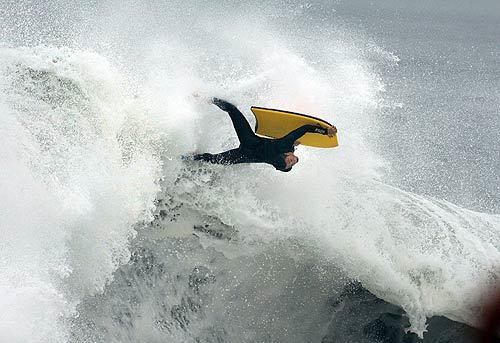 A bodyboarder at the Wedge in Newport Beach is suspended in mid-air. Surfers and others headed to Southland beaches as a storm in the Southern Hemisphere stirred up waves 9 feet and higher.
(Karen Tapia-Andersen / Los Angeles Times)
Dodgers' new manager Joe Torre shows off the jersey given to him by team owners Frank, left, and Jamie McCourt, right. He wore the same number while leading the Yankees to 12 consecutive playoff appearances and four World Series titles. Torre made his first formal appearance at Dodger Stadium, holding court in center field amid a large press corps.
(Rick Loomis / Los Angeles Times)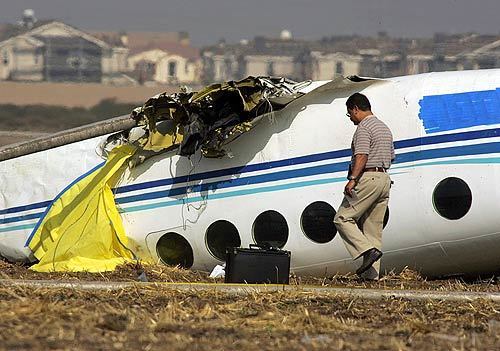 An FAA official examines the wreckage of a twin-engine plane that crashed shortly after taking off from Chino Airport. Robert Alan Lewis of Chino, the pilot, and Roland Henry Barthelemy of Orange died when the craft landed upside down in a field.
(Gary Friedman / Los Angeles Times)
Louis Van Amstel, a three-time ballroom dancing world champion and Lisa Rinna's partner in "Dancing With the Stars," offers dance workouts along with Rinna at a studio in Sherman Oaks. "It's the best way to make people lose weight," he says.
(Stephen Osman / Los Angeles Times)
Courtney Solomon, founder of the After Dark HorrorFest, is shown in the West Hollywood office of After Dark Films. The second annual film festival features spine-tingling fare such as Mexican cult killers, cannibals, were-rats and an out-of-control mystery virus. "It's more like a concert experience than a neighborhood movie theater experience, and that's a good thing because that makes it special," Solomon says of the six-day event.
(Jay L. Clendenin / Los Angeles Times)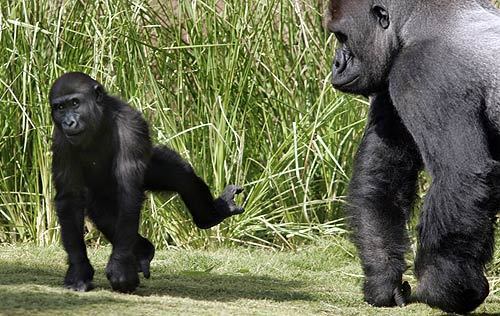 Glenda, a 2-year-old Western lowland gorilla, and her father, Kelly, explore their spacious new surroundings at Campo Gorilla Reserve at the L.A. Zoo. The $19-million habitat includes one-third of an acre of grassy rolling hills, rock ledges, a waterfall and a buffet of shrubbery and pomegranate trees.
(Carlos Chavez / Los Angeles Times)