20 Images
The Week in Photos: Nov. 5-11
Gov. Arnold Schwarzenegger and wife Maria hold their hands high as daughter Katherine reacts during the California Republican Party victory celebration at the Beverly Hilton hotel in Beverly Hills.
(Wally Skalij / LAT)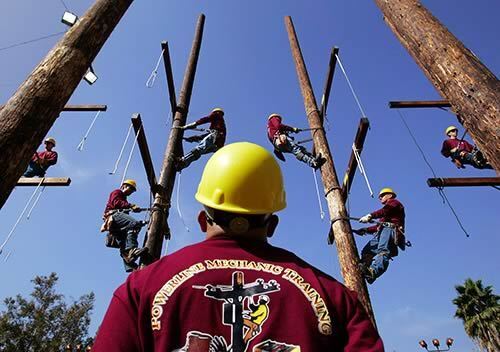 Lineman students at the East Los Angeles Skills Center show off their training during the center's first lineman rodeo, held Saturday. Southern California Edison says it will need 10,000 new linemen and other electrical workers in coming years.
(Carlos Chavez / LAT)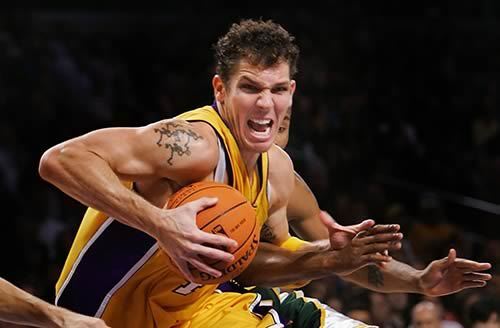 Lakers forward Luke Walton drives to the basket against the Seattle Supersonics at Staples Center on Friday. He is averaging 15.3 points and shooting 62.1% through three games for the Lakers.
(Lori Shepler / LAT)
Marc Sandoval practices giving a cardiovascular exam to Jim Nguyen. Watching are Benjamin Chow, left, Hana Choi and Mary Grace. All are studying at Charles R. Drew University of Medicine and Science in South Los Angeles to be physician assistants. With the demise of nearby King/Drew Medical Center, the university has been swept into the fight over its place as a healthcare provider for the poor in some of the poorest Los Angeles neighborhoods.
(Mel Melcon / LAT)
A photo of firefighter Jason McKay sits next to the urn holding his ashes during services in Victorville on Friday. More than 1,000 attended funeral rites for McKay, who was killed in the Esperanza fire.
(Irfan Khan / LAT)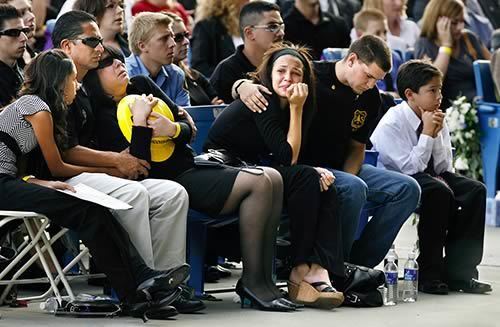 Members of firefighter Daniel Hoover-Najera's family, including his mother, Gloria Ayala, who holds his helmet, listen during the memorial service in Devore on Sunday. Hoover-Najera was one of five firefighters who died during the Esperana blaze.
(Wally Skalij / LAT)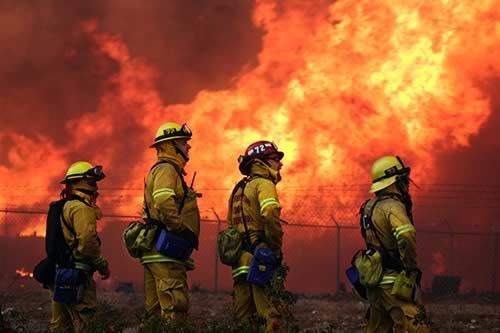 Firefighters observe a wall of flames behind a chain-link fence in Fontana on Monday. Four air tankers and three helicopters aided more than 150 firefighters on the ground. Overall damage from the blaze is estimated at more than $1.2 million.
(Irfan Khan / LAT)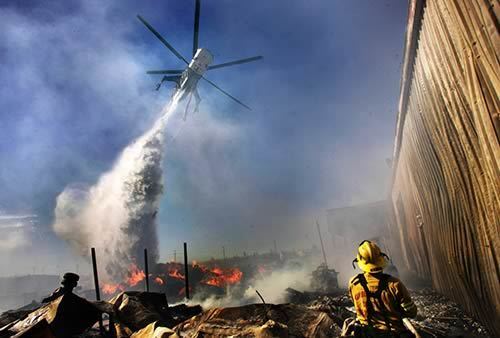 San Bernardino County firefighter Chris Keith watches a water-dropping helicopter douse flames at an industrial yard in Fontana, where stacks of wooden pallets burned.
(Karen Tapia-Anderson / LAT)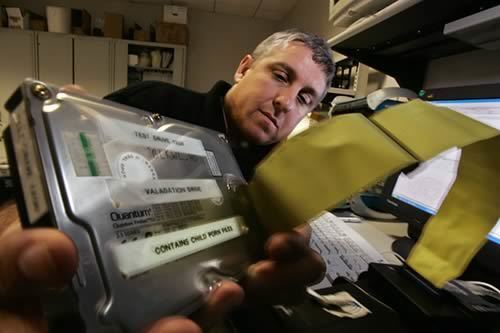 David A. Melvin, a digital forensic expert with U.S. Immigration and Customs Enforcement, hooks a cable to a hard drive with child pornography files inside. His job is to prove that a suspect has downloaded the illegal files. He said the material sometimes makes him physically ill.
(Don Bartletti / LAT)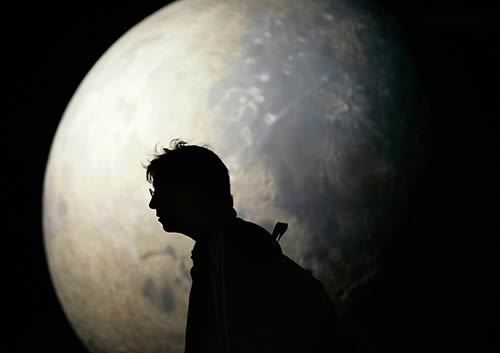 Silhouetted against a lunar model is Redmond Hayes of Glendale, one of the first visitors to the newly renovated Griffith Observatory on Friday. The hilltop observatory reopened to the public for the first time last weekend, and visitors were required to take a bus or hike up from the bottom of the hill. Hayes and a friend walked up from the bottom of the hill to be one of the first visitors.
(Brian Vander Brug / LAT)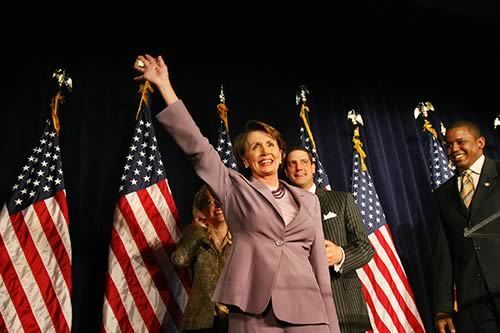 Rep. Nancy Pelosi (D-San Francisco) waves to supporters at the Capitol Hill Hyatt in Washington as returns come in. A congresswoman since 1987 and House minority leader for the last four years, Pelosi will assume the highest elected post ever held by a woman in the United States when she becomes the chamber's speaker in January.
(Carolyn Cole / LAT)
President Bush leaves a news conference at the White House on Wednesday. Since taking office in 2001, Bush has worked almost exclusively with Republican majorities in Congress. That all changed with Tuesday's election.
(Win McNamee / Getty Images)
At the Democratic gathering at the Hyatt Capitol Hill on Tuesday, Dipti Nayyar, left, of Virginia, and Brittany Duke of Washington D.C., celebrate as the results come in in favor of the Democratic party.
(Carolyn Cole / LAT)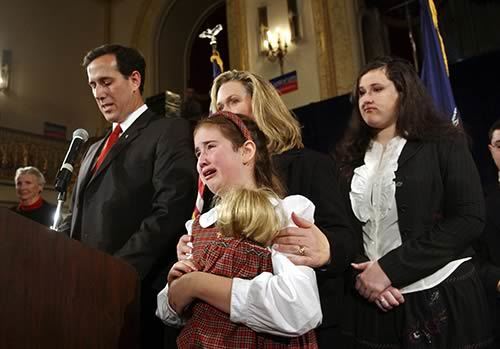 Sen. Rick Santorum (R-Pa.) gives his concession speech in Pittsburgh on Tuesday, surrounded by family. The incumbent senator lost to Democrat Bob Casey Jr. in a defeat for social conservatives.
(Jeff Swensen / Getty Images)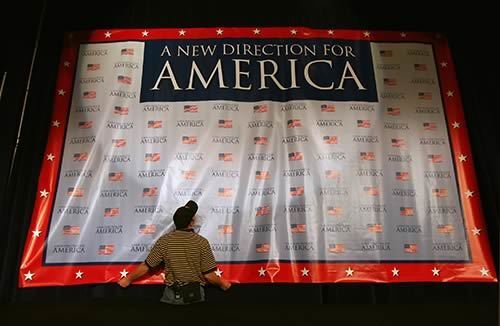 A worker hangs an election night banner at Democratic headquarters in Washington on Tuesday. Bipartisanship is seen as key to the party's goals in the new Congress.
(Carolyn Cole / LAT)
Supporters of Nicaraguan presidential candidate Daniel Ortega celebrate in Managua on Monday.
(Cristobal Herrera / AP Photo)
Police examine debris from an explosion at a political party's headquarters in Mexico City. Three simultaneous blasts late Sunday targeted the offices of one of Mexico's main political parties, the headquarters of the country's electoral tribunal and a bank.
(Gregory Bu / AP Photo)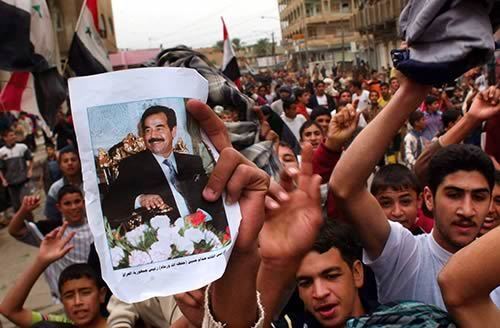 Demonstrators in the mostly Sunni city of Samarra, Iraq, protest the death sentence of the former leader Saddam Hussein. Reactions around the world were mixed, with some claiming that the death by hanging punishment was just, and others saying they fear the state will create a martyr.
(Hameed Rasheed / AP Photo)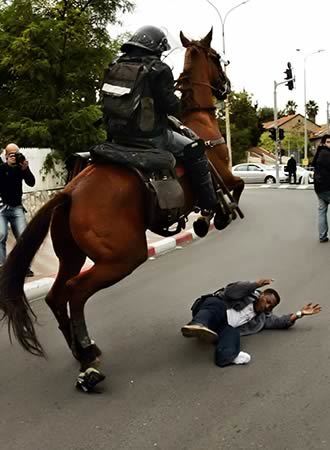 An Ethiopian Jew is knocked down by a mounted police officer during a demonstration in central Jerusalem on Monday. Protesters said their donated blood was allegedly discarded because they were from Africa.
(Emilio Morenatti / AP Photo)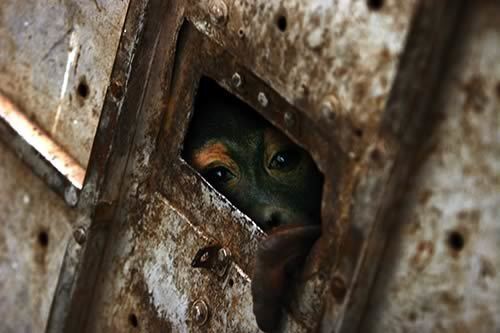 A rescued orangutan peers out of a temporary holding cage in Mantangai, Kalimantan, Indonesia. Dozens of endangered orangutans have been driven from their dwindling jungle habitat in Borneo by months of land-clearing fires that have shrouded parts of the region in a choking haze, conservationists said Monday.
(Ed Wray / AP Photo)