Ukraine Election Protests Grow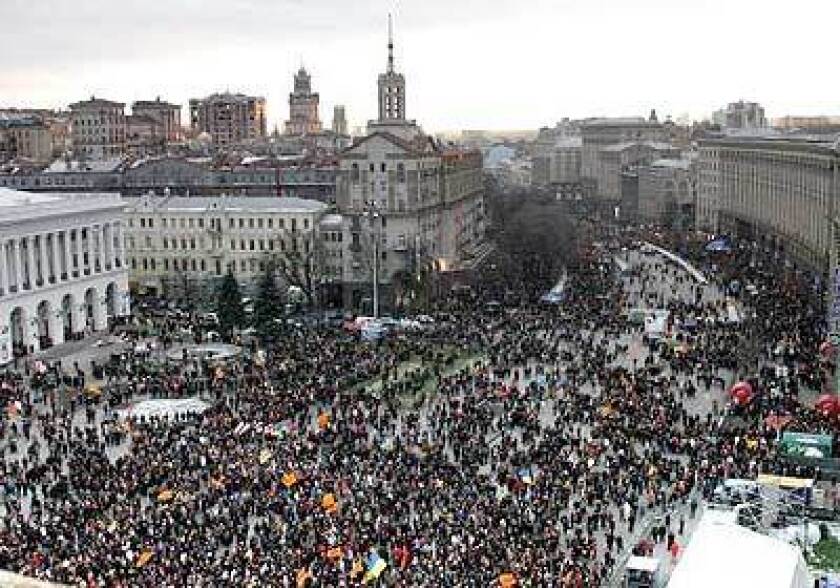 Times Staff Writer
KIEV, Ukraine — Protests grew outside Parliament today as up to 200,000 rallied in opposition to election results that declared that the candidate with close ties to the Kremlin had won the presidency.
In a sign of how divisive the election has become, opposition leader Viktor Yushchenko approached the podium during a special session of Parliament, reading the oath of office and claiming victory in the election. Lawmakers who supported him shouted, "Bravo, Mr. President!" according to the Associated Press.
Yushchenko also accused the government of rigging the vote for his opponent and warned of "civil conflict" if he is not recognized as the nation's new leader. Shortly before his bold move, he told lawmakers: "Ukraine is on the threshold of a civil conflict. We have two choices: Either the answer will be given by the parliament or the streets will give an answer."
Outside Parliament, hordes of supporters whom Yushchenko led earlier on a march, chanted his name and, referring to the government, shouted, "Criminals, go away!"
A political crisis erupted here Monday as official results showed Prime Minister Viktor Yanukovich winning a bitterly contested election, while Yushchenko brought supporters into the streets to press his own claim of victory.
Ukrainian security forces threatened a crackdown Monday as protesters massed in central Kiev chanting the name of the pro-Western opposition leader.
Foreign observers — including President Bush's personal envoy, Sen. Richard G. Lugar (R-Ind.) — condemned the alleged election fraud, throwing their weight behind Yushchenko and his charge that the official count was wrong.
The Central Election Commission announced that with 99.14% of voting districts counted, the prime minister led in the runoff with 49.4% to Yushchenko's 46.7%.
However, an exit poll financed in part by the U.S. Embassy and other Western diplomatic missions showed the opposition leader winning 54% to 43%. Yushchenko won the first round three weeks ago by a tiny margin in a field of 24 candidates.
Parliament met today to consider Yushchenko's call to overturn the election results, but took no action, as too few lawmakers showed up for a quorum. The vote, which was not called by the president who backs the prime minister, would be nonbinding anyway.
Thirteen years after the collapse of the Soviet Union, the election marks a critical moment for this nation of 48 million. Yushchenko, 50, who is seen as a market-oriented democratic reformer, aims to move the country quickly toward closer ties with the United States and Western Europe. He is a former prime minister whose wife, Kateryna, is a Ukrainian American.
Yanukovich, 54, who is popular in Ukraine's largely Russian-speaking east, has emphasized economic ties with Moscow. He has the backing of outgoing President Leonid D. Kuchma, whose reelection in 1999 drew criticism from Western observers who said it failed to meet standards of fairness.
Speaking Monday evening to about 70,000 supporters gathered in Kiev's tree-lined main street and adjacent Independence Square, Yushchenko and fellow opposition leader Yulia Tymoshenko called for escalating the protests. They also urged supporters to be prepared to defend an encampment of about 250 tents that student demonstrators set up in the area.
"Authorities want to destroy our tent city," Yushchenko said. "We must defend every chestnut tree, every tent. We must show to the authorities we are here for a long time."
The opposition leaders vowed to challenge the election through parliament and the courts, and called for a protest outside parliament today.
"Our aim is to daily increase the number of people who are really ready to pressure the authorities and take power in their hands," Tymoshenko told the crowd. "Their plan is to exhaust us, but we'll come every morning, and there will be more and more of us. The only thing we won't let happen is for Yanukovich to be the president of Ukraine."
Ukraine's prosecutor general, Interior Ministry and security services issued a joint statement warning that "lawlessness" would not be tolerated.
"We appeal to the organizers of mass protests to assume responsibility for their possible consequences," the statement said. "We want to assure everyone that in the event of any threat to constitutional order and the security of our citizens, we are prepared to put an end quickly and firmly to any lawlessness."
Yanukovich, in comments reported by the Russian news agency Itar-Tass, claimed majority support of the voters and warned against "a small group of radicals who seek to divide Ukraine by resorting to pressure and unlawful actions."
"They are carrying out a prepared scenario and trying to draw young people into it," he said, adding that he had been asked "by many Ukrainian mothers to prevent street disorders where their children may get hurt."
"Authorities have enough wisdom, sense of balance and responsibility to prevent destabilization," he said.
Speaking at a U.S. Embassy news conference, Lugar, who heads the Senate Foreign Relations Committee, asserted that the results were rigged, and called on Kuchma to ensure that irregularities were corrected.
"It is now apparent that a concerted and forceful program of election day fraud and abuse was enacted with either the leadership or cooperation of governmental authorities," Lugar said. "I believe that President Kuchma has the responsibility and the opportunity for producing even at this point an outcome which is fair and responsible."
Lugar also quoted a letter from Bush that he had delivered to Kuchma: "You play a central role in ensuring that Ukraine's election is democratic and free of fraud and manipulation. A tarnished election, however, will lead us to review our relations with Ukraine."
Relations between the two countries, strained in the early years of Kuchma's rule, improved after Ukraine sent 1,600 troops to Iraq to help with the U.S.-led occupation there.
Russian President Vladimir V. Putin, who made his preference for Yanukovich clear during the campaign, was quick to congratulate him Monday. The Russian news agency Interfax, reporting from Brazil, where Putin was on an official visit, quoted his press secretary as saying that Putin had called Yanukovich and told him that "the battle had been hard-fought, but open and honest, and his victory was convincing."
Western observers gave the opposite assessment at a news conference.
"With an even heavier heart than three weeks ago, I have to repeat the message from the first round: This election did not meet a considerable number of international standards for democratic elections," said Bruce George, a leader of a delegation from the Organization for Security and Cooperation in Europe. "The deficiencies have not been addressed. The abuse of state resources in favor of the prime minister continued as well as an overwhelming media bias in his favor."
Lucio Malan, head of a delegation from the North Atlantic Treaty Organization's Parliamentary Assembly, said at the same news conference that an "unjustified increase in the use of absentee voter certificates" had "cast a shadow over the genuineness of the results."
He said that turnout in some districts in Donetsk, a Yanukovich stronghold, had jumped by 21 percentage points from the first round to more than 98% on Sunday, which he called "unrealistic and highly suspicious."
Monday's protests began in the morning when a crowd gathered at Independence Square to hear Yushchenko declare: "Remain where you are. From all parts of Ukraine, on carts, cars, planes and trains, tens of thousands of people are on their way here. Our action is only beginning."
Protesters remained in the city center throughout the day, listening to recorded rock music and speeches in an atmosphere that mixed a sense of festivity with high political tension. The crowd swelled in the evening, when Yushchenko and other opposition leaders appeared again, then shrank as many went home. The night passed calmly, with hundreds staying in the square and others sleeping in the tents.
Three cities in the opposition leader's western Ukraine stronghold, including Lviv, recognized Yushchenko as president. The Kiev city council, though not going that far, called on parliament to refuse to recognize the preliminary results.
Viktoria Ruban, 37, a marketing executive who joined the protests Monday, said she came because "we should teach the state they don't have any right to impose something on people."
"I can tell you for sure that Yanukovich and his team won't give up that easily," she said. But neither will the opposition, she added.
The Associated Press contributed to this report.
---