la-bk-0902-kerouac.1-gd74fmke
Jack Kerouac in New York's Greenwich Village after a publisher's party for his book "The Dharma Bums" in 1958 — a year after "On the Road" appeared.
(AP Photo/Jerry Yulsman)
la-bk-0902-kerouac.2-jn99s9kn
In 1939, Kerouac attended Horace Mann School in New York for one year. He was born March 12, 1922, in Lowell, Mass.
(HBJ Album Biography)
la-bk-0902-kerouac.3-jmw1lbkn
Neal Cassady, left, and Jack Kerouac. Their zigzag cross-country travels are the guts of "On the Road."
(Los Angeles Times)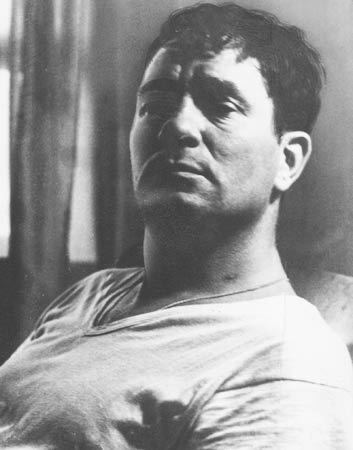 &nbsp
Kerouac at home in Hyannis, Mass., in August 1966. He died on Oct. 21, 1969, at age 47, in St. Petersburg, Fla.
("Kerouac: A Biography" by Ann Charters)
&nbsp
In "On the Road," Kerouac wrote about visiting portions of rural America. Here, an older-model car motors through Wray, Colo., recently along the kind of open highway that Kerouac might have watched slide past his car window half a century ago.
(Photo by Spencer Platt/Getty Images)
Best of 2007: The year's most popular stories on latimes.com