6 Images
Derek Fisher's most clutch shots
In a Western Conference semifinal game in 2004, Fisher made one of the biggest ones.
And it all played out in 0.4 seconds. That's how much time was left on the clock when San Antonio's
Tim Duncan
made a shot to give the
Spurs
a one-point lead.
Fisher followed with a winner. He took an inbound pass from
Gary Payton
and in the same motion turned and fired an 18-foot shot over
Manu Ginobili
before the horn sounded.
"As it got closer," Fisher said, "I knew the ball was going in."
The shot, which Times columnist Bill Plaschke deemed the second-biggest shot in franchise history, established Fisher as one of the most clutch performers to wear a
Lakers
uniform, a reputation he has lived up to many times.
()
Fisher made a score-tying three-point shot with 4.6 seconds remaining in Game 4 of the 2009
NBA Finals
against Orlando, then sealed the victory with a three-pointer with 31.3 seconds left in overtime.
(Wally Skalij/Los Angeles Times)
His three-pointer with 28 seconds remaining in Game 3 of a 2010 conference semifinal against Utah gave the Lakers a 109-108 lead with 28 seconds remaining. The Lakers won, 111-110, and Fisher finished with 20 points.
(Wally Skalij/Los Angeles Times)
Fisher had 11 fourth-quarter points in Game 3 of the 2010
NBA Finals
against Boston, including a coast-to-coast layup that he turned into a three-point play when he converted a free throw after he was fouled on the shot.
(Robert Gauthier/Los Angeles Times)
After the Lakers had rallied from a 13-point deficit in Game 7 of the 2010 Finals, Fisher made a key three-pointer midway through the fourth quarter to tie the score and prevent Boston from pulling away again.
(Ronald Martinez/Getty Images)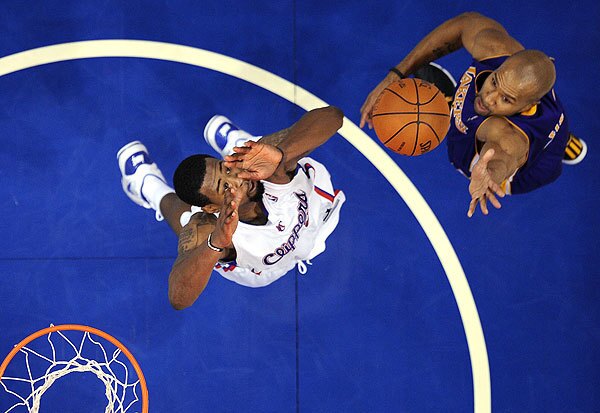 On Dec. 8, 2010, his layup with .1 second to play lifted the Lakers to an 87-86 victory over the Clippers.
(Mark J. Terrill/Associated Press)