Storytelling about L.A.'s public transit finds the magnificent in the mundane
As the crowd clutched their iced coffees and settled into the homey hodge-podge of chairs and benches on the back patio of Stories bookstore in Echo Park, Scott Schultz took the small stage on a recent evening.
He introduced himself with a brief a capella version ZZ Top's "Waitin' for the Bus," then he asked the crowd a question: "How many of you consider yourself a green commuter?" A small tide of claps, "woos" and other noise emerged from the crowd.
Part showman, part stand-up comedian — and a little bit Huell Howser — Schultz is the one-man-machine behind BUSted, a showcase of storytellers recounting tales from the front lines of L.A.'s buses, trains and sidewalks. It's like acclaimed storytelling series "The Moth," but where the theme is always public transit (in fact, as Schultz points out, many of his regular speakers are Moth champions). BUSted's monthly live event at Stories — and third Wednesdays of each month in Pasadena's Battery Book — has expanded to include a YouTube channel, podcast, web series and slew of other live events, but the narrative extravaganza consistently features a diverse cast of characters.
The one thing they always have in common is deep pride in being a "non-motorist," says Schultz.
"I think that's one of the things that really built our core audience is this kind of cluster of people who all kind of identified as [thinking], 'We're not weird for not driving; we're actually kind of ahead of the curve,'" he says.
The live lineup includes a mix of feature storytellers and off-the-cuff "audience anecdotes" by guests looking to share their own experience. There are also special segments including "Ask the Bus Driver," where a current or retired operator fields funny questions from the audience such as: What do they do if they have to go the bathroom in the middle of the shift?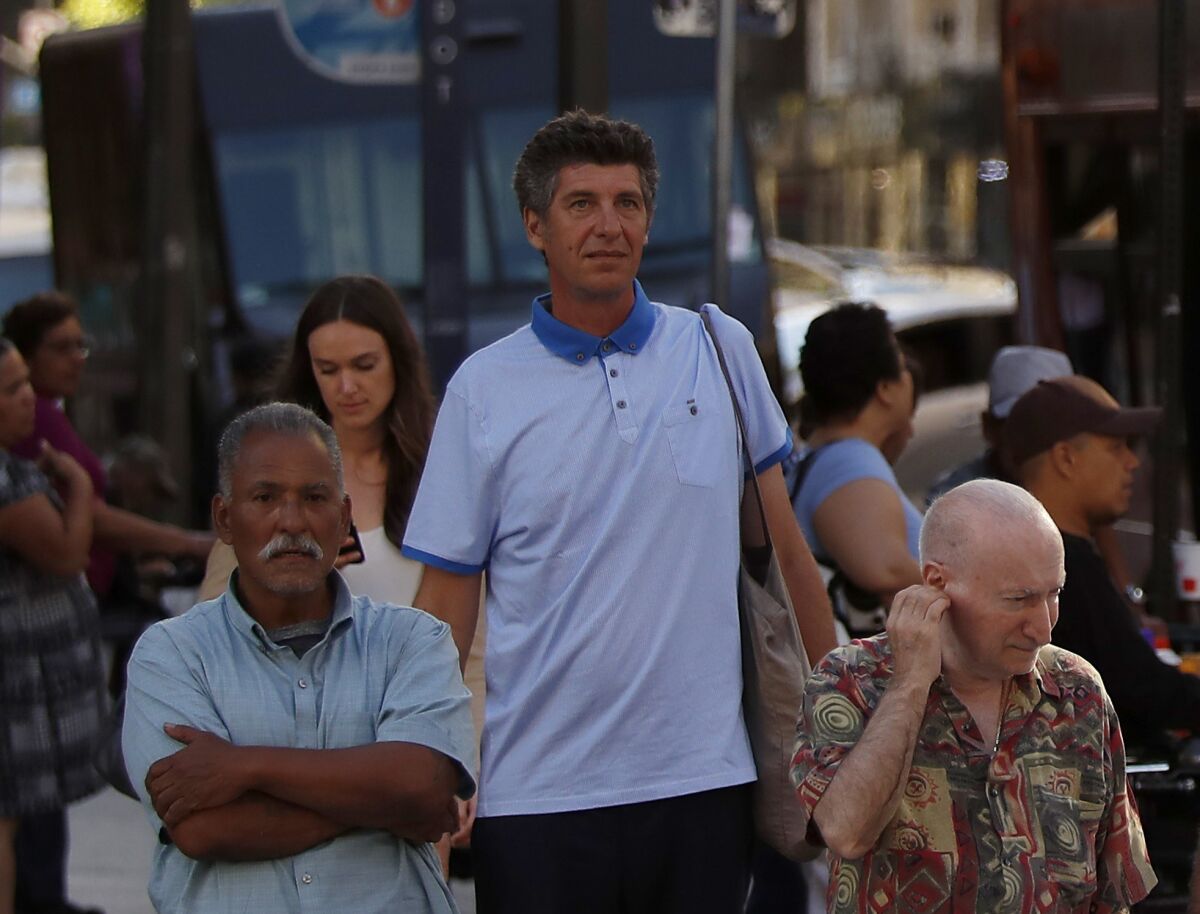 Those that take the stage are a mix of comedians, professional storytellers and everyday people. The tales they share can be laugh-out-loud funny, extremely relatable or heartbreakingly intimate.
Storyteller Erica Blumfield recounted an emotional time when she was in the middle of a bipolar manic episode and thought she was the star of her own "Truman Show" reality series.
"At night, I would wander the streets in my kimono, telepathically communicating with the moon," says Blumfield at a recent BUSted showcase.
Her story interwove elements of alternative transportation — such as walking from Echo Park to Venice Beach — and concluded after a trip on the Gold Line, when she disembarked at the Atlantic station in East L.A. When she arrived, she believed she was back in New York and waited longingly for her (ex) boyfriend to pick her up.
Not all stories are so deeply personal; other tales are about star-crossed friends forged on a cross-town bus, simple good deeds and even crimes that were committed.
In fact, one of the most popular BUSted stories, says Schultz, is told by a storyteller named Horus Ra, who worked as a manager of a Taco Bell in South L.A. in the 1980s. The shop was robbed nearly every weekend. One time, they were hit twice in the same night. When the second man demanded money and found out it was all gone, he asked for a bag full of tacos and burritos instead. When he returned the next day trying to order the same food — which, unbeknownst to him, were special orders for employees — Ra then realized it was the burrito robber. So Ra stalled him until he missed his bus and the cops arrived.
"The guy hold up his hands like, 'Give [me] a minute,' and he starts eating his burrito supreme, just gobbling it down," Ra said in a BUSTed video.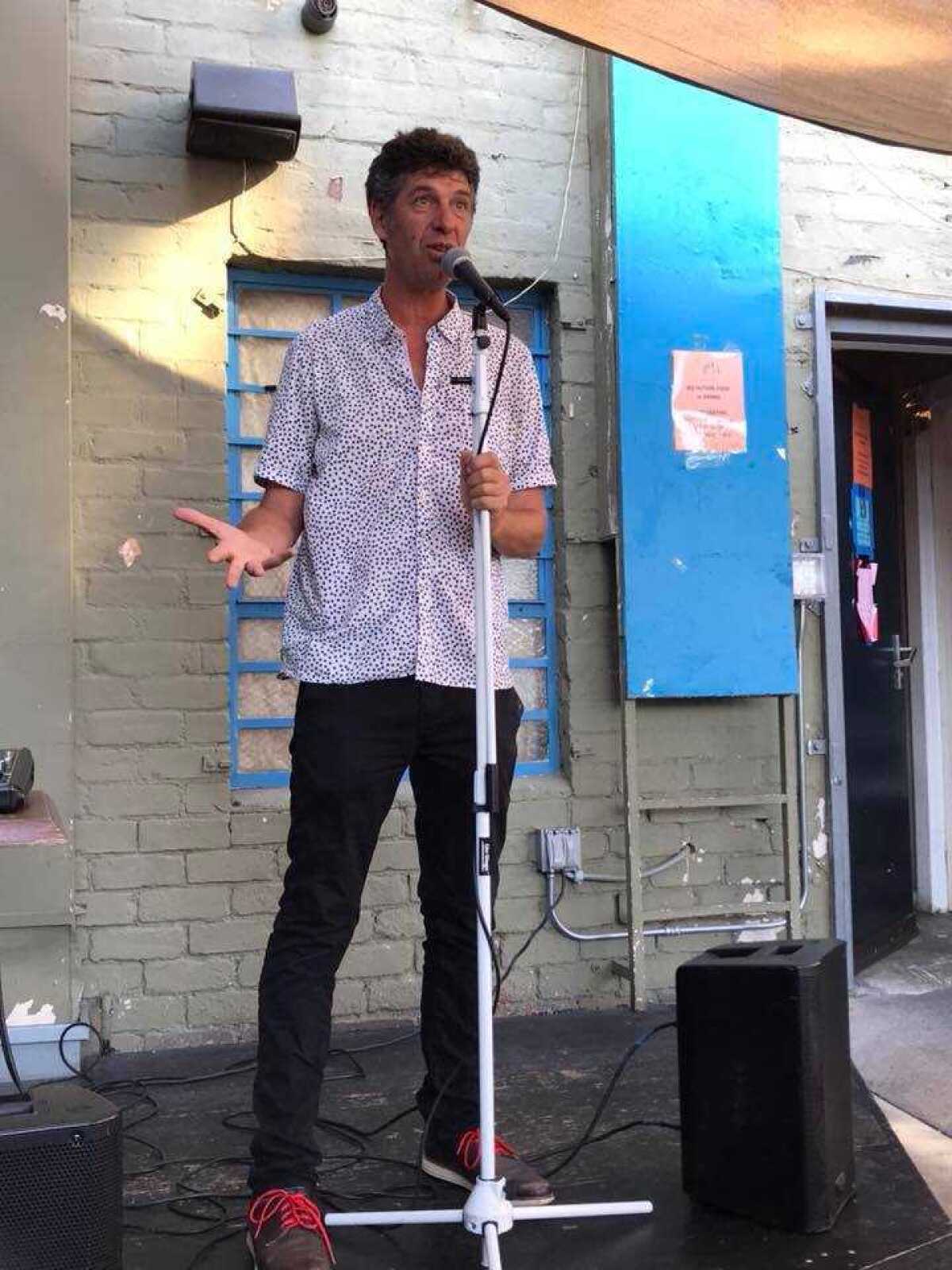 Promoting BUSted includes a hearty level of pavement-pounding outreach and activism by Schultz. He hands out fliers on the street, meets with related community groups such as the Los Angeles County Bicycle Coalition, attends poetry shows in South L.A. and simply asks other transit riders if they'd be interested in contributing.
Schultz loves Los Angeles with the depth and nuance of a native Angeleno — but he was born in Boston. He's lived in L.A. for the last 20 years and drove a car for just five months of that time. He prefers not dealing with things such as insurance and gas, he says. Schultz has a long history of doing a little bit of everything; including working at numerous newspapers, in the sales department at the L.A. Weekly and as a photographer for the music newspaper L.A. Record.
By nature of BUSted's subject matter — public transportation, cyclists and pedestrians — the crowd at BUSted reflects a level of diversity often unseen in one single performance. Alex Pages is one of Schultz's regular storytellers, and a former bus operator who was injured on the job twice during his decades of navigating the streets of L.A.
He began driving on a part-time basis when he was in college to help pay for his schooling. Pages' late father was also a bus driver in Los Angeles, and his grandfather owned a small fleet of buses in Ecuador.
"I guess you'd say it was in my blood," he says.
Pages started doing stand-up comedy in the 1990s, after his first on-the-job injury, and has continued intermittently ever since. After his second injury — the result of an incident in which the suspension failed while he was driving an MTA bus through the 105/110 freeway interchange — he got out of the game. He still has friends he made along his route though — they keep up through Facebook — and he's kept experiences alive through sharing them with crowds like those at BUSted.
"Not famous yet, but I'm funny, he says.
Schultz understands the multiple job shuffle.
He says he does BUSted on "zero budget" while working a variety of part-time jobs to make ends meet, such as standing in supermarket parking lots collecting signatures for ballot initiatives or helping raise money for nonprofits. After five years of painstakingly building his storytelling venture, Schultz has learned that while people always remember the shocking tales, the ones that keep them coming back are the "nice" ones — the ones that remind people we're all equal on the bus.
"When we're on the bus, we're just trying to get from Point A to Point B. We're trying to put food on the table," he says. "We're pursuing our dream that led us to Los Angeles that might not be putting food on the table. But we all have those little things in common."
Get our L.A. Goes Out newsletter, with the week's best events, to help you explore and experience our city.
You may occasionally receive promotional content from the Los Angeles Times.