Q&A: Michael C. Hall returns to the stage and screen with 'Thom Pain' and Netflix's 'Safe'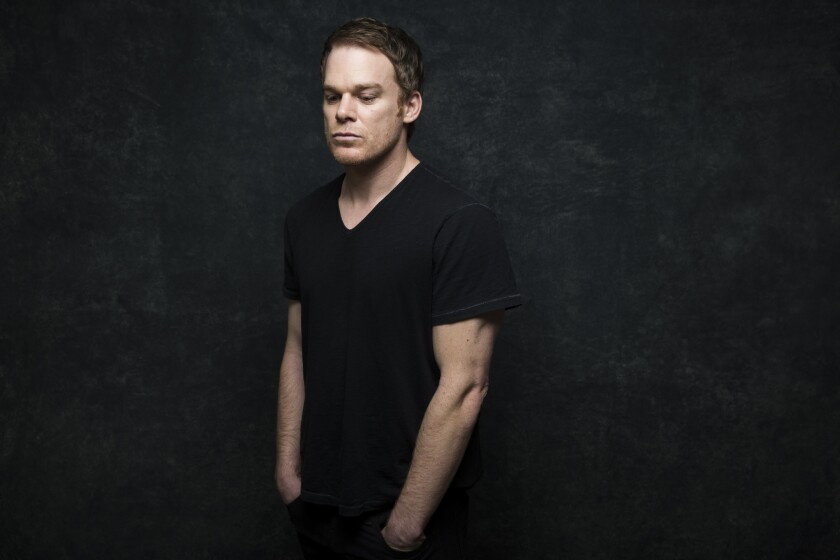 In the 1990s, Michael C. Hall was establishing a solid career on the stage, ranging from musicals (Billy Flynn in "Chicago") to Shakespeare (Malcolm in "Macbeth") and back again (Emcee in "Cabaret"). Then he largely vanished from the theater after the turn of the century. But he had a good excuse for his absence. From 2001 through 2013, Hall starred in back-to-back series, first as closeted funeral director David Fisher on "Six Feet Under" and then as a murderous forensic technician, the title character in "Dexter," earning a half-dozen Emmy nominations along the way.
After "Dexter" ended, Hall returned to the theater, starring on Broadway in Will Eno's "Realistic Jones," for which he won a Drama Desk award for ensemble performance, along with Tracy Letts, Marisa Tomei and Toni Collette. Then he tackled the lead role of the cross-dressing glam rock musician in "Hedwig and the Angry Inch" and then starred in New York and London in David Bowie's "Lazarus," earning a Drama Desk nomination for lead actor. Hall says he listened to Bowie constantly while preparing for "Hedwig," which, he jokes, made that show a "glamorous, well-produced audition for 'Lazarus.'" He'll even defend Bowie's more mainstream 1980s songs. "I became a Bowie fan during junior high, which was his 'Let's Dance' phase. A lot of people poo-poo that album but I think those songs are incredible."
Hall, whose father died from cancer at age 39, had his own scare when he was 38 and learned he had Hodgkin's lymphoma. But with treatment the disease went into remission and he was able to return to work on "Dexter." Now 47, Hall married his third wife, Morgan Macgregor, in 2016.
This year, Hall returned to series television with "Safe" on Netflix, and now he is taking on perhaps his most unusual theater role yet, a solo turn in Eno's "Thom Pain (based on nothing)," an often opaque meandering meditation on loneliness, pain and disappointment that is as funny as it is unsettling.
The Times recently caught up with Hall, who is thoughtful and deadpan funny, spoke about his new play, his career and his rescue dog.
If you'd locked Harold Pinter, Edward Albee and Samuel Beckett in a room would they eventually have written Thom Pain?
Yes, those playwrights are in Will's DNA, but this play is his singular voice. When I think of Will, think of him as a contemporized version of [philosopher] Ludwig Wittgenstein, with a more comic sensibility and an inclination to be a dramatist. He's pushing the boundaries of and resigned to the limits of language at the same time.
Is it tricky playing a character where you cannot try to win over the audience?
With "Dexter," I couldn't go full charm and with "Thom Pain" I have to hold back too. His primary objective is not to endear himself and there's no use pretending otherwise. You have to allow the language to be the map and not try to make him something other than what he is. The writing will lead you where you want to go, but that isn't always a shiny, happy or ingratiating self.
Your choices makes it appear that you like to constantly challenge yourself. Is that accurate?
I am consciously aware of an appetite to do something new, I like there to be a somewhat significant component of fear as an element of the pie chart of a new assignment — it's invigorating and rewarding to take something on that to some degree is mystifying and is difficult to completely imagine yourself doing.
With such varied parts can you find things to draw on for "Thom Pain?"
Everything I've done on stage on camera or in my life is grist for the mill whether consciously or unconsciously — it's all available and ideally all part of the internal swirl that I draw on.
"Hedwig" is the closest I've come to acting almost exclusively with the audience as my scene partner. But in this case there's no one to turn to and no glitz and glamour and nowhere to hide.
When "Six Feet Under" ended were you worried about always being seen as David Fisher?
Not worried, but I was aware that the vast majority of people knew that one character. So I wasn't looking to play another part characterized by some sense of self-loathing, self-sabotage and repression. Yet I didn't imagine I'd do something where I'd be surrounded by dead bodies again. As far as that trend goes I really leaned right into it. Now people more likely to associate me with those dead bodies. What are you going to do?
Both David and Dexter had some major secrets, as did the characters in "Realistic Jones." Is that something you find appealing?
Secrets are inherently dramatic. Our secrets are what make us interesting. Full stop. Any character who is compelling has some sort of interior life and subjective experience that's different from what the outside world sees, whether it's a formidable secret like "I kill people and dump them in the ocean" or "I save my toenail clippings in a jar."
That last one is autobiographical or...?
Yeah, I just accidentally revealed a little too much there.
I heard an interview with Meryl Streep once where she said for each character she always gives herself a secret she doesn't tell anyone. I love that idea. I certainly have had the experience in my own life where having a secret was something I held onto as a lifeline, to confirm a sense of self, to confirm a boundary between my conception of reality and everyone else's.
Do you seek a balance between television and theater?
When 13 straight years of television series ended I had a desire to mix things up. A lot of things get deep in the grooves and my ideas about acting and about playing a certain character became confused after a time, so there's a desire to go from thing to thing and loosen up your instrument. But I didn't envision any of the specific choices I made. They just presented themselves and felt like the thing to do. That's the extent of my master plan.
Was "Safe" appealing because it was a limited series?
I liked having something to can sink your teeth into that is not an open-ended commitment. I'm not averse to another full series at some point but I've done that. Something with a beginning middle and end in sight was part of the appeal, along with throwing myself into a set in Manchester with a bunch of Brits, playing a regular British guy. The accent was part of the challenge. It was fun.
Do you have other TV, film or theater projects in the works?
There are things in various states of development but at this point there's nothing definite. Actors always think every job is the last job and they're going to be found out as a fraud, but it is nice to be able to get up in the morning and walk the dog without some preoccupation about the next thing. Our dog is a rescue, but a spaniel-dachshund mix. She's a very pretty girl.
So what will you do with that downtime after "Thom Pain"?
Maybe some mild domestic travel. Maybe we'll go down and see my mom in North Carolina or take some trips upstate. I like an improvisational element — my favorite kind of plans are no plans. I aspire to do interesting things but be a boring person.
Is that difficult to find between work and social obligations?
You just have to say "no" a lot and eventually people stop asking. Except for my mom.
---