David Hockney's $90.3-million pool painting obliterates auction record for work by a living artist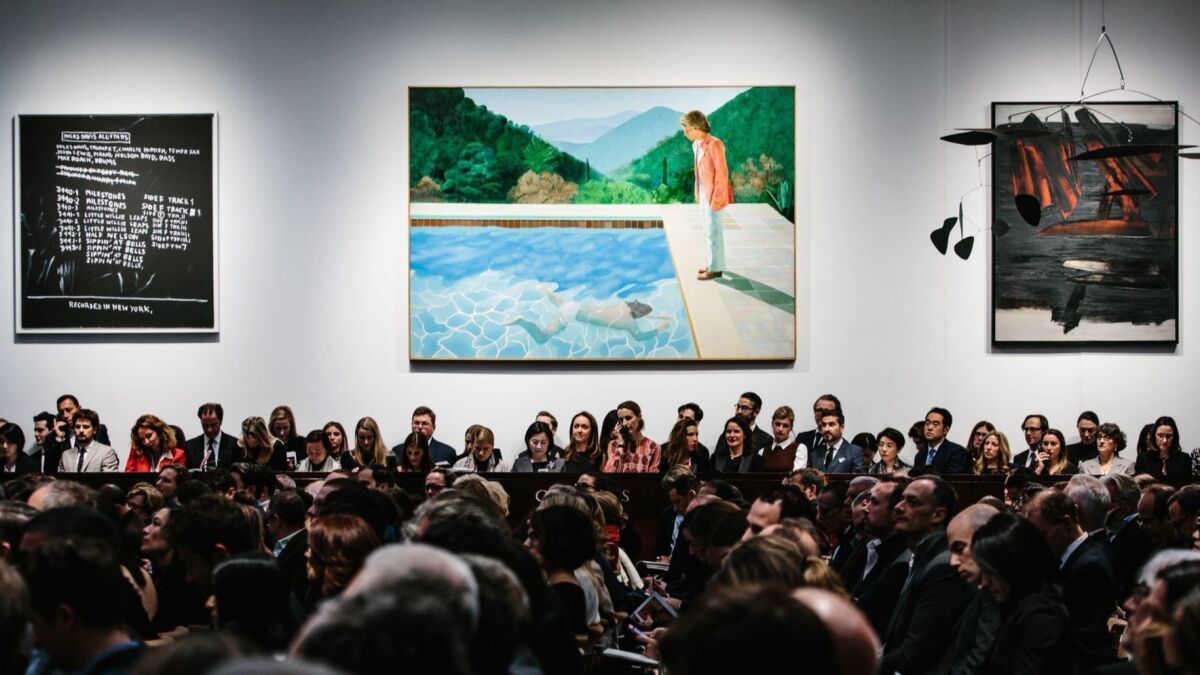 When the hammer came down at Christie's in New York on Thursday evening, it made more of a splash than a bang.
David Hockney's 1972 painting "Portrait of an Artist (Pool with Two Figures)" had gone for just over $90 million, an auction sale record for a living artist.
Until now, Jeff Koons' steel sculpture "Balloon Dog (Orange)" held the auction sale record for a living artist: It sold, in 2013, for $58.4 million.
"I think what this auction shows is that the market has caught up with the public's enormous fascination and love of Hockney's work," said Stephanie Barron, the Los Angeles County Museum of Art senior curator of modern art who organized the exhibition "David Hockney: 82 Portraits and 1 Still-Life" earlier this year. "Aesthetically, it's a magnificent, large, engaging and powerful painting. There's an enigmatic quality about it, the haunting quality of the relationship of these two figures."
The painting blends two of the L.A.-based artist's central themes from the late '60s and '70s, the glittering abstraction of the pool from his swimming pool landscapes and the emotional complexity of his double portraits.
"When people think of Hockney's work, these concepts instantly come to mind independent of one another," said Alex Rotter, co-chairman of Post-War and Contemporary Art at Christie's. "But when they come together in one painting like this, they form a kind of holy grail.
"Hockney is one of our greatest artists of the 20th century, full stop," he added.
"Portrait of an Artist (Pool with Two Figures)" depicts a slender man with feathery, golden hair and wearing a peach-colored blazer, overlooking a swimmer in a glistening pool surrounded by lush, green hills. It seems, at first, the perfect Los Angeles moment: a sun-swept afternoon of leisure at a hillside home. And it's indicative of a turn in the artist's career, as he began painting his iconic swimming pool landscapes when he moved to Los Angeles in the mid-'60s. But the scene depicted is actually in the south of France, not the Hollywood Hills. The pool itself is from filmmaker Tony Richardson's villa there. The standing figure in the picture is the artist's ex-partner, Peter Schlesinger, who'd been an art student at UCLA and was in one of Hockney's classes.
Hockney painted the work following his breakup with Schlesinger. He painted it from two photographs laid out on the floor of his studio side by side, one of a swimmer underwater and another of a boy staring at the ground. He started the painting in 1971, put it aside, then started on it anew in '72. He finished in time for an imminent exhibition four weeks later at New York's Andre Emmerich Gallery.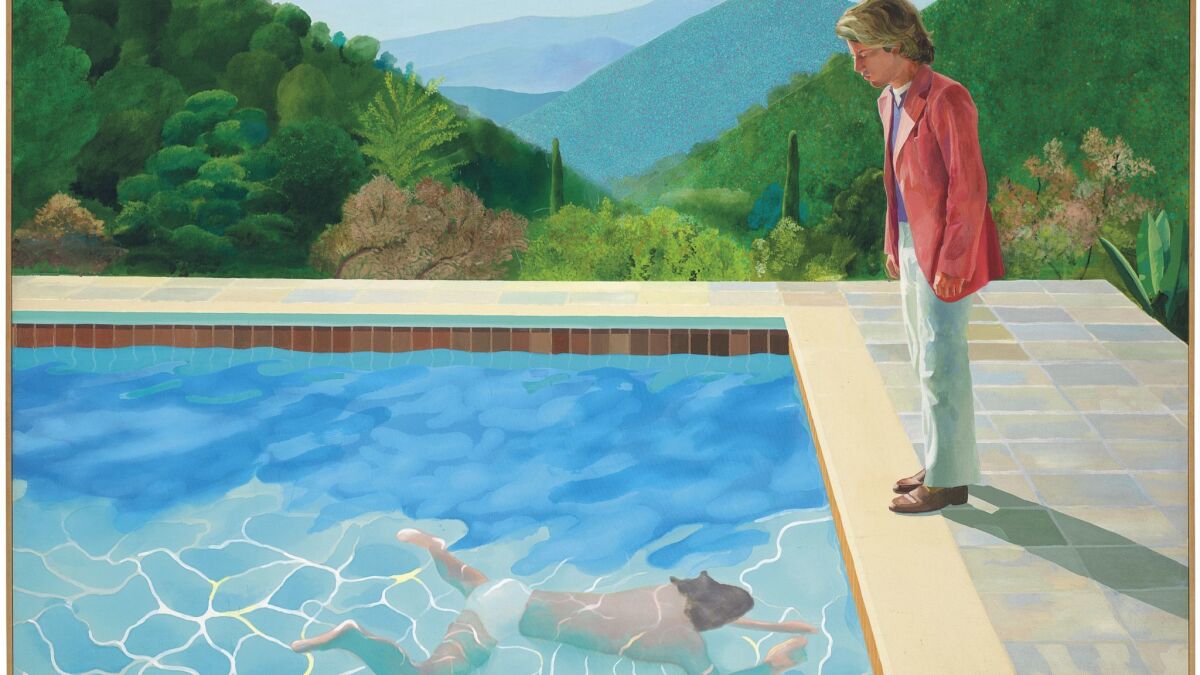 Entertainment mogul David Geffen previously owned the painting. He bought it in 1983 from Stephen Mazoh & Co. in New York. "I bought it for $800,000 and sold it many years ago in '95 to the guy who just sold it, Joe Lewis, for many millions of dollars," Geffen said. "He made a fortune on it, as did I at the time."
The painting hung, for years, in Geffen's Malibu beach house. "It's a beautiful picture. What's not to love?" Geffen said. "It's an easy picture and it represents a time when he was painting those California pool pictures — but this is his masterpiece."
So then why'd Geffen sell it?
"I only have so much wall space," he said.
Hockney's double portraits often depict clearly identified couples — the curator Henry Geldzahler and Christopher Scott in a painting from 1969, for example, or writer Christopher Isherwood and artist Don Bachardy from 1968 — but "Portrait of an Artist (Pool with Two Figures)," in which the subjects are not named by the artist, is less obvious, adding to its allure, Barron said.
"Unlike the other more straightforward double portraits, there's something unusually personal about this one, and we feel it — this young man in a red jacket looking towards a boy swimming in a pool, and you wonder about the relationship. It makes us question the content of the picture," she said, adding that the painting has social significance as well. "In the '70s, the celebration of gay couples was not a common depiction, and I think this and several others of the double portraits are a celebration of those relationships."
The painting also makes a literary reference, as Hockney's work from the period often does, to the Greek myth Echo and Narcissus. The handsome Narcissus gazes into the pool, unaware that he's seeing his own reflection. In the Greek myth, Echo disappears into a disembodied sound that "echoes" in the canyons. Hockney's most notable paintings, including this one, are always very much about seeing and perception.
It's an easy picture and it represents a time when he was painting those California pool pictures — but this is his masterpiece.
— David Geffen
The painting is so broadly popular that the Netflix animated series "BoJack Horseman" parodied it, as it does other paintings, a running joke in the show. A version of the painting hangs in the main character's office, except the figures in the artwork have horse heads, like BoJack.
"It's so beautiful and idyllic, but it also seems a little melancholy. You can be in a big beautiful pool in the hills and still feel boredom and longing," said "BoJack Horseman" production designer Lisa Hanawalt. "When we were designing BoJack's office, this felt like the perfect fit — especially after I changed both figures to resemble BoJack. He's a character who constantly looks towards the past and sees himself reflected within the context of his own fame."
Sale of the 81-year-old Hockney's painting generated much advance buzz, according to Christie's. Despite a New York snowstorm, the house was packed — excited art collectors, advisors, dealers and media filled both the main sale room and an overflow sale room, with 600 people seated and 60 more standing, to watch the famous work go up on the auction block.
Christie's estimated that the painting would sell for roughly $80 million. But a bidding war erupted that went on for 9½ minutes — "very long in auction terms," according to Christie's. "Most lots sell within 1 or 2 minutes of bidding." And when the hammer came down Thursday evening at $90.3 million, the room burst into applause.
Christie's won't reveal whom the winning bidder is.
In May, Hockney's "Pacific Coast Highway and Santa Monica" (1990) sold at Sotheby's in New York for nearly $28.5 million — a new personal auction record for the artist. The recent $90.3-million sale more than triples Hockney's record; the painting is a much earlier and seminal work, accounting for the vastly higher sum it fetched.
"Art can't be measured by what people are prepared to pay," said Peter Goulds, Hockney's longtime L.A. dealer at L.A. Louver in Venice. "I've worked with him since 1979. His paintings are about time, space, memory and mark making. He was, at that moment in time, trying to explore a certain kind of space. The painting is iconic. This [auction sum] number is not the point. It's the collective body of work.
"Someone paying that price is a measure of our time — and that's for good and bad," he added. "It's extraordinarily good that contemporary art can be celebrated in these terms, and for bad for the same reason."
"The auction price doesn't shock me — I'm surprised his prices weren't higher before," said Ayn Grinstein, co-owner of the historic fine art publisher and print workshop Gemini G.E.L., which earlier this year exhibited "David Hockney: Selected Portraits 1976-1995." The show was one of Gemini's most popular in recent years.
"It's just a beautiful painting. It has a lot of elements that reflect David's history — the pools, the double portraits. It's got pretty much everything you want from David Hockney," Grinstein said. "He captures time, he captures water, he captures the emotion he feels at the time. I think he touches something in everybody."
The Times reached out to Hockney for comment on the sale but did not hear back by press time.
Times art critic Christopher Knight contributed to this report.
Get our L.A. Goes Out newsletter, with the week's best events, to help you explore and experience our city.
You may occasionally receive promotional content from the Los Angeles Times.