Bravo's 'Watch What Happens Live' returns to L.A., and the crowd goes wild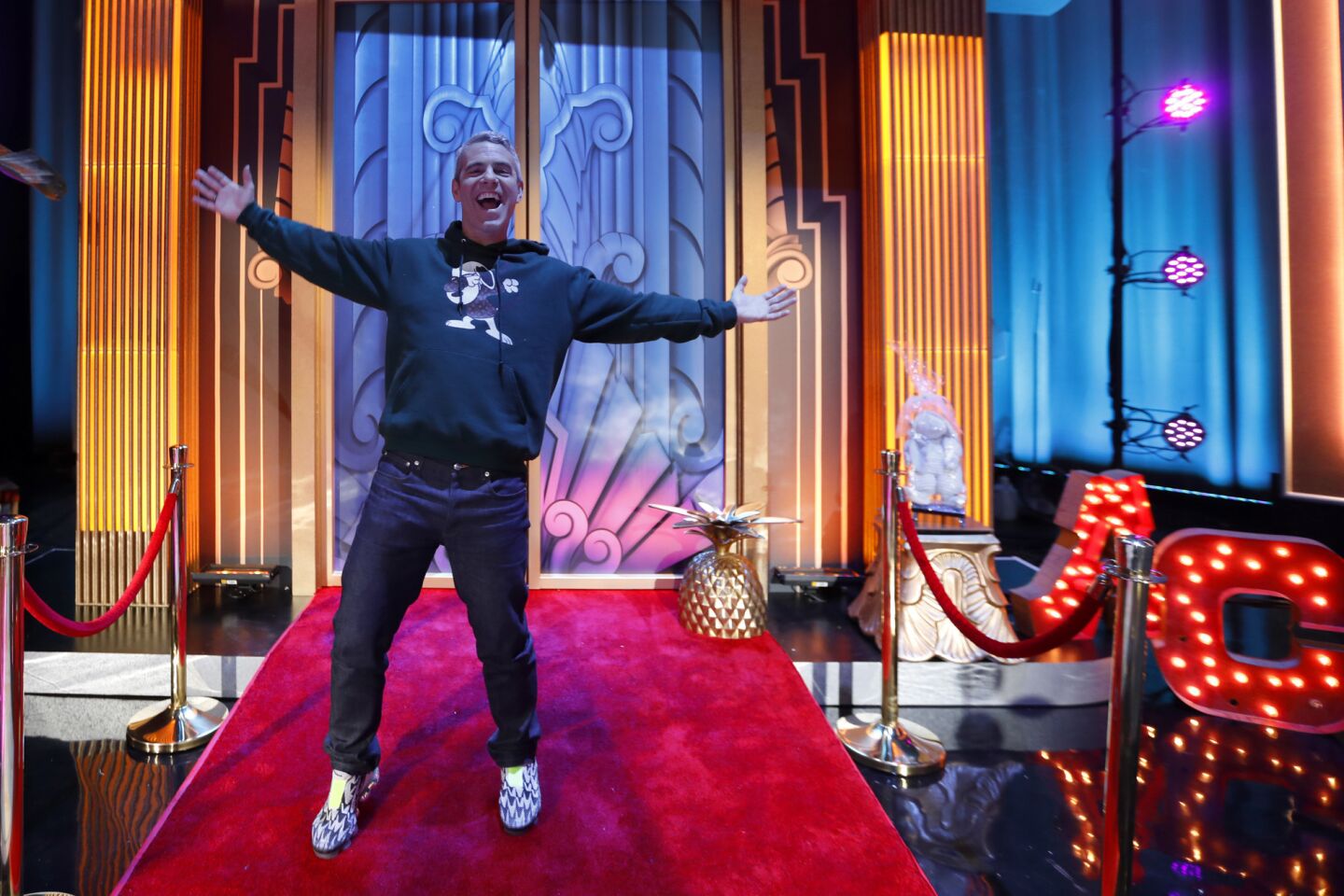 Andy Cohen walks the red carpet on the L.A. set of his visiting talk show, "Watch What Happens Live With Andy Cohen."
(Francine Orr / Los Angeles Times)
Writer Lena Waithe plays a game on "Watch What Happens Live" in which she must chronologically arrange cutouts of fellow guest NeNe Leakes..
(Francine Orr / Los Angeles Times)
Guests Lena Waithe, left, and NeNe Leakes joke with host Andy Cohen backstage as the Bravo channel talk show "What's Happening Live" visits L.A. to record on April 8.
(Francine Orr / Los Angeles Times)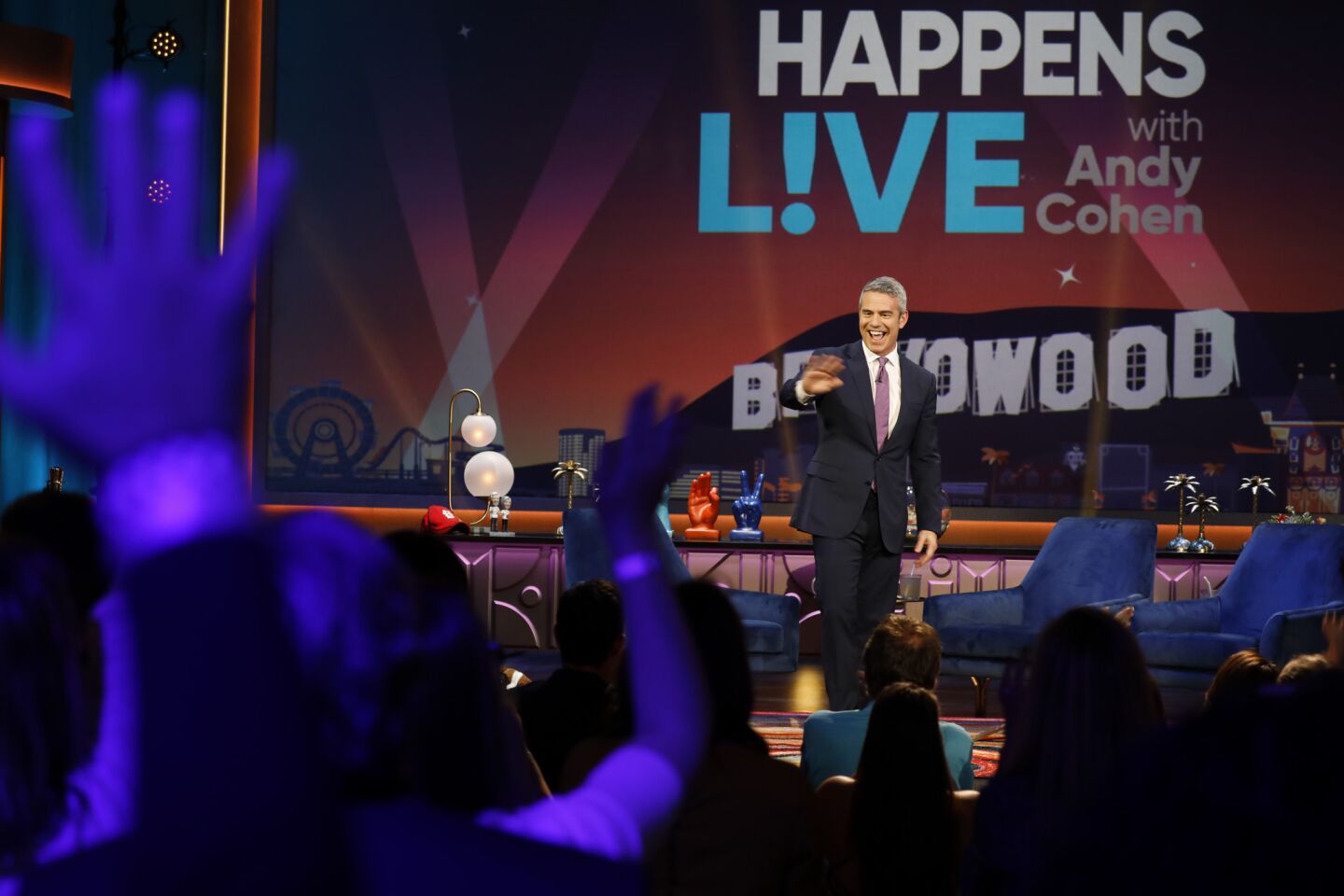 Andy Cohen gets a rousing response from fans gathered for an L.A. episode of his talk show.
(Francine Orr / Los Angeles Times)
Andy Cohen and guest NeNe Leakes.
(Francine Orr / Los Angeles Times)
Audience members react during a recording of "Watch What Happens Live With Andy Cohen" as the show visits Los Angeles on April 8.
(Francine Orr / Los Angeles Times)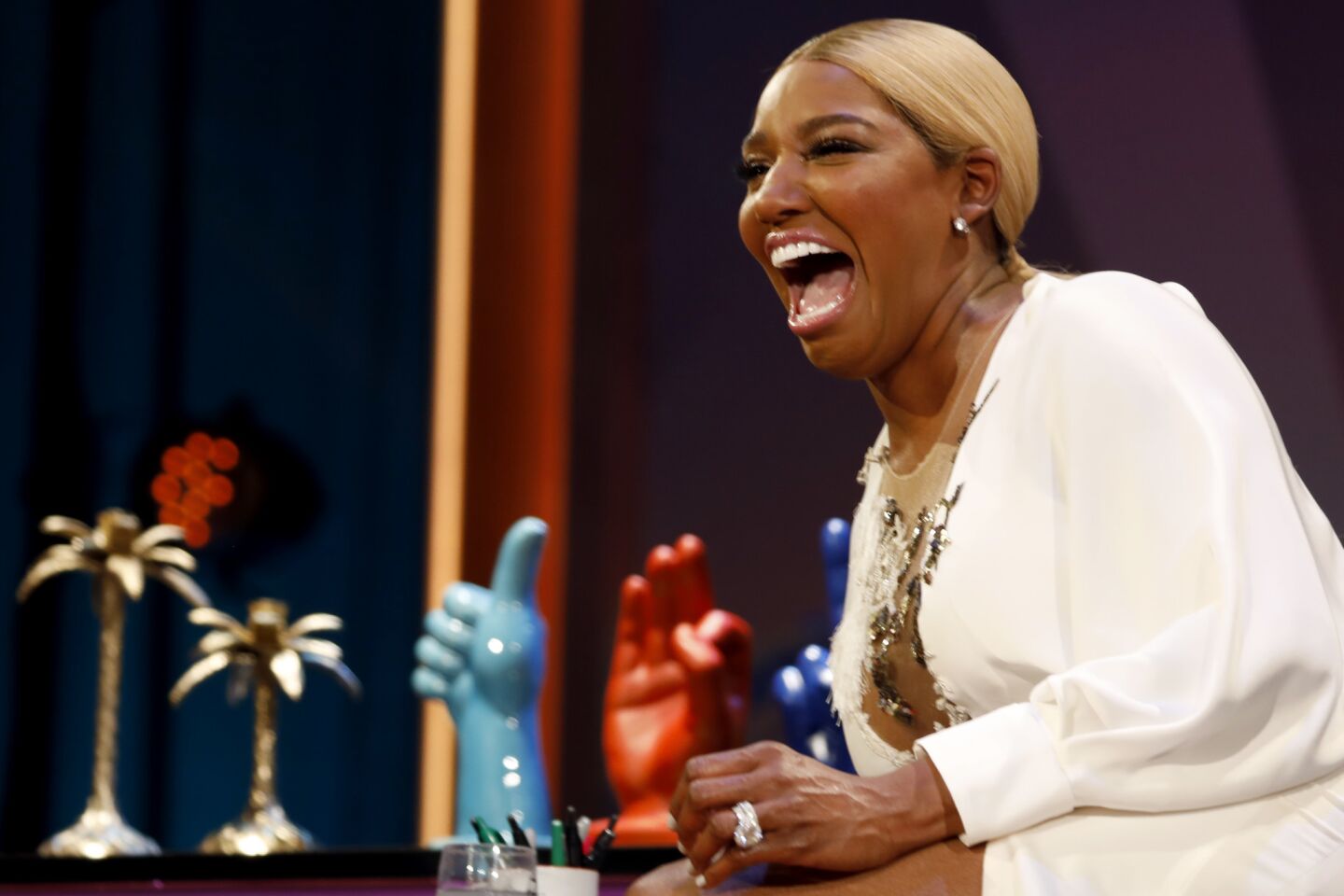 NeNe Leakes on "Watch What Happens Live With Andy Cohen."
(Francine Orr / Los Angeles Times)
Everybody downs a shot: host Andy Cohen and guests NeNe Leakes, middle, and Lena Waithe.
(Francine Orr / Los Angeles Times)
Audience members Tana Pinner, left, of Corona and Tommie Williams of Mission Viejo share a laugh in the lobby of the Wiltern Theatre, where "Watch What Happens" is being recorded.
(Francine Orr / Los Angeles Times)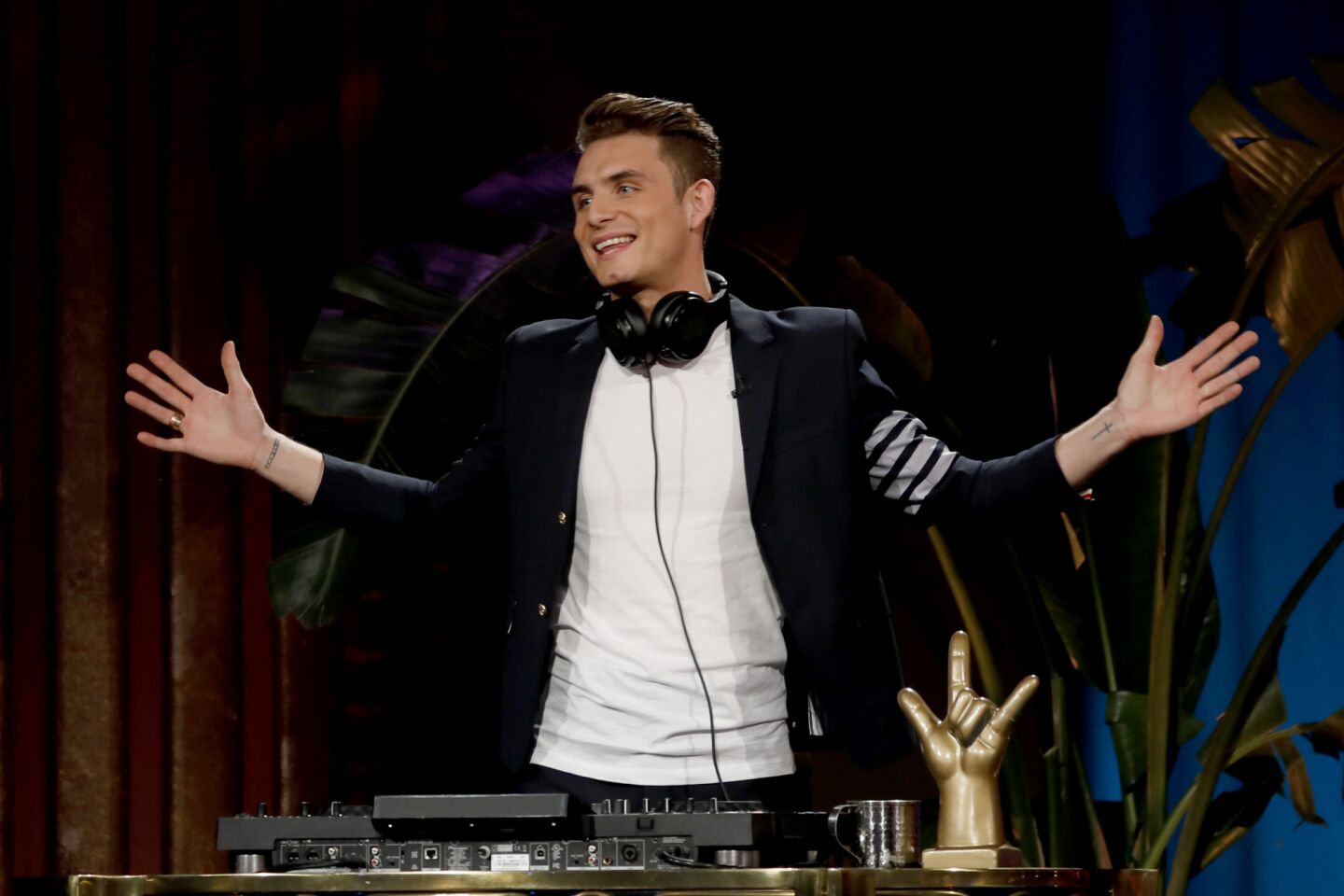 DJ James Kennedy at an L.A. recording of the Bravo channel's "Watch What Happens Live With Andy Cohen."
(Francine Orr / Los Angeles Times)
It's probably safe to say the Wiltern Theatre, home of historic concerts and appearances for more than 80 years, has rarely hosted an act quite like this.
Emmy Award-winning writer Lena Waithe ("Master of None," "The Chi") was in a frantic scramble, trying to place in chronological order a collection of life-size cardboard cutouts of "Real Housewives of Atlanta" all-star NeNe Leakes. As a minute wound down on the game clock, the theater's packed crowd of 1,300 onlookers, many of them slightly tipsy, cheered her on.
This is what it's like when "Watch What Happens Live With Andy Cohen" explodes into town.
For the second consecutive year, the late-night talk show that airs on Bravo, home of the hit "Real Housewives" and "Million Dollar Listing" reality franchises, has dropped down in the land of sunshine and palm trees.
The off-the-wall gabfest, which normally tapes in New York and plays to an audience of roughly 30 people, has invaded Los Angeles for a week of shows.
The shenanigans kicked off Sunday with Waithe and Leakes. Future guests include Milo Ventimiglia ("This Is Us"), Ricky Martin ("The Assassination of Gianni Versace: American Crime Story"), Anna Farris ("Mom") and rapper Snoop Dogg.
"It's so much energy," Cohen, who also serves as an executive producer, said backstage a few hours before showtime. "Listen, we have about 30 people in our audience in New York. To be able to fill the Wiltern Theatre with really passionate fans of the show, it's huge."
There's a lot of pent-up energy that's been seeking an outlet, said Cohen, who couldn't help but thumb through his phone as he talked to see if the first part of "The Real Housewives of Atlanta" reunion airing that night was trending.
"We are like an exotic import in Los Angeles," said Cohen, who has been out West a lot in recent weeks to lock in his hosting gig on the second season of Fox's "Love Connection." "They never see us. So they get excited when we're here."
And, boy, were they excited. Doors opened to the scores of fans just after 6 p.m., with many speed-walking or running into the lobby, even though the show wouldn't start until 8 p.m. Some ordered libations at the cash bar — after all, a cocktail at the ready is a hallmark of the show — while others whipped out their phones to take selfies with a cardboard cutout of Cohen.
Tonya Sparkman and Liz Geavaras, both 48, were part of the crowd aiming for good seats. After losing out last year when the show visited the far more intimate Palace Theatre in downtown L.A., the friends were determined to have a prime view of their favorite show.
"It's the hottest ticket for us," said Sparkman, who lives in Orange County. "I got tickets for tomorrow and [Liz] got us tickets for tonight. That's how important this is. If we could, we'd be at all the shows this week."
"We like how Andy interviews," added Geavaras of Los Angeles. "His guests say things you don't hear them say anywhere else."
Another fan, Tommie Williams, 33, who had driven in from Mission Viejo, said: "Andy is so shady, and he's always asking the questions I want to hear answers to. My favorite guest was Regina King because she got so lit."
The show's evolution is not unlike that of veteran cast members in the "Real Housewives" franchise — more polished and done up through the years, without losing the oomph. The series, which launched in 2009 to little fanfare (and an equally little set, known as the Bravo Clubhouse), has twirled into a key player in the late-night arena, attracting A-listers such as Oprah Winfrey and Jennifer Lawrence.
"I've been doing 'Watch What Happens Live' since the year it started," Leakes said backstage before the start of the show. "It's always an amazing time — drinking is key. But it's grown a lot. When it first started, it was a very small room, almost a closet. And now, in New York, he has a much bigger space and a larger audience — not that much larger. But, you know, we can actually sit down; we used to have to stand up. Shade, Andy. Shade, honey."
The show has gone on the road before, including shows at South by Southwest in Austin, Texas. But it wasn't until last year that the production landed in Los Angeles, a destination long in their sights. After going big last year with a venue that seated roughly 400, the show booked a larger facility this year to satisfy fan demand.
"We couldn't have anticipated it last year because by nature our show is so small," said executive producer Deirdre Connolly. "I don't know that I can think of a pop culture phenomenon that gets women in their 20s, 30s, 40s — and men — to react like this."
The California "clubhouse," decked with a 'Bravowood' sign backdrop, features staples of the show's New York set — such as the stuffed bunny from "Real Housewives of Beverly Hills"; bobbleheads of Cohen's parents, Lou and Evelyn; and a stuffed animal version of his dog, Wacha.
Minutes before the 8 p.m. start time (the show airs live at 11 p.m. EDT), Waithe, accompanied by her fiancée Alana Mayo, was in her dressing room anticipating her "Watch What Happens Live" debut.
"I've seen 'Watch What Happens Live' a lot," said Waithe, who is also a regular viewer of "Real Housewives of Atlanta." "Andy is like a pro at this. He has that special sauce about how to get folks to be themselves, to be free, to be funny, to be silly, to say things they wouldn't normally say on another late-night show. I'm expecting to have a lot of fun."
Less than 10 minutes into the show, Waithe was playing one of the games crafted for the night, "Looks by Linnethia," in which she had to mimic the many shady faces made by Leakes on "Real Housewives of Atlanta."
Hopefully the Wiltern will still be standing by week's end.
'Watch What Happens Live With Andy Cohen'
Where: Bravo
When: 11 p.m. Sunday-Thursday
Rating: TV-14-DLS (may be unsuitable for children younger than 14, with advisories for suggestive dialogue, coarse language and sexual content)
Get our L.A. Goes Out newsletter, with the week's best events, to help you explore and experience our city.
You may occasionally receive promotional content from the Los Angeles Times.