Powerful Buk missile launcher suspected in Malaysia Airlines crash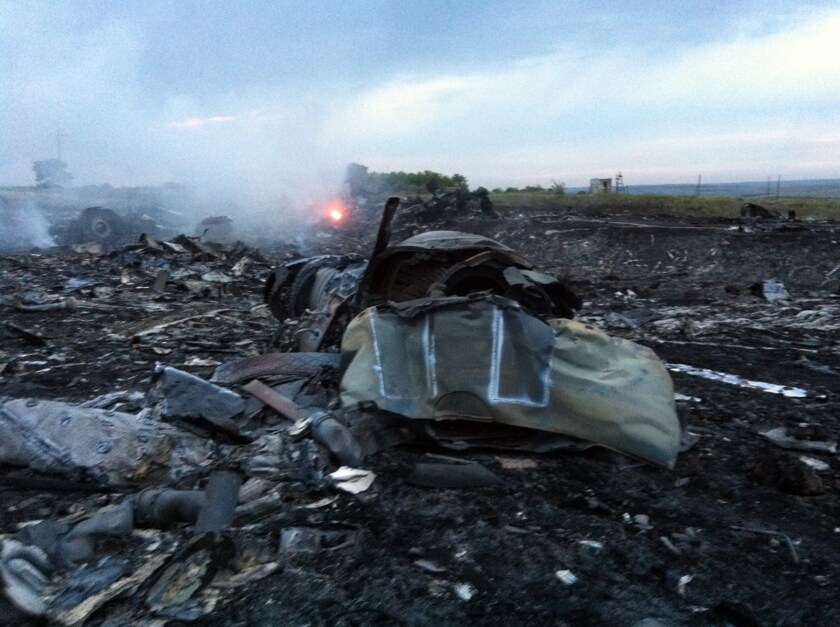 The surface-to-air missile launcher that a Ukrainian official has said is responsible for taking down a Malaysia Airlines flight on Thursday is a long-range weapon that has up to a 90% chance of downing an airplane in one shot, according to military publications and published reports.
An advisor to Ukraine's Interior Ministry said the plane, which was carrying 298 passengers and crew, was shot down by a Buk, a Russian-made missile launching system, over territory controlled by pro-Russia separatists.
U.S. intelligence officials have concluded that a surface-to-air missile brought down the plane, a U.S. official told the Los Angeles Times. Intelligence agencies using tracking data from spy satellites and radar confirmed a missile was fired, one official said. They are still analyzing the data to determine the location of the launch.
Associated Press reporters said they saw a system similar to the Buk system in separatist-controlled areas of Ukraine on Thursday. U.S. authorities have not shared any information about the type of missile that was believed to have been used.
The Buk can engage multiple targets at once, and a single missile has a 60% to 90% chance of downing an aircraft in a single shot, according to a report on GlobalSecurity.org, a website about military policy.
The weapon is radar-guided and was described as effective against "high-performance aircraft" and cruise missiles.
According to enemyforces.org, the Buk has a range that can go well above the 33,000 feet the plane was said to be flying at when it disappeared from radar.
Experts have also said the missile system cannot be operated by one person.
"This is a sophisticated crew-served weapon system," said John Pike, director of GlobalSecurity.org. "It's not like a guy can learn how to shoot one of these in an afternoon. They have entire schools dedicated to teaching people how to operate them."
Malaysian Prime Minister Najib Razak said via Twitter that he was "shocked" by reports of the crash. "We are launching an immediate investigation," he said.
Times staff writer W.J. Hennigan contributed to this report.
Follow @JamesQueallyLAT for breaking news
---