Post-Olympics, it's back to reality for South Korea and its troubled ex-presidents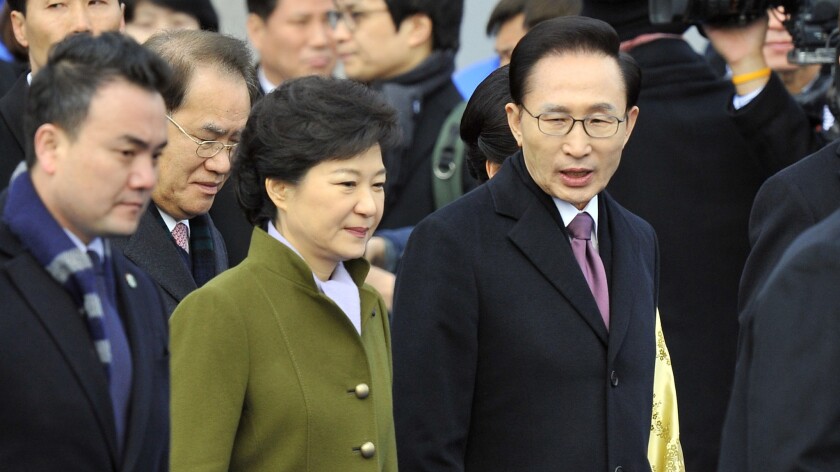 Reporting from SEOUL —
For two weeks, South Korea and its government basked in the glory and honor of hosting the Winter Olympics.
Now it's back to reality: One former president is being tried on corruption charges, and authorities appear to be closing in on another.
Prosecutors are asking for a 30-year-prison term and a $110-million fine for disgraced former President Park Geun-hye, who was driven out of office last year before being arrested and charged with bribery, coercion and abuse of power. A formal conviction and sentence are expected as soon as this month.
But South Koreans won't get a respite from news about public corruption in high places.
Former President Lee Myung-bak, Park's predecessor, is facing a sweeping financial fraud investigation.
The case centers on potential misdealings involving an auto-parts company that appears to be controlled by Lee's family. There are also questions about suspected bribes paid by Lee aides using funds from the National Intelligence Service during his tenure as head of the agency.
This week, investigators raided the home of Lee Sang-joo, a senior executive at Samsung Electronics Co., who is married to the former president's eldest daughter. Others connected to the ex-leader, including his elderly brother, Lee Sang-deuk, and his son, Lee Si-hyung, have also been summoned by prosecutors or faced searches in recent weeks.
Prosecutors have hinted to local media that the former president will soon be summoned for questioning, a sign the case is serious, though no charges have been filed.
South Korea has grown accustomed to seeing its presidents investigated.
Park is the third one sent to jail since the country began allowing direct elections of presidents in the late 1980s. The two others, Chun Doo-hwan and his successor, Roh Tae-woo, were charged in the mid-1990s — after they left office — with improperly collecting tens of millions of dollars from businesses during their tenures.
The two men, former army colleagues, also faced sedition charges related to a coup and an earlier violent crackdown against pro-democracy protesters. They were later pardoned.
Experts say such cases are rooted in systemic corruption, especially involving the corporate and governing elites, that hasn't changed as rapidly as South Korea has emerged as a global player.
"The politicians and the big business are constantly having to dodge around the law in order to be successful," said Michael Breen, author of "The New Koreans: The Business, History and People of South Korea." "What's the thing that prevents you from being prosecuted? It's luck and good connections."
Politics, of course, is always an unavoidable factor whenever a president is targeted.
"I'm wondering whether this is politicized justice," said Robert Kelly, a political science professor at Pusan National University in South Korea. "But on the other hand, if these guys are genuinely corrupt, accountability is really important. Just because you're president doesn't mean you're above the law."
Park's lineage makes her an especially divisive figure here.
She is the daughter of Park Chung-hee, a former general who ran the country as a dictator and is credited with starting launching its transition from a poor, agrarian society into the export-driven economic success it is today.
He was assassinated by his chief spy in 1979, five years after his wife, Yuk Young-soo, was killed in a botched attempt on his life.
Park won the presidency in 2013, only to see her legacy unravel.
Her downfall played out in slow motion for all the country to see as local media covered the investigation and citizens took to the streets to demand her ouster.
She was charged and jailed on numerous counts, including bribery and abuse of power, related to a scheme with a confidant to extort millions of dollars from South Korean conglomerates, including Samsung, the nation's largest company. A court sentenced the confidant, Choi Soon-sil, to 20 years in prison in February.
The Park trial has dragged on for months. At one point, her legal team resigned in protest over her pretrial detention, delaying the proceedings. Park, 66, has refused to attend recent court hearings.
"A stern punishment by the court is needed to send a message to the public and politicians that the tragic history should not be repeated," prosecutor Han Dong-hoon told the court this week.
Park's small cadre of supporters believes the case is political.
"If the trial adheres to evidence, fact, law and principles — not rumors — then President Park Geun-hye is clearly innocent," Cho Won-jin, a member of the National Assembly from the Korean Patriots' Party, said this week.
Lee too has dismissed the new inquiry as politically motivated, saying it is retaliation for his decision in the early days of his administration to investigate his more liberal predecessor, Roh Moo-hyun.
Roh committed suicide soon after the investigation was launched.
"Many people see the prosecution's investigations as a political campaign to annihilate the conservatives and political revenge," Lee said at a fiery news conference this year.
Stiles is a special correspondent.
---