A house that keeps watch over Hermosa Beach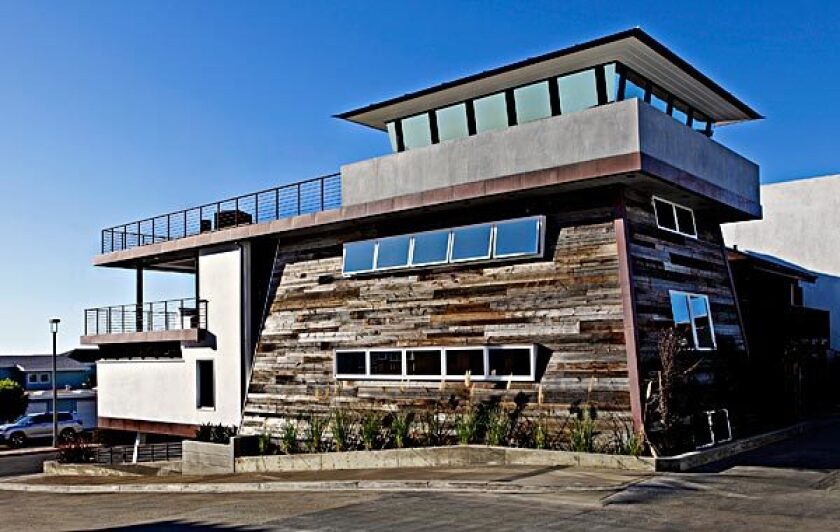 A custom home in the shape of an East Coast lifeguard tower with nautical features is on the market in Hermosa Beach. It's the latest offering from Lazar Design/Build in partnership with developer Kirk Enterprises.
Steve Lazar, who grew up in Pennsylvania and visited the Jersey shore as a child, said the images of lifeguard towers stuck with him. "There's nothing authentic about this tower," Lazar said. "It's strictly from my imagination."
Glass light wells, connected by heavy-gauge stainless-steel spider arm supports, separate the tower's four angled legs from the front half of the home, which resembles the bow of a double-deck ship.
Because of the home's proximity to the ocean, Lazar specified materials that could withstand the elements with low maintenance. All the exposed wood is Mangaris, a highly durable product that turns a silvery gray. The steel was allowed to rust to the desired color and then sealed.
An elevator and two sets of stairs lead up to the fourth-floor tower. The room has the feel of a wheelhouse in the aft of a boat with canted windows to minimize glare. The small space is divided into a sitting and sleeping area, like a ship's berth.
A door leads out to a 1,300-square-foot entertainment deck, which is covered with 90-ounce synthetic grass. The lightweight recycled material is a cost-effective alternative to stone or tile. More important, Lazar said, it creates a little bit of a yard where there is none. In the center, a raised deck enhances the panoramic views.
One level below, wide-plank distressed pine flooring leads into the kitchen, which has a granite-topped island. A light fixture over the raised bar mixes antique and contemporary styling. The cooking area includes a commercial-sized cooktop and oven.
On the bedroom level, Lazar sandwiched a shared washroom with a shower-tub and linen storage between two powder rooms. "When you're hosting a party, guests prefer using a powder room instead of a bathroom," he said of the configuration.
Three walls of the master suite have clerestories with obscured glass. A plastered wall where a flat-screen television is mounted separates the bedroom from the bathing and shower area. That area is open with a step-up tub and exposed plumbing. Side-by-side rainfall shower heads create his and her showers.
The basement includes a laundry room, mechanical room and an area for a wine cellar.
To submit a candidate for Home of the Week, send high-resolution color photos with caption and credit information on a CD and a detailed description of the house to Lauren Beale, Business, Los Angeles Times, 202 W. 1st St., L.A., CA 90012. Questions may be sent to homeoftheweek@latimes.com.
---