Developer plans Pershing Square condo tower with balcony lap pools
In downtown Los Angeles, cranes dot the skyline, operated by workers busy erecting new hotel, condominium and apartment towers.
In all, more than 10,000 residential units are under construction, with thousands more planned.
And now, with the building boom reaching new heights, a developer is proposing the most futuristic plan yet: a nearly 60-story condo tower where home buyers will swim in their own lap pools that extend from their units and hover above the street.
The Pershing Square-adjacent project by developer Jeffrey Fish has the potential to revitalize a neighborhood centered around one of the city's oldest public spaces, which has seen less investment during the current boom than elsewhere.
"This would be so important," said Mike Condon Jr., an executive managing director with brokerage Cushman & Wakefield who is not involved in the project. "He knocked it out of the park with what he is proposing there."
Fish is planning a slender tower on an empty lot next to the Pershing Square Building, a 1920s structure he bought in 2003 that has become a nighttime destination after he opened the popular rooftop restaurant Perch and basement club Mrs. Fish.
The developer's new project, named Fifth and Hill, comes in two possible iterations pitched to the city last week in formal filings. One would be a 55-story tower with 100 condos, 200 hotel rooms and 27,500 square feet of commercial space. The other is a 57-story tower with 142 condos and 25,000 square feet of commercial space.
In each, a lower L-shaped podium structure would wrap around the Pershing Square Building on the corner of 5th and Hill streets. Rising from it would be a rectangular tower along 5th Street featuring a "Sky Lobby" that would allow light to pass through the building's core.
The developer said in an emailed statement that many, though not all, of the residences would have terraces and cantilevered swimming pools "with glass bottoms and sides that can be viewed by all."
The Sky Lobby, Fish said, will be a "multi-story open space cut out of the center of the building's structure" that will give off the impression of a floating tower.
"This will be a landmark building unlike anything else seen in California," said Fish, who was not made available for an interview.
Although eye-popping, suspended swimming pools have been built many times before, including at hotels in Dallas, Dubai and Australia. These are believed to be the first in Los Angeles, where residential high-rise architecture has tended to be far more conservative.
Fish's project could give a big boost to Pershing Square, which has undergone multiple unsuccessful redevelopments through the years, including being ripped apart so an underground parking garage could be installed in 1951.
In the 1990s, the park was reworked again and walls and towers were added to its perimeter — a redesign criticized by many as a failure for further walling the park off from surrounding streets.
Today, concerts are sometimes held there, but the largely concrete square is considered run-down and, along with the adjacent subway stop, is a popular place for homeless people to gather.
Condon called the area somewhat of a "doughnut hole" that hasn't attracted the same number of hip shops and restaurants that are increasingly opening in other corners of downtown.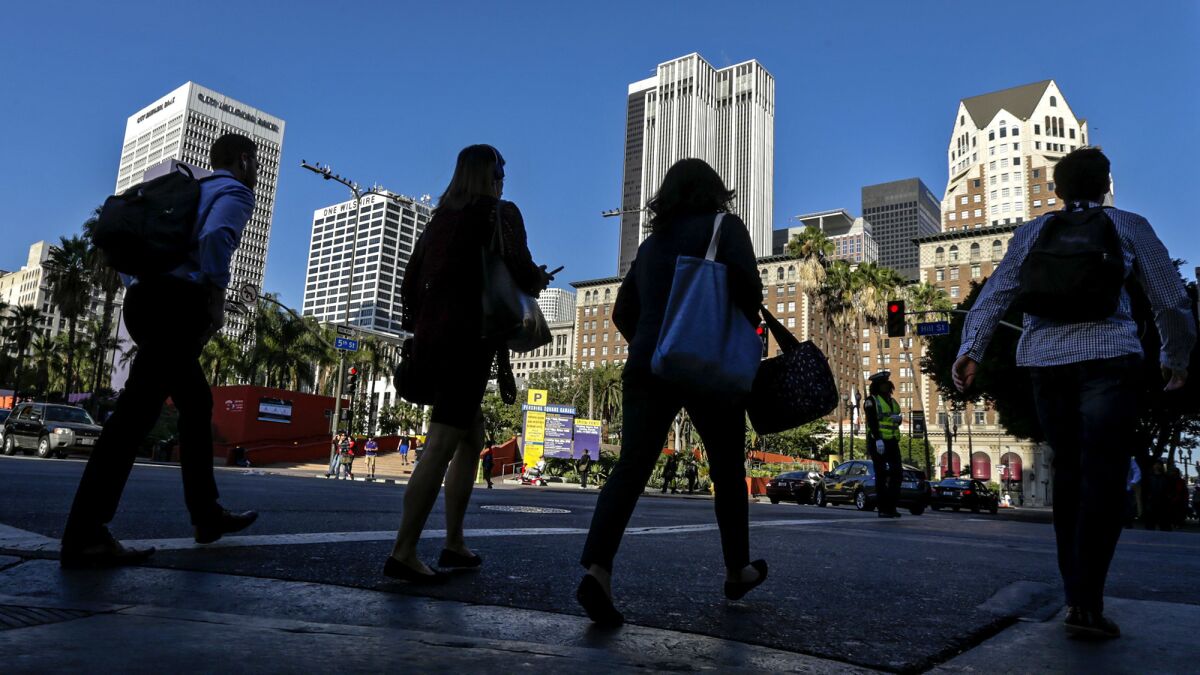 However, there has been renewed attention to Pershing Square.
In May, a design team was picked to once again redevelop the park — this time by opening it up to the street and adding more green space.
A completion date of 2019 has been set, although funding for the $50-million public-private partnership must still be secured.
Fish's project would add new residents and restaurants to the area. And like the Pershing Square redesign, if built, it would succeed where others have failed.
In 2007, for example, Los Angeles developer David Houk announced plans to build Park Fifth — a $1-billion residential and hotel complex next to Pershing Square that would include a 76-story skyscraper.
Those plans collapsed amid the real estate bust and another developer, MacFarlane Partners, is now constructing a far smaller project — a seven-story residential and retail building.
A timeline for a second phase of Park Fifth, with a 24-story tower, has not been announced.
It's unclear when Fish might break ground. He said he has hired well-known engineering firm Thornton Tomasetti to work on the project, but he still needs city approvals. He described the project as "a couple years out."
The proposal also comes as some in the real estate industry wonder how long the current boom can last and whether some recent plans will go the way of Park Fifth.
Grand ideas are floated toward the top of every real estate cycle, only to never see the light of day after the market turns south and financing becomes hard to get.
Already, some new luxury apartment buildings are offering a free month's rent to lure tenants. The trend is worrisome for developers, although welcomed by housing advocates who hope that the supply can lower the cost of rentals.
Any concerns, however, haven't dampened a flurry of recent skyscraper proposals.
On Tuesday, Tribune Media filed plans to build a 30-story condo and office tower adjacent to the Los Angeles Times building.
And two weeks ago, Orange County developer SunCal proposed twin 58-story residential towers in the Arts District along Alameda Street — a plan that raised eyebrows both for its location in a low-rise district and the fact that downtown is awash in residential construction.
In part, real estate firms are racing to file plans with the city, fearful about an upcoming March ballot measure that would largely prevent them from gaining approval to build larger projects than current zoning allows.
By filing now, projects such as the Arts District towers can still move ahead if the measure passes.
Fish, however, isn't seeking approvals that would be barred by the initiative, according to city planners. And although it's a few years out, he said he was "very committed" and "excited to make it a reality."
"I am a big believer in downtown Los Angeles," Fish said in his statement. "I believe that downtown is still in its juvenile phase and I am looking forward to being part of its long-term growth."
Follow me @khouriandrew on Twitter