The key to global cooling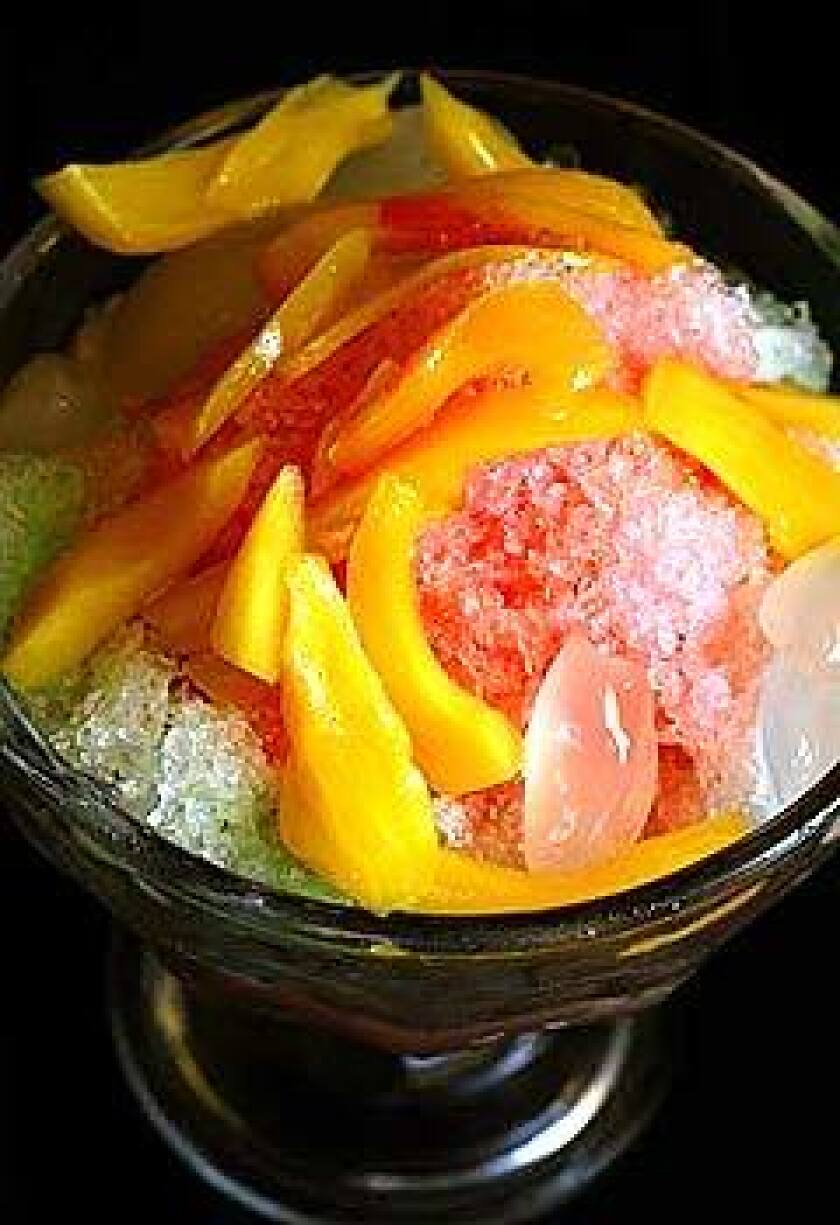 Times Staff Writer
In some parts of the world, the most popular desserts are built on an ingredient that would disappear in a minute if you let it sit, and tastes like nothing when you put it in your mouth.
Riddling aside, ice makes for some glacially great finales, and we don't mean snow cones.
These desserts, many of which come from the steamy climes of Asia, but which also come from Mexico, can be architectural assemblies. Crushed ice, set in a bowl or goblet might be drenched with sweet syrup, coated with condensed milk, topped with fresh fruit and laced with sweet red beans. Ice cream might be added too.
But you don't have to leave L.A. to find these exotic icy desserts. At street stands around the city and at coffee shops and restaurants, these unusually flavored concoctions are menu regulars. I have several favorite spots I hit when I need to cool down and satisfy my hot-weather cravings.
At L.A.'s Farmers Market, you can find Singapore's ice kacang, a bowl of syrup-drenched ice piled over sweetened beans. Bingsu — made with fruit and sweet red beans — can be found in Koreatown. Look for halo-halo, an icy conglomeration from the Philippines, at a restaurant in Glendale. Or a long line of customers may lead you to a tiny place in East L.A. for a Mexican ice treat, the raspado, which — with its fresh fruit toppings — runs circles around a boring snow cone.
I've loved ice desserts ever since I first traveled to Southeast Asia, where I discovered ice kacang. It was terribly hot the night a Chinese woman and I faced each other over identical bowls of this icy treat at Lau Pa Sat, a food stall center in the heart of the city. We were strangers, but we ate like twins, demolishing our bowls at the same speed and finishing at the same time.
It was vital to work fast, because in sweaty tropical heat, ice kacang rapidly dissolves into a wet soup, when what you crave is arctic, teeth-chattering mouthfuls of ice.
The flavors of all these desserts are different and alluring, well beyond those of America's favorite summer dessert, ice cream, but that's part of the adventure.
Taiwanese ice slush
The slush counter at one end of Shau May, a fast-food-style Chinese restaurant in Monterey Park, displays what you might call toppings — that actually go on the bottom. These include mango pudding, almond gelatin, barley, boiled peanuts, grass jelly, beans, taro, lychees and other fruits.
The attendant spoons three or four selections into a shallow bowl and holds it under a machine that piles on enough ground ice to cause an avalanche. For an extra quarter, you get a swirl of condensed milk.
I chose mango pudding and almond gelatin, which broke up and blended into the melting ice, making an exotic tropical background for the lychees. Herbal grass jelly is almost tasteless, but its dark color added pizazz to this pale dessert.
Ice kacang
At Singapore's Banana Leaf in the Farmers Market,
kacang
is spelled
kachang
because that is how it is pronounced. Translucent, chewy palm seeds and syrup-soaked red and white beans are in the bottom of the bowl, underneath the ice layer. The ice is laced with a mixture of condensed and evaporated milks and brightly colored syrups, made at the restaurant.
The red syrup is rose flavored, while the green syrup tastes of pandan, a popular seasoning for sweets in Southeast Asia that reminds me vaguely of butterscotch and fresh hay. The final touch is a handful of slivered jackfruit scattered over the top. I've eaten ice kacang many times in Singapore, and this one was every bit as enjoyable.
Bingsu
In South Korea, where summers are brutally hot and humid, everyone eats
bingsu
(water ice). Families make it at home with ice machines and components from neighborhood markets. Like other icy desserts, it's an assembly job rather than something that requires cooking. There's so much to it that sometimes I eat nothing but
bingsu
for lunch. Almost every coffee shop in Koreatown serves this dessert, though ingredients vary from place to place.
One of the most spectacular is the fruit-laden bingsu at Nicole's Gourmet Coffee & Chocolate shop in Koreatown Plaza. The ice, mounded in a heavy goblet, is topped with a thick layer of sweet red beans, then a heap of fresh fruits including strawberries, banana, kiwi and cantaloupe.
On top goes a scoop of green tea ice cream crowned with a piece of fruit. Two kinds of milk and a red fruit syrup are squirted on during the assembly.
I also like the bingsu at Coffeecana, on the second floor of a mall on Wilshire Boulevard. The shop's red bean bingsu includes tiny, chewy, white rice cakes about the size of chickpeas, along with beans, diced pineapple, vanilla ice cream and, of course, plenty of ice. A jaunty puff of whipped cream covered with candy sprinkles and topped with a cherry makes it look like a soda fountain special.
The ultimate place for bingsu, though, would have to be Ice Kiss on West 6th Street. The business card of this small coffee shop says, in Korean, that it is a bingsu specialist.
The house special bingsu is fun to eat — it's like a kiddie dessert. The whipped cream on top is decorated with multicolored cereal flakes, and the mixture below includes pastel marshmallow bits along with red beans, fresh strawberries, banana, kiwi, fruit cocktail and vanilla ice cream, sprinkled with chocolate syrup and red syrup. Half a strawberry stands on the summit like a flag.
Halo-halo
Ice was shipped to the Philippines from the United States until the end of the 19th century, but when the first ice plants finally opened in the 1920s, the country went ice mad. One of the results was
halo-halo
, a conglomeration of shaved ice, milk, fruits, beans, coconut, custard and ice cream. The name, which means mix-mix, couldn't be more appropriate.
The best that I have come across is the halo-halo special at Barrio Fiesta in Glendale. It's gorgeous to look at, and the tropical ambience of the restaurant makes it even more appealing. On top is a scoop of purple ube ice cream.
Ube is a purple yam that colors a variety of Philippine desserts, including cake, ice cream and candies. The ice cream is sprinkled with pinipig, the Philippine equivalent of Rice Krispies. As you eat, the ice cream and shaved ice melt, blending with milk that has been poured over the ice to form a delicious mauve beverage.
The heavy goblet is almost half full of such things as red and white sweetened beans, garbanzos, big tapioca pearls, palm seeds, jackfruit and shreds of macapuno, a type of coconut. There are also tastes of leche flan (custard) and ube paste, which is thick and very sweet, like a jam with a striking, deep purple color.
Raspado
Long ago, snow was used to freeze ice cream in Mexico. Perhaps one day some of the mix dribbled onto the snow, and that's how the
raspado
(snow cone) was born. Ask an aficionado where to get the best
raspados
in the Southland, and the answer is likely to be Zacatecas Raspados on Ford Boulevard in East Los Angeles.
In the summer, lines form down the street, and the wait is long at this small shop. The owners are Josefina and Roberto Rosas. Josefina is from Zacatecas, so her husband gallantly named the shop in her honor, but he is from Guadalajara, and the raspados are made in that style.
When you order a raspado, ground ice is packed into a takeout cup, then layers of topping, ice and more topping are added. The fruit toppings, prepared with fresh fruits, include pineapple, strawberry, peach, mango and guava. Other flavors are limón (lime), jamaica (hibiscus), tamarindo, vainilla (vanilla), nuez (walnut), cajeta and rompope.
Cajeta is a soft caramel, made by boiling down milk and sugar. Rompope is an eggnog liqueur, but the alcohol-free topping at Zacatecas Raspados is made with ground nuts and milk.
As the syrup dribbled down through the ice, my pineapple raspado turned a brilliant yellow. Rompope is not as showy, but the nutty, sweet flavor is really nice.
Tezgüino
The rarest concoction that I have found here is
tezgüino
(also spelled
tesgüino
), a fermented corn beverage from northern Mexico. The Tarahumara Indians of the state of Chihuahua consume great quantities of this drink and hold communal drinking parties called
tezgüinadas
. It's so famous that the Hotel Divisadero Barrancas, a tourist spot in Copper Canyon, Chihuahua, has named its bar Tesgüino.
The only place that I've found it here is La Palapa, a street stand in Highland Park. La Palapa's tejuino (a variant on the more common spellings) has the prickly tang of fermentation, but little or no alcohol. Light brown and slightly sweet, it contains an unexpected dash of coarse salt granules. The mixture fills a 16-ounce takeout cup along with ice and a scoop of nieve de limón (lime ice). Odd tasting but intriguing, tejüino should be downed on the spot, for it melts quickly.
La Palapa puts a chair or two on the sidewalk, but the hot sun is hard to avoid. There's no cause to complain when the temperatures soar, though. Scorching weather gave birth to these delightful icy mixtures. And for that we should be coolly grateful.
*
(BEGIN TEXT OF INFOBOX)
Ice kacang
Total time: 30 minutes
Servings: 4
Note: From Singapore's Banana Leaf restaurant in the Original Los Angeles Farmers Market. This dessert can be sweetened to taste, adding more, or less, of the milk mixture and the syrups. Pandan extract simulates the rich flavor of pandanus leaves, widely used in Southeast Asian cooking, and is available, along with the palm seeds and sweetened beans, at pan-Asian stores such as 99 Ranch Market. Rose extract is available in specialty spice shops as well as in Asian markets.
Syrups
2 cups sugar
2 cups water
1/3 teaspoon rose extract
3 to 5 drops red food coloring (optional)
1/4 teaspoon pandan extract
3 to 5 drops green food coloring (optional)
1. Combine sugar and water in a saucepan and bring to a boil. Boil until slightly thickened, but not thick like honey.(If the syrups are too watery, they won't stay on the ice.) Cool to room temperature.
2. To 1 cup syrup, add the rose extract and, if desired, red food coloring until you have a bright red syrup.
3. To the remaining three-fourths cup syrup, add the pandan extract and, if desired, green food coloring.
Assembly
8 rounded tablespoons palm seeds
8 rounded tablespoons sweet red beans
8 rounded tablespoons sweet white beans
12 cups finely shaved ice
2/3cup evaporated milk
2/3cup sweetened condensed milk
3/4cup rose syrup
3/4 cup pandan syrup
4 segments jackfruit, slivered
1. Use four large shallow bowls. In the bottom of each, spoon 2 tablespoons each of the palm seeds and the red and white beans, draining lightly as they are spooned from their jars.
2. Spoon 3 cups shaved ice over the seeds and beans in each bowl, forming a mound that's high in the center.
3. Combine the evaporated milk and sweetened condensed milk and drizzle evenly over the ice in each bowl.
4. Spoon the syrups over the ice, making any desired pattern. Arrange the jackfruit over the top. Serve immediately.
---
Each serving: 865 calories; 14 grams protein; 170 grams carbohydrates; 5 grams fiber; 17 grams fat; 5 grams saturated fat; 30 mg. cholesterol; 278 mg. sodium.
---