One of the best new pop-ups in town comes from a chef who operates at the nexus of food, art and community in the backyard of a coffee shop in Highland Park.
Zoe Komarin, 35, is the founder of ZoeFoodParty, a new weekly breakfast sandwich pop-up at Collage Coffee. Her specialty is fluffy homemade pita, filled with an ever-changing combination of eggs, schmears, vegetables and more. One recent sandwich involved burnt onion labneh, carrots roasted with date syrup, puffed rice toasted in sorrel oil, and scrambled eggs adorned with edible flowers; another week there was an optional "make it rain" addition of molten halloumi cheese. "Eat it from the top down to experience all of the layers," Komarin said. "It should be like an archaeological dig."
Komarin lived in Tel Aviv for seven years, perfecting her bread-making technique at Cafe Xoho there (her specialty was New York-style bagels). In lieu of resolutions, she makes a list of "dough goals" every new year, with pita on top at the start of 2019. After eight weeks of intensive testing — plus the revelation that her pitas are best cooked outdoors on a camping stove — Komarin launched the pop-up, which starts at 8 a.m. and goes until she runs out of pita, usually around 1 p.m.
Since moving to Los Angeles, Komarin has hosted a series of offbeat events around the city, including one that involved making sandwiches for customers based on what she intuited they wanted. She says she has no interest in opening a restaurant, preferring instead to have one-on-one interactions with customers in intimate spaces, upending expectations about what it means to go out to eat. "Forget any preconceived notions," she says. "You're wandering into this weird space and finding something totally different. It's an invigorating experience, for both of us."
Wednesdays, 8 a.m.-1 p.m. in the backyard at Collage Coffee, 5106 York Blvd., Los Angeles; zoefoodparty.com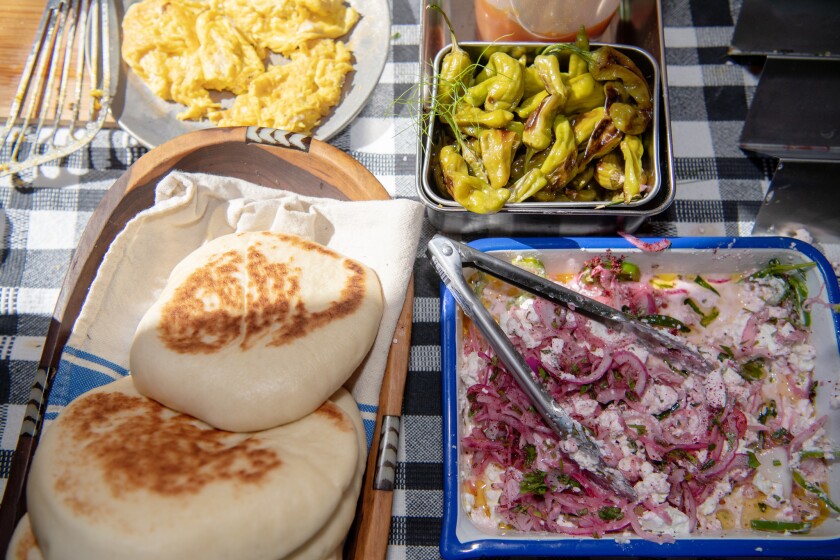 ---