Ashlee Simpson lists Beverly Hills area home at $4 million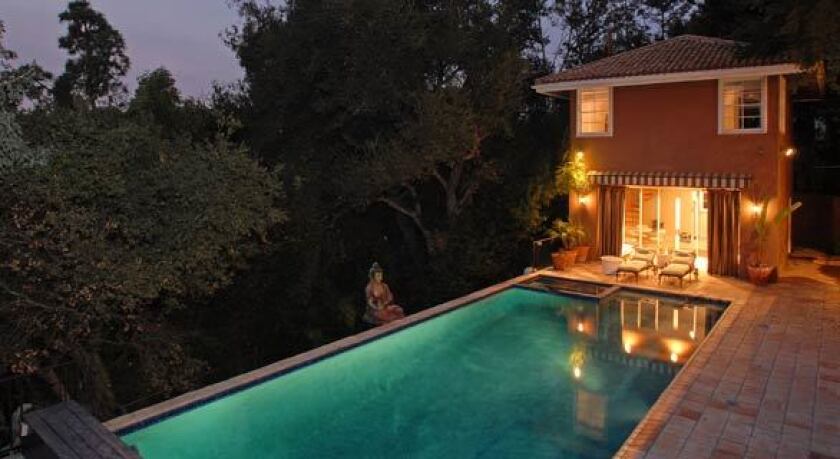 In the latest real-life installment of the Ashlee Simpson show, the singer-songwriter-actress has listed a Mediterranean-style villa on a private street in the Beverly Hills area for $4 million. Simpson owned the property before her marriage to Fall Out Boy rocker Pete Wentz in 2008.
The walled and gated compound has hillside and canyon views. There are five bedrooms and 6 1/2 bathrooms in 7,100 square feet of living space on more than half an acre.
The living room features cathedral beamed ceilings, walnut plank floors and French doors that open to decks with views. The multilevel home, built in 1992 and centered on a courtyard, has an eat-in kitchen, an upstairs master bedroom suite with his-and-her closets, a fitness room and a media room leading outside to a swimming pool and spa.
The courtyard contains a meditation garden with a fountain and fire pit. A two-story guesthouse is adjacent to the pool.
The versatile Simpson, 25, made her Broadway debut as Roxie Hart in "Chicago" last fall. She starred in the 2004-05 reality TV series "The Ashlee Simpson Show" following a regular stint on "7th Heaven" (2002-04). More recently she appeared on "Melrose Place" (2009) but is no longer on the show.
She released the No. 1 albums "Autobiography" in 2004 and "I Am Me" in 2005, followed by "Bittersweet World," in 2008. She is the younger sister of pop star Jessica Simpson, for whom she was a backup dancer.
Fall Out Boy bassist and lyricist Wentz, 30, has business ventures including a clothing line and nightclubs.
Simpson bought the property in 2007 for $4.5 million, according to public records, which also show comedian Rita Rudner as among the house's former owners.
Jory Burton of Sotheby's International Realty, Beverly Hills, has the listing.
Rocker outgrows Silver Lake gem
Kevin Griffin of the alternative rock band Better Than Ezra has put his Silver Lake home on the market for $1.65 million.
The Tony Unruh-designed steel, glass and wood house has expanses of windows, decks on two levels and city light views, blurring the distinction between the indoors and the outdoors.
When the singer-songwriter-guitarist and his wife, Laurel, bought the multistory house in 2006 for $1,595,000, they felt fortunate to find it.
"We moved here after the hurricane in New Orleans," Kevin Griffin said. "We didn't have a lot of time, and I was getting discouraged looking."
The houses the couple saw either needed a lot of work, he said, or had "no discernible architectural reference point."
"This house was a labor of love for the previous owner for five years," Griffin said. "They took a 1,200-square-foot '50s post-and-beam house and made it 2,900 square feet."
And the three-bedroom, three-bathroom house was within their price range.
"It had style, history, all new plumbing, all new wiring. Instead of being cantilevered, it used girders driven into the bedrock," he said. "We were there at the right time. It was just a no-brainer."
When the Griffins moved in, they had one child. "So now we have 13-month twin boys. That said, a three-bedroom house isn't cutting it for us."
But it will be hard for Griffin to leave Silver Lake. He has enjoyed riding a bike to his studio in Atwater Village and coming home to his peaceful neighborhood. "I'll miss the house with no headaches," he said.
Better Than Ezra, formed in the late '80s, continues to tour and released its seventh studio album, "Paper Empire," last summer. Taylor Swift performed the Better Than Ezra song "Breathless" on the recent "Hope for Haiti" telethon. The rock group will host the ninth annual Ezra Open bowling tournament in New Orleans on March 27 to benefit the rebuilding of the city and the gulf region.
Griffin, who said he writes "everything from pop to rock," also has been working with "American Idol" winner David Cook. They co-wrote the song "Avalanche" from the 2008 "David Cook" album.
Deborah Pisaro of Keller Williams, Studio City, has the listing.
Home buyer: Where u been?
Stand-up comic and actor Sinbad is looking for a buyer for his longtime family home in gated Hidden Hills in the Valley. It came on the market last month at $3 million.
A long private driveway leads to the five-bedroom, five-bathroom country estate -- 5,064 square feet of living space that sits amid mature trees on 2 1/2 hilltop acres. There are fireplaces in the formal dining room and an office/family room; a guesthouse with a kitchen, a recording studio, a pool with waterfalls and a barn.
Sinbad, 53, appeared as a finalist on Ed McMahon's "Star Search" (1983) and went on to work in HBO specials, television series and movies. In film, he starred in "First Kid" (1996), "Jingle All the Way" (1996) and "Houseguest" (1995). On TV, he had the title role in "The Sinbad Show" (1993-94) and played coach Walter Oakes on "A Different World" (1987-91). A DVD of the comedian's Comedy Central concert "Sinbad: Where U Been?" is set for release later this month.
Public records show Sinbad purchased the property in 2007 for $1,525,000.
Marty Trugman and Cara Sheriff of Teles Properties, Beverly Hills, have the listing.
History included in Cheviot Hills
Television writer Daniel Freudenberger has listed his historic Cheviot Hills home for $3,695,000.
The Spanish-style house, built in 1925, was constructed on a double lot for the tract's developer, W.R. McConnell. The 4,200-square-foot home sits on 14,180 square feet at the high point of the neighborhood, providing expansive city views. The U-shaped home has a center courtyard.
There are four bedrooms, 3 1/2 bathrooms, original archways, an updated kitchen with two butler's pantries, and a living room and a den with fireplaces. An 800-square-foot guesthouse is set up as an office and gym. The black-bottom swimming pool is solar heated.
Freudenberger wrote for TV series including "Cagney & Lacey" (1986) and "Blue Thunder" (1984). His writing credits include "A Husband, a Wife and a Lover" (1996), "With Murder in Mind" (1992) and "Do You Know the Muffin Man?" (1989).
Ben Lee of Coldwell Banker's Beverly Hills North office has the listing.
---