Catching a new wave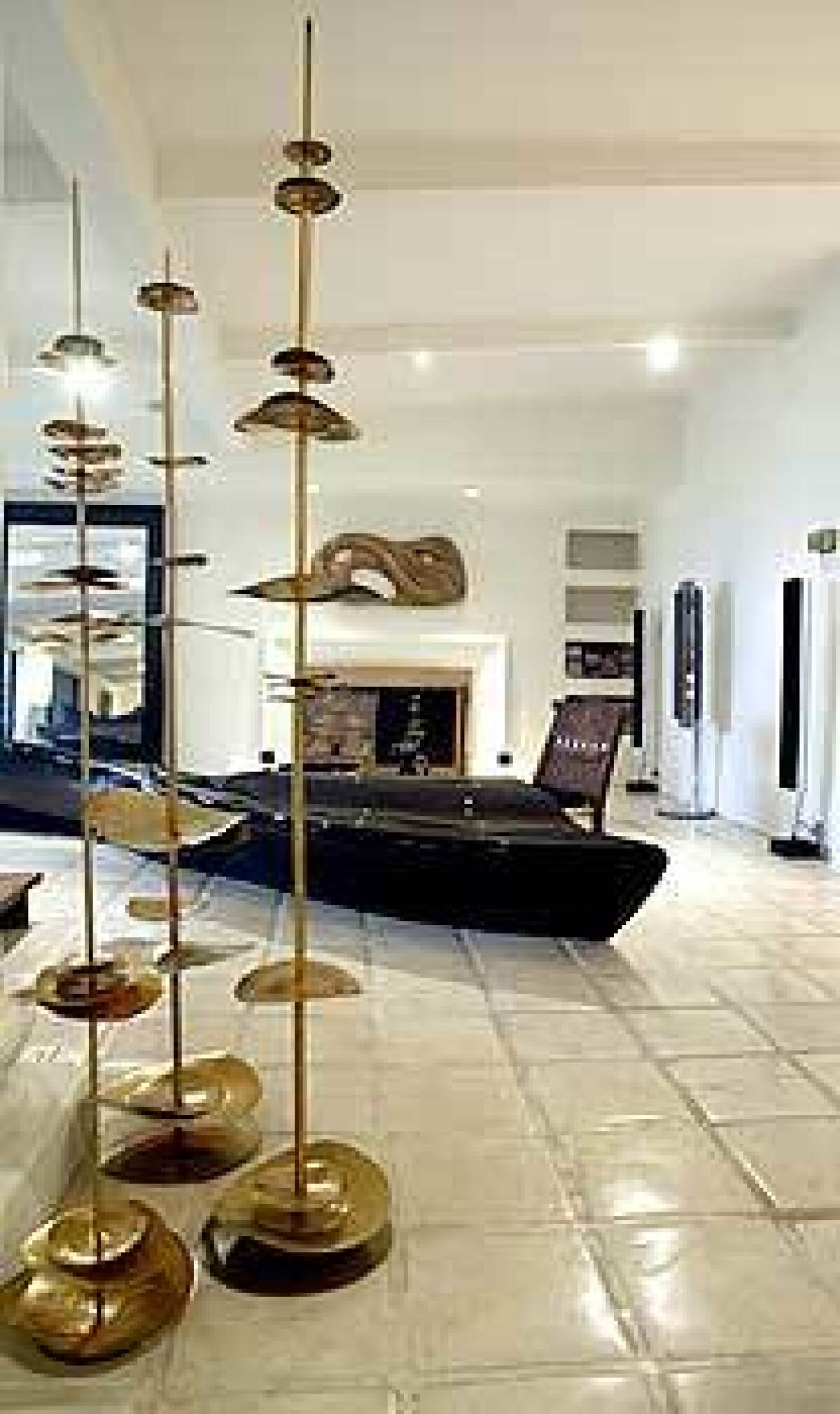 Special to The Times
Forty years ago, when he was all of 23, Miller Fong sketched a chair on an envelope and mailed it to his father in Hong Kong, where the family manufactured rattan and wicker furniture for its Los Angeles company, Tropi-Cal. The finished product — dubbed the Lotus chair — was all edges and improbable curves. An elegant composition of wrought iron and woven wicker, it looked as if it had been born yesterday.
Make that reborn. This year, Andy Hackman, a dealer and expert on outdoor furniture at California Living in Los Angeles, convinced Miller Fong that the moment was right to reissue the Lotus and other Tropi-Cal designs, this time with stainless steel frames and Hularo, an all-weather synthetic wicker.
Tropi-California, shorthand for the tropical California style of home décor, is finally receiving its due as a made-in-L.A. design genre as distinctive as Hollywood Glam. The look, however, has been with us ever since turn-of-the-century Californians outfitted sleeping porches with wicker furniture, and the style has evolved alongside the century's major design movements, from Arts and Crafts to Millennium Modern.
The current incarnation — a blend of worldly inspirations that includes Asian minimalism, South Seas handicrafts and streamlined L.A. casual — is fast becoming a national trend. From bamboo floors to sea-grass rugs, formal dining chairs wrapped in woven banana bark to throw pillows studded with coconut beads, the most visible manifestation is in the furniture and accessories industry. Whether it exudes the retro funkiness of a surf shack or has the sleek silhouettes of L.A. designer Barbara Barry's dark rattan line for McGuire, it is high-style, low-maintenance furniture that says, "Kick back and smell the jasmine."
Doubt it? Look around you. The exuberant 1941 banana leaf print used by couturier-decorator Don Loper on the walls of the Beverly Hills Hotel is now available as wallpaper and upholstery fabric from https://www.martiniquewallpaper .com. The current issues of House Beautiful and Travel + Leisure feature valentines to the California cabana. The cover of the June Sunset magazine trumpets instructions on creating a tropical look "no matter where you live." The advertising industry has gone similarly bananas. Gucci's ready-to-wear campaigns are shot in tropical settings regardless of the season. Even the current Corona billboards on Sunset Boulevard show a glistening beer bottle casting a giant shadow shaped like a royal palm.
The appeal of Tropi-California is more than emotional. "It's not just the mythical, romantic idea of living in a island paradise," Hackman says. "What people embrace is that sense of casualness and lightness that defines Los Angeles. Stressed-out two-income families love to have a little California in their lives."
Now they can. Namesake lifestyle brands like Tommy Bahama and Cabana Joe are volcano-hot. For the latter, a line of furniture developed by Joe O'Brien in his Venice Beach storefront, growth has been explosive. "It's about 20% of our business," says Gary McCray of Lane-Venture, the furniture manufacturer that licensed the line in 2001. "People are now decorating from the front door to the pool," he adds. "We expect this to be a long run."
Don't call it a comeback. In Los Angeles, tropical style is not about revivals but about ongoing refinements. A consequence of our geographic, demographic and psychological makeup, Tropi-California is a lifestyle that is wedded to Los Angeles. It is design philosophy that is so innate to Southern California that it has become trend-resistant, morphing with the times and co-existing with whatever décor fad washes ashore. Although contemporary Tropi-California has recognizable signatures — an informal mix of decorative genres, citrus colors, organic shapes and woven surfaces — the look is as individual as the people who take it home.
Landscape architect and interior decorator Judy Marchyn embodies the Tropi-California spirit with striking use of color. Transforming a post-war L-shaped ranch into a personal Eden, she combined vibrant ruby grapefruit walls with lemon yellow trim on the oversized crown moldings. Outside, Marchyn painted the exterior of her Venice home "the color of the wild green parrots that roost in my yard." To cut the strong sunlight from the southern exposure on a small patio, she fabricated draperies out of black plastic window screen mesh, adding a contemporary woven element to the outdoor room. Marchyn curls up with a book under a palm-frond ceiling fan on a daybed of her own design, she says, "as often as I can."
Marchyn's retreat is not the only way to achieve an exalted aloha state. As Jimmy Buffett, Tommy Bahama and the latter day Beach Boys have proved, many Americans gravitate to the more traditional form of Tropi-California.
"I think there's a huge number of people that are like, 'Hey, I'm in Iowa, but you know what? I want to live like I live at the beach!' " "Cabana Joe" O'Brien explains. "And what's the first thing you would do? You surround yourself with bamboo and rattan furniture and surfboard lamps."
That is exactly what O'Brien has done. Lounging in his rattan version of a 1940s club chair in the décor-by-Moondoggie apartment in Beverly Hills where he designs his lines, O'Brien, 41, looks every inch the successful surf bum in a Hawaiian shirt and bare feet. He grew up riding waves in Florida until he moved to Los Angeles in his early 20s (to act, naturally). When that wiped out, he learned to be an upholsterer and practiced interior design, working with high-profile Hollywood types who wanted the "Ralph Lauren English antique thing."
"I've always lived like this," he says, pointing to a dining room tented in striped raw silk with an gate-leg table from his line, done in wicker. "I always had bamboo and rattan furniture and surfboards hanging around. I thought I was an odd duck because I didn't desire a strong, contemporary, minimalist look or a traditional English country look. I wanted furniture that made you feel like you were on a vacation."
In 1995 he opened an antiques store on Abbot Kinney Boulevard in Venice; it soon became Cabana Joe's, an outlet for his true calling. "I would surf and then I would go to flea markets and then I'd go into that store and sit around in my shorts and sell the lifestyle." Within five years, the man became a brand, with licensing agreements to design lamps, rugs and ceiling fans as well as plans to develop tableware and clothing.
"Say 'tropical' and you think palm trees and pineapples, big prints," says O'Brien, who tends to eschew such obvious effects. "Yes, this is a pineapple," he continues, picking up a print pillow of his design, "but this is made from $300-a-yard Asian silk by Scalamandré."As a design ideal, Tropi-California is for every budget. At the high end, there are furniture collections by such esteemed designers as San Francisco-based Orlando Diaz-Azcuy, who reinterprets neoclassical designs in tropical materials, and San Diego's Kreiss Collection, which decorates rattan and cane dressers with lion-head pulls.
For the cost-conscious, Pier 1 Imports mounts woven seats on midcentury hairpin-shaped metal legs for less than $100. Shoppers at Target can get give their tabletops a low-cost Hawaiian punch — glasses from $1.49 — from a line of melamine goods called Aloha Summer.
Those who crave a piece of history should brace themselves for sticker shock. California Living's reissue of Tropi-Cal founder Danny Ho Fong's classic Wave chaise, which is in the collection of the Museum of Modern Art, is tagged at $1,600. The new version of the Lotus chair by Fong's son Miller, featured in the prestigious 1968 California Design exhibition at the Pasadena Museum of Art, is a cool $3,000. Vintage tropical furniture from the postwar era is also skyrocketing in price. "Back then, you could buy a whole roomful of rattan — a three-stranded pretzel-arm couch and two chairs, a couple of end tables and a coffee table with upholstery — for $229," says Harvey Schwartz, author of "Rattan" (Schiffer). "Today, you'd be lucky to find one piece at that price."
For collectors, rattan is a religion. The holy grail? A piece by Paul Frankl, the architect of the Skyscraper style, a subgenre of Art Deco, who was known for dramatically over-scaled rattan furniture. Few documented examples of Frankl's work exist, though his style was widely imitated and many copies can still be found in vintage stores or EBay, largely because rattan is so durable.
As organic materials go, there aren't many as pliable as this member of the palm family, which can grow to 500 feet tall and thus be formed into continuous, seamless shapes. "Even if it's a massive piece of furniture, there's a lightness to it that nothing else can match," says Miller Fong. "It has a persona of lightness and elegance that is automatic, and this airiness that is the essence of California."
Although bentwood, woven willow and bamboo achieved great popularity in Victorian furniture, the thick-poled rattan pieces that first defined the tropical style associated with California did not begin to appear until the early part of the 20th century. Designers were instantly smitten with the material, which offered an easy and inexpensive solution for forming angular Art Deco shapes and the swooping curves of Streamline Moderne.
After the 1934 opening of Don the Beachcomber, the first Tiki restaurant in Hollywood, Los Angeles was swept up in a tropical current. The phenomenon was reflected throughout pop culture — in Dorothy Lamour's jungle princess sarongs and the Andrews Sisters' Trinidad songs, including "Rum and Coca-Cola" — building to a crescendo in the 1950s, when Americans lined walls with sea grass and furnished "Florida" or "California" rooms in rattan with boldly patterned upholstery.
To meet the demand, U.S. manufacturers pumped out progressively cheaper and simpler rattan pieces, often with plastic trim and Formica tabletops. By the late '50s, America tired of rattan, though the outdoor furniture industry continued to thrive in Los Angeles.
"This was the world center for outdoor furniture design and production from 1947 to '67," says Hackman, noting that many companies that had been building aircraft components for the war retooled to make metal furniture.
In the late '50s and early '60s, Danish, German and Japanese designers crafted organic wicker shapes including hanging egg chairs and mushroom ottomans. Artisans like the Fongs equaled those innovations, adapting the optimism of postwar design to rattan.
"Their designs could be austere and sculptural, but they added to the landscape a spirit of lightheartedness and a lot of personality," says Hackman, who contends that it could only have come to fruition in Los Angeles. "Southern California has its own vernacular, one steeped in openness and progressiveness, and that manifests itself in architecture and design."
Even during the dark days of tropical style in the '70s, when Lucite and fiberglass ruled, some Angelenos carried the tiki torch. "I got into rattan originally because I could walk into a house and carry it all out by myself," says Harvey Schwartz, who maintained a tropical emporium on Melrose Avenue, where Barbra Streisand shopped for her Malibu guesthouse. When "The Golden Girls" hit the air in the '80s, it was Schwartz who provided the fan-arm prewar chairs they sat in, sparking another short nationwide revival.
By the '90s, the Tropi-California look had become drunk on a strange cocktail of influences. The Sunset Marquis Hotel mixed floral upholstery with classical French furniture, and a new generation of lounge music fans, hopped up on Yma Sumac records and Bettie Page pinups, embraced the rum-soaked allure of tropical kitsch. By the end of the decade, with Morocco, Thailand and Bali emerging as travel destinations and Eastern mysticism on the rise, new flavors joined the Tropi-California mix.
Adam Isaacs, an agent at UTA, is an exponent of Tropi-California Zen. When he first set foot in the Cliff May Spanish condominium in Century City where he now lives, the New York native immediately felt at home. "I'd always wanted something that felt like a loft," he says of the 4,000-square-foot space he shares with four Abyssinian cats. "The day that I walked into this place, I said this is where all my stuff needs to live."
He had an ever-expanding collection of stuff, especially hand-wrought primitive teak furniture acquired on trips to Bali and through custom orders from L.A.'s Warisan, an importer and retailer of Indonesian furniture. And there was one more thing: a long black lacquer sculpture-sofa by Zaha Hadid, winner of this year's Pritzker Architecture Prize. Isaacs discovered the work at one of his favorite haunts in New York.
"I worship at the altar of Donna Karan," he admits. "I saw it in the store and fell in love with it and kind of got the apartment for the couch."
Isaacs painted the apartment's Mexican pavers white, creating a stage for the Hadid sofa and a collection of cymbal-like brass sculptures by the jeweler Robert Lee Morris. "I love it when you can have something black and contemporary juxtaposed with something teak that is raw and you can feel the artisan hand on it," he says of the mix, which extends to balconies furnished with Balinese benches and lush foliage.
For Isaacs, it isn't just a matter of style to be more Baliwood than Hollywood, it's a necessity. "The only escape we have from the world we live in every day is creating a home that feels so completely removed," Isaacs says. But Tropi-California isn't just about constructing your own palm-lined paradise; it's a design for living that is simultaneously exotic and familiar. The neo-primitive philosophy Isaacs embraces today — the mix of tropical and modern — is part of the continuum of Tropi-California. It is one that reaches back a century and will probably reach into another, always reinventing itself and, as Los Angeles tradition demands, always embracing the new.
---
A century under the palms
Tropi-California décor has evolved from exotic to kitsch to the essence of contemporary casual. The highlights of 100 years of a homegrown style:
1904-19: East Coast emigres find their Victorian parlor wicker (once paired with potted palms in the solarium) to be lightweight and durable enough to use in and out of doors, as the climate of California encouraged.
1920-29: Sica, a thin round vine also known as stick rattan, is introduced into such furniture as casual angular armchairs with built-in magazine slots by companies such as Heywood-Wakefield, below. In Europe, Mies van der Rohe designs modernist tubular metal chairs with wicker seats.
1930-39: Inspired by Filipino craftsmen who bend thick rattan rods into organic shapes, American designers twist the pliable but weather resistant material into fanciful Deco and Streamline shapes. As a decorative accent, rattan, cane and sea grass are often mixed with Philippine mahogany. Ernest Beaumont-Gantt opens Don the Beachcomber, the big kahuna of Tiki restaurants.
1940-48: Rattan is the most prevalent furniture among American servicemen stationed in the Pacific. As imports grow, manufacturers such as Tropical Sun Rattan in Pasadena, above, and Ritts Co. in Los Angeles spring up. Furniture designer Paul Frankl's pretzel-shaped armchair becomes an icon of the era. Rattan with loud floral upholstery becomes popular for porches and rec rooms across the country.
1949-52: Architect Paul Williams builds a new wing at the Beverly Hills Hotel. The Martinique banana-leaf print wallpaper selected by decorator Don Loper defines the postwar tropical look in Los Angeles. The hotel's lunch counter, right, looks the same today. In 1952, Danny Ho Fong opens Tropi-Cal in Los Angeles.
1953-58: In the years before Hawaii became the 49th state, the look of Hawaii and Polynesia become popularized in "From Here to Eternity" (1953) and "South Pacific" (1958). Trader Vic's becomes a national chain, opening an outpost in the Beverly Hilton that still stands. As U.S. manufacturers cut corners, rattan starts to look ratty and is soon surpassed in popularity by plywood and molded fiberglass modern furniture.
1959-65: "Gidget" and its sequel "Gidget Goes Hawaiian" are released and Elvis goes to the islands in "Blue Hawaii," launching the surf craze in America and the beach movie genre around the world.
1966-70: Woven furniture is reinvented with sleek designs from Scandinavia and Japan. During this era, the often-imitated 1959 hanging egg chair, left, by Nanna and Jorgen Ditzel becomes a symbol of the swinging '60s.
1971-79: Interest in Art Deco and Victoriana keeps classic rattan and wicker out of dumpsters, but the tropical look falls into dormancy.
1980-89: The sun-soaked style catches a new wave of popularity with set-in-Florida TV shows such as "Miami Vice" and "The Golden Girls." Prewar rattan classics like fan-arm chairs, below, used on the set of the latter become highly collectible.
1990-95: The Sunset Marquis Hotel and Villas in West Hollywood, above, reinterprets Tropi-California in rooms decorated with floral prints on European furniture. The lounge music revival leads to a new appreciation of midcentury tiki kitsch. Former decorator Joe O'Brien opens the surf-centric Cabana Joe's in Venice.
1996-99: As Buddhism becomes hip, Asian influences join Moroccan accents in Tropi-California design. Warisan, a Balinese antique emporium and design firm, opens a retail shop on Beverly Boulevard in Los Angeles. Schiffer publishes "Rattan: Tropical Comfort Throughout the House."
2000-04: Orange County artist Shag mixes Polynesian imagery with midcentury furniture for gallery paintings and commercial illustrations. The tiki torch ceremony becomes must-see TV on "Survivor." The 50-year-old rattan firm McGuire releases a collection by designer Barbara Barry. Tommy Bahama and Cabana Joe's become household names. National Geographic licenses its name for tropical furniture by Palecek like the Serengeti chair, above.
---