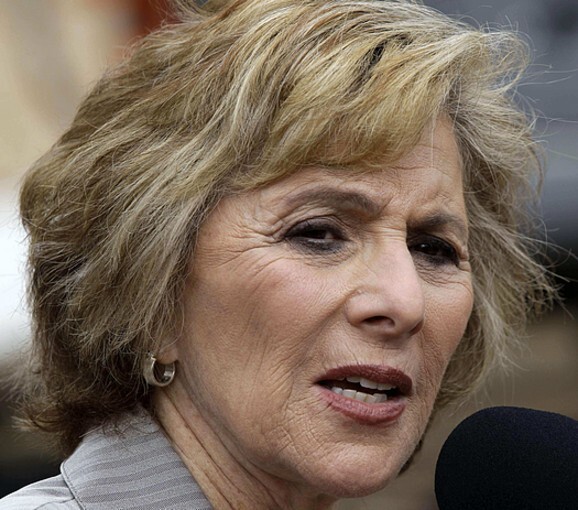 16 Images
PHOTOS: Hairstyles of the halls of power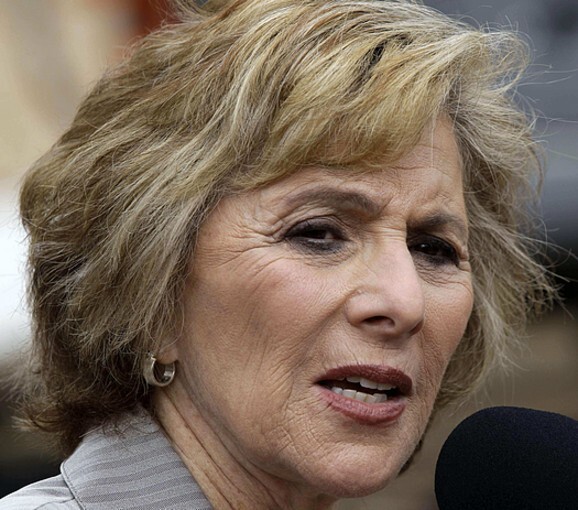 Recently,
California
Republican
U.S. Senate
nominee
Carly Fiorina
was
caught on tape
mocking rival
Barbara Boxer
's hairstyle, calling it "so yesterday." We don't think Babs should fret too much, though. As you can see from this gallery, not every politician or family member's hairstyles have been hits.
(Marcio Jose Sanchez / Associated Press)
The former Alaska governor's bangs and high-rise back bump, which could be an ad for the
Bumpits infomercial
, are fitting for the former beauty queen and have inspired countless how-to online articles and videos. But could this look be harder to maintain than we thought? Rumors have swirled that Palin
might actually be wearing a wig
.
(Ethan Miller / Getty Images)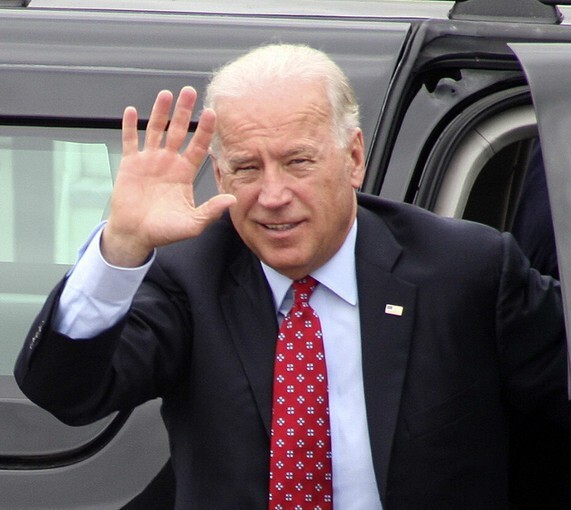 The vice president has been chided for a lot of things, not the least of which is his comb-over helmet head that may or may not have been due to a
hair transplant
. During the 2008 election, Politico
concluded
that Biden "received a hair transplant, where follicles from the bushier back of the head are grafted onto fading spots closer to the front of the dome," but said speculation about Amtrak Joe's
hair
was nothing new -- pointing to a 1987
Washington Post
item in which the senator refused to answer if he'd had the procedure done.
(Sayyid Azim / Associated Press)
Like Hillary Clinton before her, the current first lady's 'do has gone through several ups and downs as she finds her fit in
Washington
. Remember the redesigned bob she sported, above, at a country music celebration at the
White House
in July 2009? Times Fashion Critic Booth Moore got some flack for
describing it as "matronly."
In fact, Obama's hairstyle changes so much that
New York
magazine's The Cut blog
created a photo gallery
documenting its progress.
(Matthew Cavanaugh / Pool / Getty Images)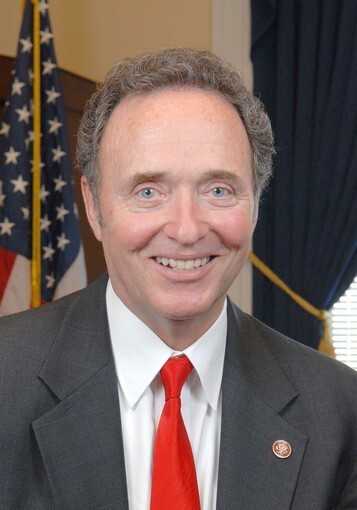 During the 1998 California gubernatorial race, stylist-to-the-political and Hollywood stars Joe Gonzalez of Eddie Carroll's hair salon
described
the then-candidate's curly, yet receding hairline as "a major problem" while lavishing praise on opponent Gray Davis' mop. This shouldn't be too much of a surprise; Davis was also a Gonzalez client.
(Rep. Lungren website)
The Times
once described
the former
Ohio
senator's coif as a ''Planet of the Apes" sort of hair helmet that looks like a toupee but isn't, comes to a point on top and is widely considered the most unusual hair in all of Congress And get this: His wife is a hairdresser.
(Mark Duncan / Associated Press)
Before they were running mates in the 1996 presidential election, Bob Dole cracked that "Kemp [
who died in 2009
] wants a business deduction for hair spray." (Kemp responded: "In a recent fire, Bob Dole's library burned down. Both books were lost. And he hadn't even finished coloring one of them.")
(Associated Press)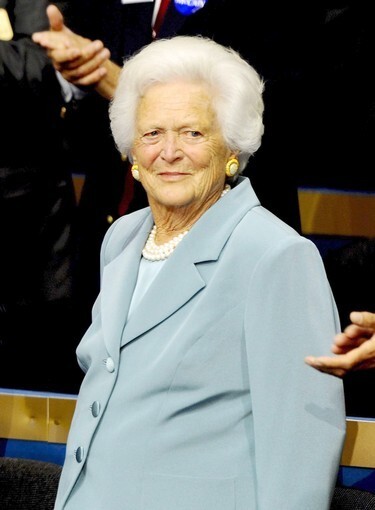 It is said that the Silver Fox never dyes her hair.
(Larry W. Smith / EPA)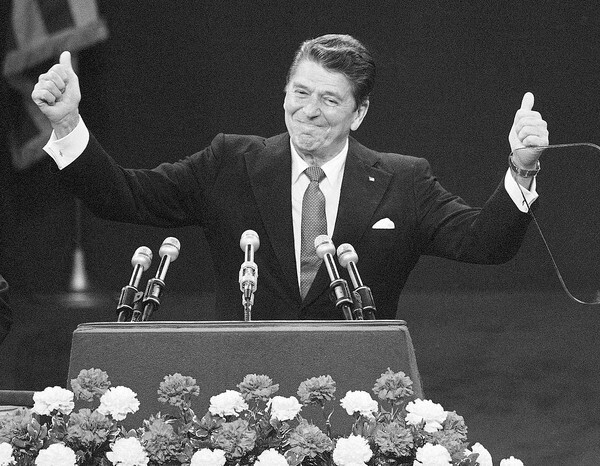 The Gipper's hairstyle didn't change much through his rise from actor to politico, but there has been some debate as to how it maintained that sheen -- Reagan
often said
that he didn't dye out the gray of his full mane, however Kitty Kelley's
Nancy Reagan
bio
says
he'd been hitting the bottle since 1968.
(Rusty Kennedy / Associated Press)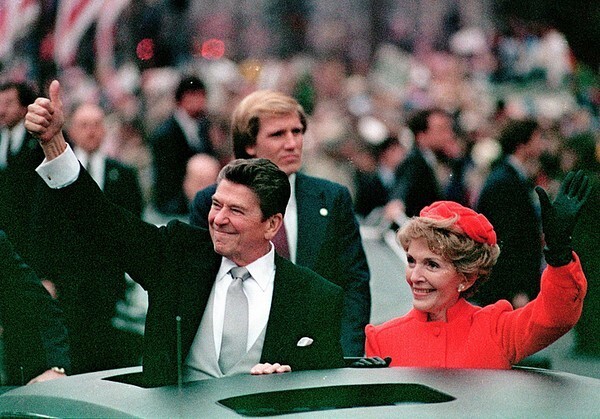 The
San Francisco
Chronicle's Cynthia Robins wrote that although the former actress' hair got redder through the years, it "always looked somewhat the same, i.e. it was middling short, face-framing and designed to highlight her delicate bone structure and expressive eyes. Her look was Polished Country Club Wife."
(Associated Press)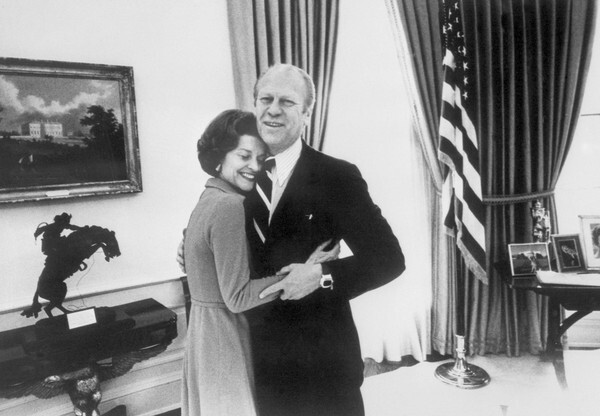 Mr. Blackwell
, he of the famed "Worst Dressed" list, wrote of Mrs. Ford in
Orange Coast Magazine
that "her wardrobe was merely an extension of Pat Nixon's more mix and match suits and Le Cirque coiffures, teased and lacquered to Army-helmet strength."
(STR / AFP / Getty Images)
Jack's iconic side-swept bangs obviously ran in the family. They've also earned a reference in
a barbershop in Cambodia
.
(Associated Press)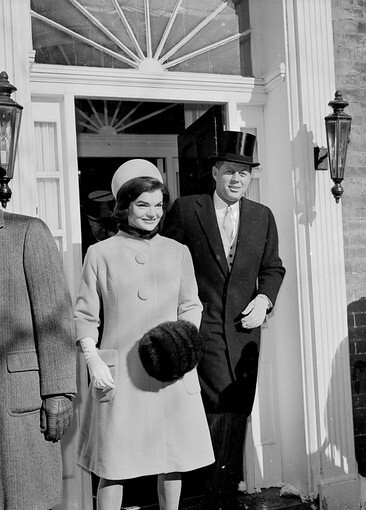 Meanwhile, Mrs. Kennedy's bubble cut 'do was such a sign of the times that there was even a
Bubble Cut Barbie
.
(Associated Press)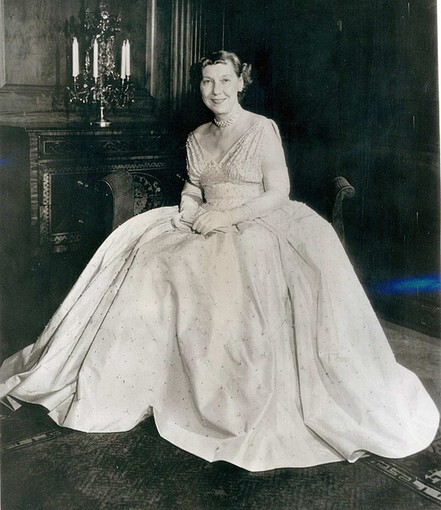 Sure, they look a little dowdy and old-fashioned today, but the short, curled bangs on Ike's pretty-in-pink housewife were said to become the must-have look of that era.
(Associated Press)