12 Images
Music to My Eyes
Jeff Ayeroff: "I think, up to that point, the Breakfast in America campaign for Supertramp was the best thing we'd done at A&M. This is the menu we put in Billboard, which came from asking ourselves, What can we do to promote the album instead of a billboard? Now you have this piece of Americana for a prototypical English band. I had an unreleased poster (left)—the band thought 'Libby' the waitress was too scary, but art director Mick Haggerty loved it. After that, Mick and I hit it off."
()
Jeff Ayeroff: "New Wave was happening, but our head of promotions had his head in the toilet, so we did this No Wave sampler to convince our promotion department of the viability of this style of music. It was the first time the Police and Squeeze were on a record (in
the U.S.
). Out of our new-wave adventure comes the best line of vinyl-music toys in history—including Police picture badges and the pièce de résistance: the Mick Haggerty–designed laser-engraved Split Enz album."
()
Jeff Ayeroff: "We had to shoot the Police for
Synchronicity
. At the time, Andy, Stewart and
Sting
were not speaking to one another, so I proposed we shoot them separately. You'll notice on the album cover they are never pictured together. For Sting, we got permission to shoot inside the
Museum of Natural History
in
New York
. So we went in the middle of the night, and there was literally one guard in the whole place (like in the
Ben Stiller
movie
Night at the Museum
). We had free rein. We started taking pics, and Sting spontaneously ended up crawling inside the belly of this dinosaur skeleton. That's why I just love this photo."
()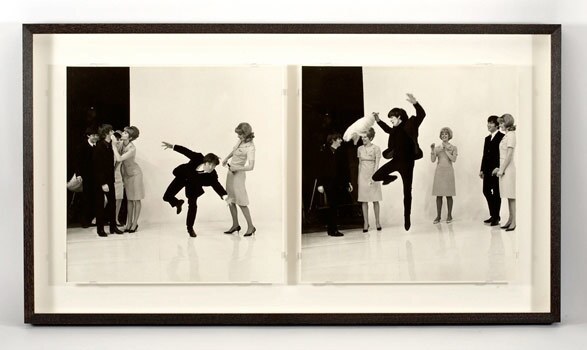 Jeff Ayeroff: "Walter Shenson was the original producer of
A Hard Day's Night
with the Beatles, and he hired me to work on a poster for the rerelease. I noticed Walter had in his possession a five-inch-thick gray binder with the original negatives from the film's publicity shoot by Robert Freeman. I was paid $1,500 and spent it all on making unique prints from this book—and they have been in my office ever since. It was a good way to indulge my fetish with the Beatles, whom I love."
()
Jeff Ayeroff: "This album was never released. And
Think Too Much
was really an appropriate way of describing the situation. Simon & Garfunkel had this blowup, and Paul decided, 'This is my album.' The image of Art and Paul was shot off a monitor at a
New York
subway station. If you take a good look at the cover, you can see Paul's wearing the same outfit as on
Hearts and Bones
. We basically used the same images and called it a day."
()
Jeff Ayeroff: "I found myself at Danceteria in
New York
and saw an artist named
Madonna
perform—and I immediately knew what my next 'project' was going to be. We sold millions on her debut and then went to
Venice
to shoot the video for 'Like a Virgin.' I was the one in the canals telling Madonna to duck every time a bridge approached. Then for the Madonna
Billboard
ad, I figured out that if you ran an ad on the back of a magazine upside down, you then had the front cover of the magazine!"
()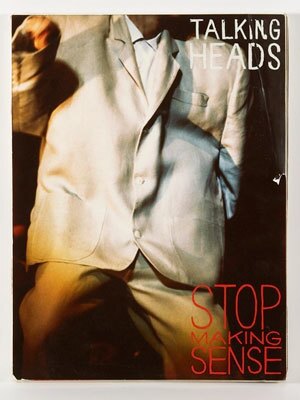 Jeff Ayeroff: "This is the first mock—literally a cut-and-paste job—for the limited-edition album cover
Stop Making Sense
by the Talking Heads.
David Byrne
designed a show in the big suit that was f--king genius.
Jonathan Demme
, of course, made a brilliant film—one of the great watersheds of visual imagery in rock. To me,
Stop Making Sense
and Scorsese's
The Last Waltz
are hands down the two best rock movies ever made."
()
Jeff Ayeroff: "
Paul Simon
had just spent two years working with African musicians crafting his soon-to-be Grammy-winning
Graceland
. He said he was interested in the Christian Coptic art he saw there. After looking through five stacks of books, I found this piece that had a nativity to it, a Don Quixote–type figure that conveyed the idea of a journey, which was what Paul went on. So I scrawled a note that this would make a great album cover, and Paul went, 'Yep, that's it. We're done.' A couple of years ago, he sent this book back to me with a note saying, 'I thought you should have this.' "
()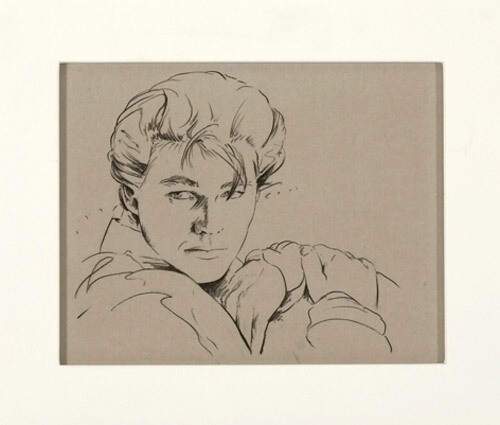 Jeff Ayeroff: "I went to England to see a-ha and the lead singer was, like, the best-looking guy I'd ever seen. So for their single 'Take on Me,' we had to first introduce him to an American audience, because if they saw him drawn, they'd go, No one looks like that. Of course, when the guy comes alive it's, like, F--k! Someone looks like that! Michael Patterson did a brilliant job on animation—it's one of the top 10 videos of all time."
()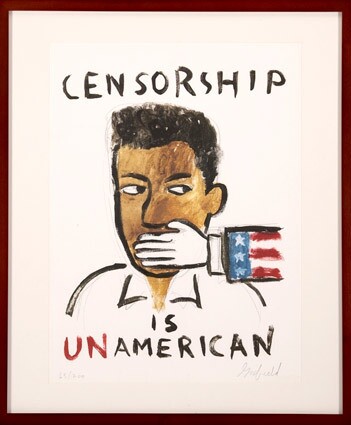 Jeff Ayeroff: "During my time at Warner Bros., we were coerced by political forces to put parental-warning stickers on our records despite my protestations—this made me crazy. I got up one morning in 1989 and said to my wife, 'What if we did something called Rock the Vote?' So we got all the top art directors and video directors and advertising guys in our business together and had a summit.
Frank Zappa
was there.
Jerry Brown
was there—everyone who cared. From this single meeting we started Rock the Vote. This is a piece I like designed by a guy named Josh Gosfield. Mick Haggerty designed the logo."
()
Jeff Ayeroff: "I worked with
Miles Davis
on
Tutu
.
Irving Penn
shot the iconic cover—we won a Grammy. But it wasn't easy. I always got nervous around Miles. Once, I asked him to do something, and he went, 'Jeff, can't you control yourself? Shut up.' We had this neurotic relationship with him giving me s--t, wanting to screw my secretary. He tormented me so much I got in his face and said, 'Do you think I'm going to do a s--tty cover for Miles Davis? Just cool out.' After that he was my friend. One day, I went to his apartment. He answered the door in his pajamas, and he gave me this painting."
()
Jeff Ayeroff: "I got a call asking if I wanted to sign
Keith Richards
. I said, 'Are you kidding? In a second I would sign Keith Richards.' So we went to
New York
, and I had dinner with Keith, where he ordered rare liver—I've never seen anybody do that. That was the trippiest thing I had ever seen. These are photos of me fixing his hair during the middle of a video shoot for his album
Talk Is Cheap
. Signing Keith was one of the coolest things I'd ever done—and still is."
()