Puerto Ricans fleeing storm's devastation find refuge with family in Chicago area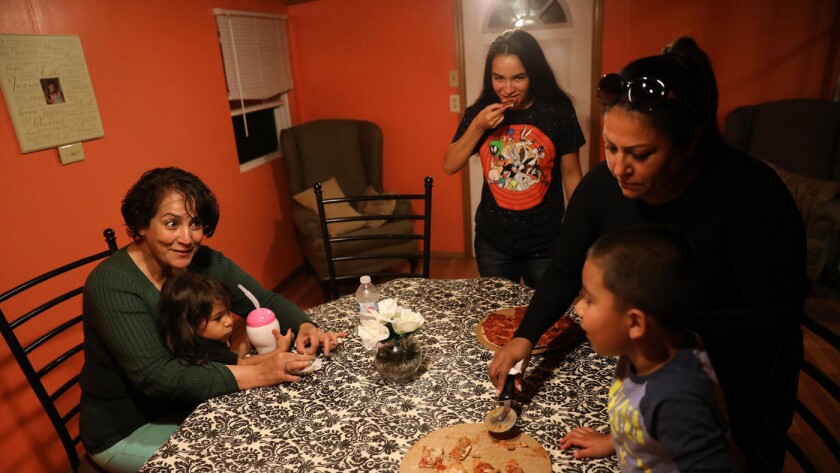 Reporting from CHICAGO —
With only one piece of luggage, Gloria Lopez left her home in Aguas Buenas, Puerto Rico, to seek refuge with her daughter in the Chicago area.
Lopez, who has lived in Puerto Rico for the last nine years, said she will eventually return but is uncertain when it will be safe to do so after Hurricane Maria devastated the island.
"We could come back in six months, maybe a year, but we'll be here until Puerto Rico gets back on its feet," she said Wednesday as she stood near a baggage claim entrance at O'Hare International Airport waiting for her daughter to pick her up.
The Category 4 storm took out the island's electricity grid and damaged homes, businesses and roads. Puerto Rico's Gov. Ricardo Rossello recently said the damage is so extensive that it could halt the economy for at least a month.
In Chicago, home to more than 100,000 Puerto Ricans, some residents are still struggling to get in touch with relatives. Others, who have scrambled to get family members on one-way flights to Chicago, face the uncertainty of helping them through long-term recovery. Some of the evacuees may stay indefinitely. Such scenes are playing out in other areas with strong ties to the island, such as Florida, Connecticut and New York.
Nilda Flores-Gonzalez, an associate professor at the University of Illinois at Chicago, said her 83-year-old mother, Eva Gonzalez, and brother, Erving Flores, rode out the storm in Gonzalez's apartment in Isla Verde, just outside San Juan.
As the situation deteriorated, Flores-Gonzalez said she realized how lucky her family was that she had the means to get them out.
"I was able to buy a ticket, I was able to call the airline," Flores-Gonzalez said. "I'm aware of people who have not been able to do that because they might not have family here and might not have the resources."
They will live with her in Oak Park for a couple of weeks until they are able to travel to Texas and Arizona to stay with other relatives with more spacious homes.
After enduring a long recession, Puerto Rico was already seeing an increase in the number of people leaving the island for the U.S. mainland, according to a 2015 Pew Research Center analysis of Census Bureau data. At the same time, the number of people moving to Puerto Rico was declining.
But this migration to the mainland may serve as a buffer for some families as relatives in the States could provide assistance to those rebuilding in Puerto Rico, said Maria de Los Angeles Torres, a professor at the University of Illinois at Chicago.
Others fear losing more people, especially a large number of professionals, hindering rebuilding efforts.
"Professionals are on better ground to leave, they can more easily find employment, they probably have family who have resources," Flores-Gonzalez said.
Omar Torres-Kortright, executive director of the Segundo Ruiz Belvis Cultural Center in Chicago, bought tickets for his parents, who are in their 60s, as soon as he could. He and his brother, who lives in Florida, figured their parents had a better chance of getting out if they flew to Fort Lauderdale. On Thursday, they were flying from Florida to Chicago, where they will stay with Torres-Kortright.
He said it's unclear how long they will stay.
Passengers who trickled into Chicago last week say they had to camp out in lines for hours to catch one of the limited flights to the mainland. But the earliest Diana Quinones Rivera, 39, of Chicago's Avondale neighborhood, could find a flight for her relatives was Wednesday.
It took a week for Quinones Rivera to get in touch with family who live in the small mountain town of Utuado. With limited access to cell service, she was elated to hear from her brother through voicemails on the messaging app WhatsApp. But it also left her deeply concerned about the dire need for aid.
"They're running out of food," Quinones Rivera said. "They don't have water or electricity, ice and water."
Quinones Rivera made calls to a private helicopter company in an attempt to quickly move her family to the mainland. But she was seeking passage for 11 relatives, and there was room for only a limited number of people. To complicate matters further, her mother and father still hadn't found her sister.
"My idea was to bring them here," she said. "My brother, his partner has family in the suburbs here, but [the partner] doesn't think she wants to move, because of the cold weather. But I don't think they have many options. They have two kids, and, soon, they will have no food."
With estimates on restoring power on the island pegged at several months, she hoped other relatives in the Chicago area would be able to take her family members in for as long as they need.
After hearing about Quinones Rivera's frantic scramble to accommodate family members, however, friends offered to take in some of them. "I broke down when they let me know," Quinones Rivera said. "That was such great generosity."
While some residents are making arrangements to bring their families to Chicago, Marisol Vergara is still trying to persuade her mother and sister to come for at least a couple of months. Her 78-year-old mother, Lydia Cordero, has a brain tumor, and Vergara and other relatives didn't learn until after the hurricane that her mother had been preparing for a surgery.
Her mother, who worked at Chicago Public Schools before retiring in Puerto Rico, wants to come to Chicago but fears looters will destroy her home and her daughter's home.
"She's very scared," Vergara said. "My mom is a strong woman and to hear her crumble like this, I know she is going through some really devastating, some hard times."
Vergara's relatives in the Chicago area have been busy researching doctors Cordero could see if she comes. Watching the events unfold from her Edgebrook home has been frustrating as Vergara tries to find a way to help.
Vergara is used to being a problem solver. Whether at work or at home, "if there's a problem, I say let me roll up my sleeves — how can we make this work," she said. "I can't do that with this. I can't fix this."
Malagon and Briscoe write for the Chicago Tribune.
---