U.S, rider Kyle Bennett (rear) crashes in a quarterfinal heat.
(OLIVER WEIKEN, EPA)
Denmark's Hans Ottar Lindberg lays down injured during the men's handball preliminary group B match Germany vs. Denmark on
August
18, 2008 in Beijing, as part of the 2008
Beijing Olympic Games
.
(AFP/Getty Images photo by Joe Klamar)
Volunteers assist Thomas Boeuwer of the Netherlands after he was injured in a 2008
Beijing Olympic Games
men's field hockey match against Great Britain in Beijing on
August
13, 2008. Former champions the Netherlands joined Australia at the top of the pool with a hard-fought 1-0 win over Britain, Taeke Taekema scoring the winner seven minutes before the final whistle.
(AFP/Getty Images photo by Aamir Qureshi)
Blood covers the mouth of Italy's Robert Acquafresca after he was injured during their first round group D men's football match against Cameroon at the Tianjin Olympic Centre Stadium on August 13, 2008.
(AFP/Getty Images photo by Hoang Dinh Nam)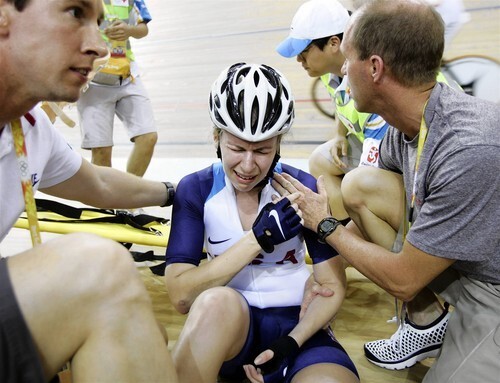 United States' Sarah Hammer grimaces in pain after crashing during the Track Cycling Women's Points Race, at the
Beijing 2008 Olympics
in Beijing, Monday, Aug. 18, 2008.
(AP photo by Ricardo Mazalan)
Huang Dongjie of China grimaces after he was injured during the
Beijing 2008 Olympic Games
preliminary group A women's handball match against France in Beijing on
August
17, 2008. China won 21-18.
(AFP/Getty Images photo by Hoang Dinh Nam)
US women's soccer player Heather O'Reilly is bowled over by Japan's Kyoko Yano early in an Olympic semifinal at Beijing's Worker's Stadium. Neither one was injured and the Americans went on to win 4-2 to advance to the gold medal game.
(Los Angeles Times photo by Robert Gauthier)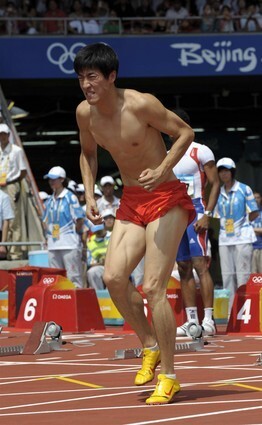 Liu Xiang, the defending Olympic gold medalist in the 110-meter hurdles, leaves the track during the first heat of his event because of an injured Achilles tendon.
(Thomas Kienzle, Associated Press)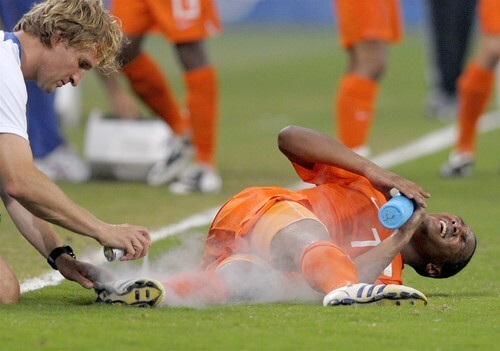 Jonathan De Guzman, of the Netherlands, suffers from an injury as he receives treatment by a team staff member during their quarter-final match against Argentina.
(LIU JIN, AFP/Getty Images)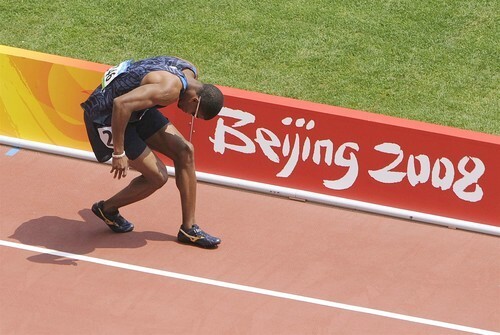 U.S. athlete Terrence Trammell fails to jump the second hurdle because of a left hamstring injury during the first round of the men's 110m hurdles.
(FABRICE COFFRINI, AFP/Getty Images)
German goalkeeper Nadine Angerer and Brazil's Daniela collide during their Group F women's soccer game.
(Ahmad Yusni, European Pressphoto Agency)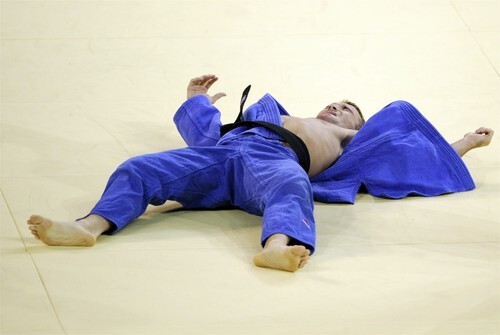 France's Benjamin Darbelet is on the floor after an injury during the men's 66-kg Greco-Roman wrestling final against Japan's Masato Uchishiba. Darbelet took the silver.
(Olivier Morin / AFP/Getty Images)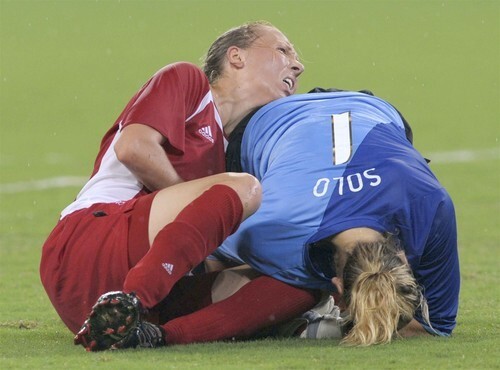 U.S. goalkeeper Hope Solo covers the ball after a collision with Canada's Brittany Timko, who was worse for the wear.
(Liu Jin / AFP/Getty Images)
Janos Baranyai of Hungary grimaces from an injury after failing a lift in the men's 77-kg group B weightlifting event.
(Jung Yeon-je / AFP/Getty Images)
Officials talk to Raggna Bjorg Ingolfsdottir of Iceland after she sustained an injury while playing against Japan's Eriko Hirose during a women's badminton match.
(Indranil Mukherjee / AFP/Getty Images)