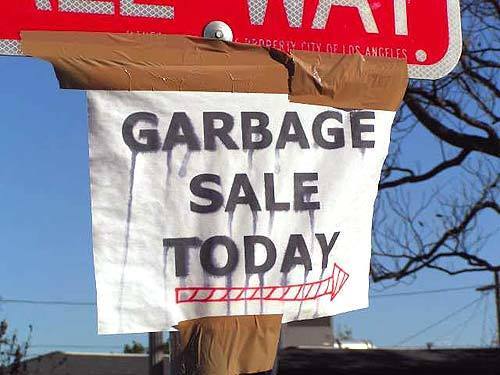 36 Images
Best of 'Only in L.A.'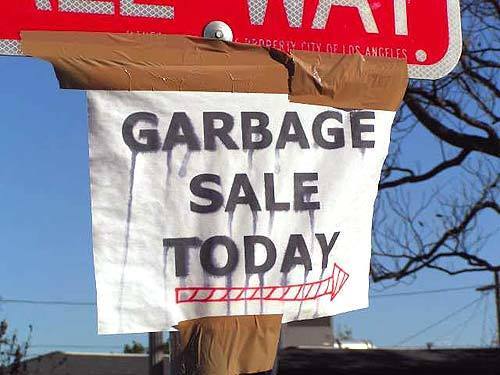 Sale
SOMETHING SMELLS ABOUT THIS EVENT:
"People will buy anything these days," Roger Beerworth observed of one West L.A. sale.
(Roger Beerworth)
Bulletproof
YOU CAN'T BE TOO SAFE THESE DAYS:
Jean Meltzer of Los Angeles discovered an ice-cream scooper with street smarts.
()
Open
WOBBLY PROJECT?
"Hope the construction workers don't take them up on it," Susan Falbo of Yorba Linda said after seeing a marquee in a strip mall.
(Susan Falbo)
Soup
SHARK SOUP?
Charlotte Fournier of Laguna Woods noticed an ad for some soup for those with daring tastes.
()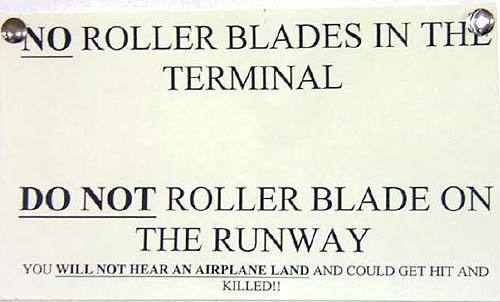 Warning
A SIGN YOU WOULDN'T SEE AT LAX:
David L. DuMond chanced upon a small airport in South Dakota that is not overwhelmed by air traffic.
(David L. DuMond)

Sitter
LIMITED EXPERIENCE OK:
Pamela Mossman of Santa Monica spotted an opening for the world's youngest baby-sitter. Good thing a car isn't a must.
()
Hole
ASPIRIN INCLUDED?
A salon experience that could be a real headache caught the eye of Karl Kime of Glendale.
()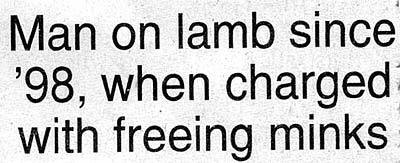 Lamb
SLOW, BUT IT KEPT HIS LEGS WARM:
Fred Barker of Burbank read about a suspect with a strange mode of transportation.
()

Never used
TO DIE FOR:
Wendy Mollett of Studio City read a for-sale ad for a mausoleum crypt with no previous occupants and, presumably, none at present.
()
We Can Help
Uh, no thanks. I can manage perfectly well by myself.
(Carl Kruse)
Just Friends
Were those 46 years at the beginning or at the end?
()
Outhouse Polling Place
Be glad you're not a poll worker in this precinct.
()
Off Limits
The highest of the high-end clubs.
()

Sex Meeting
For the kids; sake, this meeting should be behind closed doors.
()
Actual Size
Might fit victims in "Honey, I Shrunk the Kids." But who'd drive?
()
High Voltage
A very persuasive argument for modesty along the horse trail.
(Joyce Covey)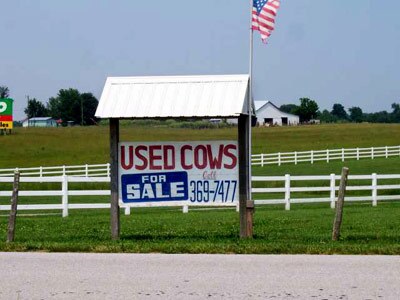 Used Cows
But would you trust a used-cow salesman?
(www.hagerty.com)
Owner Moving
So residency in this neighborhood isn't permanent?
()
Tow for two
Doesn't inspire a lot of confidence in the whole tow-truck concepts.
(Dierk Sindermann)
Slow Men
Drop a comma and you slam men's work habits or mental agility.
(Frank Liu)
Home for Sale
People who flip homes for profit have gotten pretty brazen.
()
Poison
MYSTERIOUS CARGO:
Mai Ebbets of Sylmar spotted a couple of signs on a truck that seemed to reinforce the belief that one man's meat is another man's poison.
(Mai Ebbets)
Dropdead
At last - honesty. A store that states its return policy up front.
(Fumi Kimura)
Heart attack
In the end, it really doesn't matter what it looks like. But the name does give pause.
()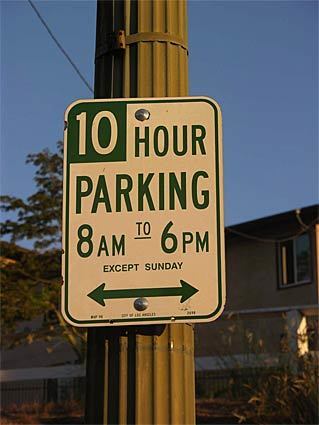 10 hour parking
A new version of unlimited parking?
(Richard Stanley)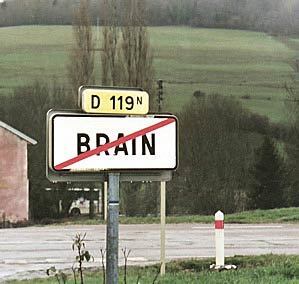 Brain ban
Town officials didn't think of all the ways this might be interpreted.
(Cheryl Jones)
Tank crossing
You're liable to get crushed if not cautious.
()
Open with caution
Only those with a strong stomach should open.
(Scott Wilson)
Go get 'em
Here's an enterprising solution to a garden pest problem.
(James Eastwood)
Caution
Beauty really does come at a price, even in nature.
(Marc Mayerson)
No orgies, please
Cross that off the list of things to do in France.
()
162
Whew! It's almost hot as Hades, or so says temp and time sign.
(Ed Carter)
No parking
A warning for drivers undeterred by a little water.
(Paul Schowalter)
True crook
The next communication will probably be from Crook's partner, Sam Swindle.
()
Unwanted mail
A fundraising letter from the Clinton Legal Expense Trust to Monica Lewinsky's father understandably struck him as moronic.
()