25 Images
California grizzly bear legacy
Wiped out: a chronicle of the decline of California's grizzly bear
ALTA CALIFORNIA:
"Roping the Bear at Santa Margarita Rancho of Juan Forster," an 1876 oil on canvas by James Walker. This and the following illustrations are reproduced from "Bear in Mind," a book about the decimation of the California grizzly, edited by Susan Snyder (Heyday Books, 2003).
()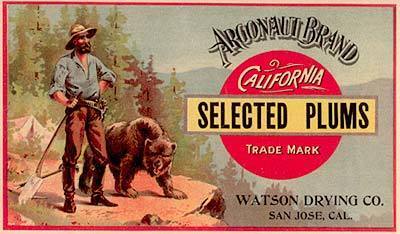 NOT A GOLDEN FLEECE
It's unclear why this undated label for Argonaut brand plums, from Watson Drying Co. in San Jose, showed a farmer flanked by a menacing grizzly.
()
NATIVE AMERICAN
A sketch of bear pictographs along the Tule River in Tulare County.
()
1816
The earliest-known portrait of a California grizzly was drawn in 1816 by Ludovik Choris, who was on the Russian ship Rurik when it visited San Francisco. This small female was brought aboard by hunters.
()
FESTIVE
A dancing bear marks California's "semi-centennial" in an 1896 poster.
()
COMPANIONS
Mountain man Grizzly Adams with Ben Franklin, his tamed bear (1860).
()
ENOUGH SAID
A clipping from the Los Angeles Times, Jan. 8, 1908.
()
SWIMMERS
Sacramento Delta's Grizzly Island is named for its summer visitors.
()
WILD
An 1853 French children's book shows its young heroes vanquishing a grizzly.
()
NO ESCAPE
"A Grizzly's Sly Little Joke" from "True Bear Stories," published in 1900.
()
The bear tamer
Cover of Beadle's Boy's Library, vol. 11:23 (New York: M.J. Ivers & Co., 1899).
()
First bear flag
Photograph of the First Bear Flag,1890, from Pictorial History of California (Berkeley: University of California Extension Division, 1925).
()
My first Grizzly
"My First Grizzly" from True Bear Stories by Joaquin Miller (Chicago and New York: Rand McNally, 1900).
()
Chewing gum
Primley's Chewing Gum Advertisement from Harper's Weekley Magazine (New York), vol. 38., 1894.
()
tk
"Who Said Fight?" from California's Grizzlies: 144th Field Artillery by H.C. Freeman (San Francisco: Printed for the 144th Field Artillery, 1918).
()
Strawberries
Bear Brand Strawberries Label.
()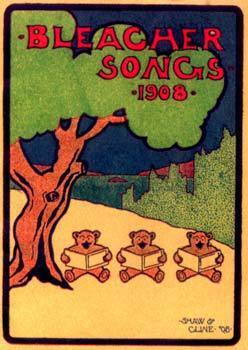 bleacher songs
Bleacher Songs includes the 1902 football song "Old Grizzly" by E.M. Wright (1902), which dares Stanford University players to "tackle our old 'grizzly' who will squeeze them on and all." Illustration from A Collection of California Bleacher Songs and Yells by the U.C. Berkeley Associated Students Rally Committee (Berkeley: Wetzel Bros. Printers, 1908).
()
Football game program
"The Big Game," University of California, Berkeley vs. Stanford University. Souvenir football game program, 1920.
()
The Historie from The Historie Foure-Footed Beastes
Ilustration from the The Historie from The Historie Foure-Footed Beastes: Describing the True and Lively Figure of Every Beast...(London: Printed by William Jaggard, 1607).
()
"Ours Brun-Ursus Arctos"
"Ours Brun-Ursus Arctos" from Voyage autour du Monde sur la Fregate la Venus, pendant les annees 1836-1839 (Paris: Gide, 1840-1855).
()
Mose in California
"Mose in California: Set To With a Bear." Hand-colored lithograph on paper, 1849.
()
"Ursus Arctos"
"Ursus Arctos" from Nova Actas Leopoldina, vol. 26: 1,1856 (Leipzig: J.A. Barth, Kaiserlich-Leopoldinishch-Carolinische Deutsche Akademie der Naturforscher).
()
Young Wild West's Hunt in the Hills
"Young Wild West's Hunt in the Hills" from Wild West Weekly (New York), September 25, 1908.
()
New book
New book traces the grizzly-human experience in California, "Bear in Mind" (Heyday Books), and reconstructs how the most dominant creature in the West became easy prey to myth and Manifest Destiny.
()