Barreling, about 14,000 feet
After summiting Point Lenana from the north, the team descends over three days on a southern route. Here they make head-over-heels crash bait on scree lined by surreal lobilia lobelia trees.
(Blake Jorgenson)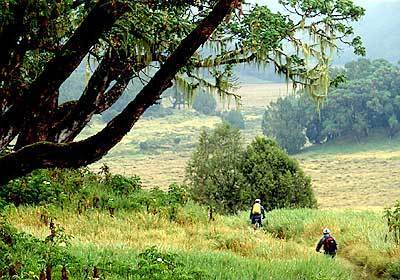 Coasting, about 9,000 feet
Known for such tomfoolery as climbing a waterfall and bungee jumping off a bridge while attached to a bike, Rey — shown with Canadian Richie Schley, ....right — finds himself gravity-bound amid the languid moorlands at the base of the mountain. The soft grasses soon give way to jagged rocks on the Chogoria Route.
(Blake Jorgenson)
Ogling,. about 14,00 feet
The team ponders the elevator down. Only a few bikers have ever ridden this precipice, a sheer reminder of the volcanic blasts that created this mountain.
(Blake Jorgenson)
Portaging, about 15,000 feet
Battling a blizzard, a steep, technical trail and air so thin that pedaling becomes impossible, Rey shifts into hike 'n' bike mode, a means to the top that the native of Germany has used on peaks from Cuba to Borneo.
(Blake Jorgenson)
Testifying, 16355 feet
After relying on the sun to thaw their hydraulic brakes, Schley, left, and Rey hike the final 1,000 or so feet to the summit of Point Lenana, the highest nontechnical peak on Mt. Kenya. They're the first to take their bikes to the top.
(Blake Jorgenson)
Acclimating, about 5,000 feet
Samburu tribesmen get a tipoff that a Hans "No Way" Rey expedition has hit East Africa. The Laguna Beach-based rider specializes in first ascents. DVDs, videos, etc., tend to follow.
(Blake Jorgenson)
Showing off, elevation irrelevant
Rey works on increasing his Medevac insurance deductible with a high-bridge move. His past exploits have won him several broken ribs, a punctured lung and a broken wrist.
(Blake Jorgenson)
Bones
Hans Rey with elephant bones known as "Iron Mike".
(Blake Jorgenson)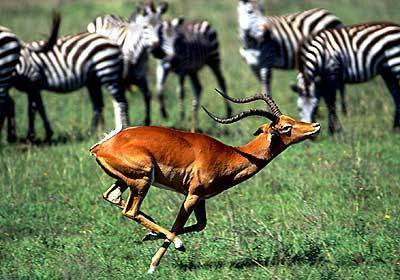 In the green
A Thompsons Gazelle darts across the Mt. Kenya lowlands as zebras graze nearby.
()
On the rise
The first successful ascent and descent of Mt . Kenya 's Point Lenana on mountain bikes.
()
Top of the world
It took Richie Schley and Hans Rey seven days to traverse and summit Africa's second highest mountain.
(Blake Jorgenson)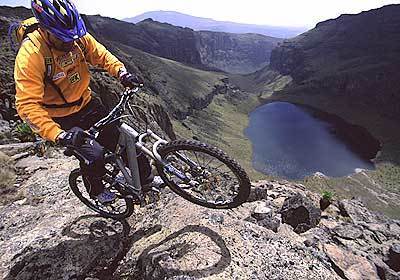 Going up
Richie Schley maneuvering downhill.
(Blake Jorgenson)
Clear sailing
The 10-to-4 race is a 50 km downhill race from the base of Mt. Kenya at 10000 ft. to the bushland at 4000 ft. It was an incredible line up from local farm boys to pro cyclist. A helicopter cleared the race course of elephants and buffalo.
(Blake Jorgenson)