The face of Little Tokyo is changing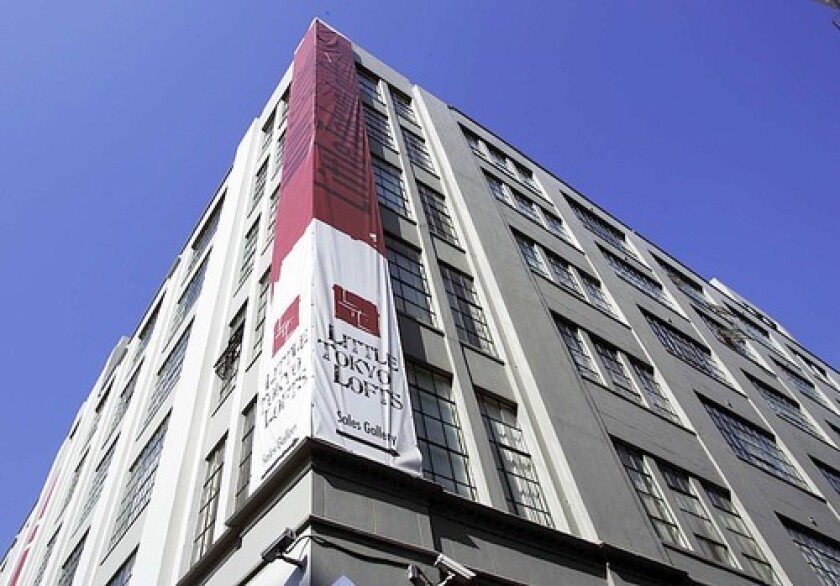 Times Staff Writers
Little Tokyo, considered by many outsiders only a destination for food and festivals, is also becoming a hot place to call home. The downtown housing boom has brought upscale condos, which are attracting affluent professionals, artists and seniors. The newcomers reflect the region's diversity, but the neighborhood's importance to the Japanese community shouldn't be underestimated.

Beginnings

Japanese immigrants began moving into the area, which was once a citrus grove, in the 1880s. They established restaurants, grocery stores, businesses and churches that welcomed those who spoke Japanese. By the start of World War II, the population had swelled to 30,000 Japanese and Japanese Americans in and around Little Tokyo, which occupied three square miles.

After the Japanese attack on Pearl Harbor and the U.S. declaration of war against Japan, President Roosevelt authorized the forced relocation of anyone of Japanese ancestry on the West Coast to internment camps. As the homes and businesses of Little Tokyo emptied, African Americans moved in — jazz great Charlie Parker once lived there — and the area became known as Bronzeville.

When the war ended, Japanese Americans returned. But many soon discovered suburbia and left the area. That exodus, coupled with 1960s community redevelopment, reduced Little Tokyo to its present-day four square blocks bounded by Los Angeles, Temple, Alameda and 3rd streets.

What it's about

Primarily a cultural and commercial district, Little Tokyo boasts restaurants, markets and shops that specialize in Japanese foods and products, but the neighborhood draws tourists and shoppers from all over.

For the last few years, Little Tokyo has been home to about 1,000 people, mostly Japanese American senior citizens. But the demographics are beginning to change and the population is swelling as the new condos lure whites, Latinos and a large number of Koreans to the buildings.

"Up until two years ago, most of the residents were senior and low income. Almost every new resident coming in now … can afford high-end rentals and high-end condos," said Bill Watanabe, director of the Little Tokyo Service Center.

Seven condo and apartment projects under development are expected to more than double the current population of about 1,500 in two years, he said.

Good news, bad news Hovig Hovaguimian, a chef who owns a catering business, bought and moved into a two-bedroom, two-bathroom loft in the Savoy in April.

"I have been living in California for 30 years," said the former Glendale resident. "For the first time, I leave my home and walk to lunch or dinner."

John Kim and his wife, Annie, own a home near Fullerton, but they decided to buy a three-bedroom, two-bath condo in the Savoy because of its location on the corner of 1st and Alameda streets.

"I run a garment manufacturing business. It's very close to my business. I drive, but it's less than a mile away," Kim said. He also likes the shopping. "There is a market in very close walking distance, a lot of shops and restaurants."

One of the biggest concerns of business owners and residents is nearby skid row, with its crime problems and concentration of homeless people.

Some low-performing public schools also discourage many families who could afford the new housing, said Jim Perabo, an agent with Condosource, a boutique real estate brokerage firm that specializes in L.A. condos and lofts. He says the quality is being addressed, and three schools are under construction.

"When an urban area is revitalized, typically the first people to move in are younger singles and professionals. The families follow," Perabo said.

Insiders' view

Brian Kito's grandfather started the family business, Fugetsu-Do Sweet Shop, in 1903. The confectionary store on East 1st Street sells Japanese treats, both retail and wholesale. A second shop is on Alameda. Kito also lives in Little Tokyo. Although he likes the friendly community, he plans to move to Monterey Park, where his son, now 5, will attend school.

Marion Kawamoto, 86, has lived in Little Tokyo for 20 years. Her condo is for sale because family members insisted she move nearer to them in Chino Hills. "I love it here," she said.

Housing stock

In Tokyo Villa, the first condominium complex built in the area, in 1985, three of 167 condos are on the market, ranging from a one-bedroom, one-bathroom, 848-square-foot unit listed at $400,000 to a two-bedroom, two-bathroom, 1,087-square-foot unit listed for $525,000.

The 303 units in the Savoy went on sale in December and are sold out. Prices ranged from $281,000 for a 504-square-foot studio to $820,000 for a three-bedroom, two-bathroom unit in 1,226 square feet.

At Little Tokyo Lofts, which started selling in January, units range from 650 to 1,400 square feet. Prices for lofts with downtown views range from the mid-$300,000s to $750,000. Currently, 70 of 161 units are available.

Report card

Area schools in the Los Angeles Unified School District received the following scores out of a possible 1,000 on the 2005 Academic Performance Index: 9th Street Elementary, 637; Hollenbeck Middle, 580; (children from 9th Street Elementary also attend Carver, Berendo, Virgil and Adams middle schools), and Belmont Senior High, 537.
---
valentina.cardenas@latimes
.com; gayle.pollard-terry@ latimes.com
Sources: Chris Komai, Japanese American National Museum, https://www.janm.org ; Jim Perabo, Condo Source, https://www.condosource.com ; api.cde.ca.gov.
---