A community's Chinese connection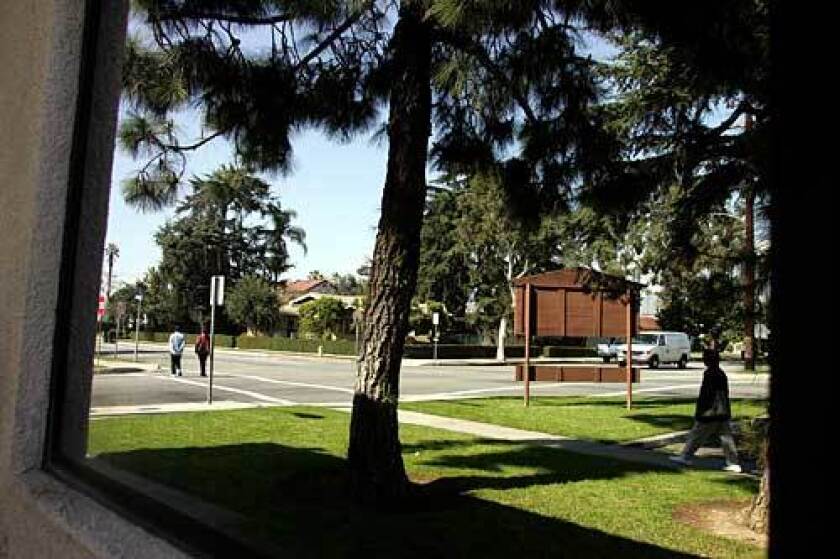 Special to The Times
With its plethora of Asian restaurants, markets and businesses, it's obvious why Monterey Park has been dubbed "Little Taipei" by its immigrant residents and "the new Chinatown" by visitors who flock there for dim sum and a variety of regional cuisines.
*
Beginnings
The area was a bedroom community of Los Angeles in the San Gabriel Valley, with whites making up the majority of the population along with a small percentage of Japanese Americans until the 1970s, when immigrants from Hong Kong and Taiwan began settling there.
Racial tensions and political turmoil followed as longtime residents fought the influx of new immigrants, marking the decline of an Anglo majority and the rise of new Asian and Latino political leaders.
Today, the city is about 60% Asian and 30% Latino, said City Clerk David Barron, a Monterey Park resident for 35 years.
Stand at the northwestern corner of Atlantic Boulevard and Garvey Avenue and you'll see the Atlantic Place Shopping Center with its distinctive Chinese architecture. Walk south on Atlantic and you'll find Chinese restaurants, bakeries, hair salons and gift shops.
No official statistics are kept by the city, but Barron said there are probably more than 60 Chinese restaurants, several Chinese supermarkets and scores of Chinese-owned businesses within the city's 7.7 square miles. On the southern side of town, a significant number of Latino-owned businesses also serve the community, he said.
The street signs may be in Chinese and English, but residents of Monterey Park are adamant about calling their community a melting pot.
*
Drawing card
This is a city where cultural and civic pride are evident. The annual Chinese Lantern Festival, which celebrates the Lunar New Year, is held downtown with firecrackers, entertainment and food booths. There's the Cherry Blossom Festival, which promotes the arts and cultural heritage of Japan; Cinco de Mayo celebrations; and other annual community events.
*
Housing stock
Century 21 Realtor Kim Tan credits the local schools with improving home prices, but families aren't the only ones drawn to the area. "We are becoming a great retirement community," Tan said. "Chinese families who live elsewhere are buying homes for their parents here because [the parents] don't have to speak English to get around comfortably."
Quiet, tree-lined streets dot the "flatlands" area of the close-knit community that has at its heart Langley Center, a gathering place for senior citizens. Most of the houses here are a mix of 1940s and '50s tract homes.
Closer to the center of the business district are condominiums and apartment buildings. On the hillside overlooking the city are pricier properties with sweeping views of the valley.
The least expensive single-family home on the market recently was priced at $458,000 for a three-bedroom, one-bathroom home with 1,126 square feet. The most expensive was $1.35 million for a five-bedroom, three-bathroom house with 2,644 square feet, a pool and views of the San Gabriel Valley.
The least expensive condo, in a complex with a pool, was $346,000 for two bedrooms and 1 3/4 bathrooms in 1,213 square feet.
*
Report card
Students in Monterey Park attend elementary or secondary schools in one of four school districts servicing the area — the Alhambra Unified School District, Garvey School District, Montebello Unified School District or Los Angeles Unified School District. The elementary schools are Brightwood (Alhambra), which on the state's Academic Performance Index 2005 Growth Report scored 852 out of a possible 1,000; Monterey Highlands (Alhambra), 817; Repetto (Alhambra), 817; Ynez (Alhambra), 852; Monterey Vista (Garvey), 832; Hillcrest (Garvey), 781; Robert Lane (Los Angeles), 787; and Potrero Heights (Montebello), 800.
The intermediate schools are Garvey (Garvey), 711; and Macy (Montebello), 726.
The high schools include Mark Keppel (Alhambra), 790; and Schurr (Montebello), 677.
*
Historical values
Residential resales:
| | |
| --- | --- |
| Year | Median price |
| 1990 | $228,000 |
| 1995 | $188,500 |
| 2000 | $223,000 |
| 2004 | $428,000 |
| 2005 | $496,000 |
*
---
Sources: DataQuick Information Systems; Kim Tan, George Michael/Century 21 Realty; city of Monterey Park, https://www.ci.monterey-park.ca.us/home/index.asp ; api.cde.ca.gov.
---